Ginsenoside Rb3
Ginsenoside Rb3 has anti-myocardial ischemia-reperfusion injury, neuroprotective, antidepressant-like, and antioxidant effects, it also possesses the potential of the clinical use in preventing and treating diabetes. Ginsenoside Rb3 significantly attenuates the changes of creatine kinase activity and lactate dehydrogenase activity, exhibits inhibitory effect on TNFα-induced NF-κB transcriptional activity with an IC50 of 8.2 μM in 293T cell lines, it also inhibits the induction of COX-2 and iNOS mRNA.
Inquire / Order: manager@chemfaces.com
Technical Inquiries: service@chemfaces.com
Tel: +86-27-84237783
Fax: +86-27-84254680

Address:
1 Building, No. 83, CheCheng Rd., Wuhan Economic and Technological Development Zone, Wuhan, Hubei 430056, PRC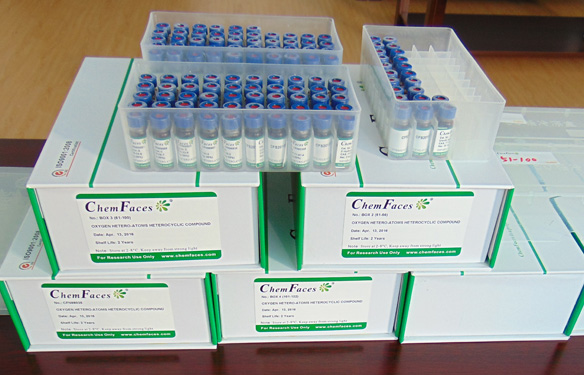 Providing storage is as stated on the product vial and the vial is kept tightly sealed, the product can be stored for up to
24 months(2-8C)
.
Wherever possible, you should prepare and use solutions on the same day. However, if you need to make up stock solutions in advance, we recommend that you store the solution as aliquots in tightly sealed vials at -20C. Generally, these will be useable for up to two weeks. Before use, and prior to opening the vial we recommend that you allow your product to equilibrate to room temperature for at least 1 hour.
Need more advice on solubility, usage and handling? Please email to: service@chemfaces.com
The packaging of the product may have turned upside down during transportation, resulting in the natural compounds adhering to the neck or cap of the vial. take the vial out of its packaging and gently shake to let the compounds fall to the bottom of the vial. for liquid products, centrifuge at 200-500 RPM to gather the liquid at the bottom of the vial. try to avoid loss or contamination during handling.
Cell Death Dis.2019, 10(12):882
Int J Mol Sci.2018, 19(9):E2601
J Ethnopharmacol.2017, 198:91-97
Toxicol In Vitro.2019, 59:161-178
Invest New Drugs.2017, 35(2):166-179
Phytother Res.2018, 32(12):2551-2559
Oncotarget.2016, 8(51):88386-88400
J Nat Prod.2018, 81(4):966-975
Sci. Rep.2015, 14-23
Korean J. of Food Sci. and Tech2016, 172-177
Br J Pharmacol. 2014 Jul;171(13):3171-81.
Ginsenoside Rb3 attenuates oxidative stress and preserves endothelial function in renal arteries from hypertensive rats.[Pubmed:
24571453
]
Panax ginseng is commonly used to treat cardiovascular conditions in Oriental countries. This study investigated the mechanisms underlying the vascular benefits of Ginsenoside Rb3 (Rb3) in hypertension.
METHODS AND RESULTS:
Rings of renal arteries were prepared from spontaneously hypertensive rats (SHRs) and normotensive Wistar-Kyoto (WKY) rats and were cultured ex vivo for 8 h. Contractile responses of the rings were assessed with myograph techniques. Expression of NADPH oxidases was assessed by Western blotting and immunohistochemistry. Reactive oxygen species (ROS) were measured using dihydroethidium fluorescence imaging and production of NO was determined using the fluorescent NO indicator DAF-FM diacetate in human umbilical vein endothelial cells. Ex vivo treatment with Rb3 concentration-dependently augmented endothelium-dependent relaxations, suppressed endothelium-dependent contractions and reduced ROS production and expressions of NOX-2, NOX-4 and p67(phox) in arterial rings from SHR. Rb3 treatment also normalized angiotensin II (Ang II)-stimulated elevation in ROS and expression of NOX-2 and NOX-4 in arterial rings from WKY rats. Rb3 inhibited Ang II-induced reduction of NO production and phosphorylation of endothelial NOS in cultures of human umbilical vein endothelial cells. Rb3 also inhibited oxidative stress in renal arterial rings from hypertensive patients or in Ang II-treated arterial rings from normotensive subjects.
CONCLUSIONS:
Ex vivo Rb3 treatment restored impaired endothelial function in arterial rings from hypertensives by reversing over-expression of NADPH oxidases and over-production of ROS, and improved NO bioavailability. Our findings suggest that medicinal plants containing Rb3 could decrease oxidative stress and protect endothelial function in hypertension.
Am. Chinese Med., 2009, 37(4):759-70.
Inhibition of NMDA receptors underlies the neuroprotective effect of ginsenoside Rb3.[Pubmed:
19655413
]
In order to investigate the mechanisms underlying the neuroprotective effect of Ginsenoside Rb3, rat hippocampal neurons were primarily cultured, and exposed to 1 mM N-methyl-D-aspartate (NMDA), cell viability and lactate dehydrogenase leakage were measured. Ca2+ influx was determined by calcium imaging with a laser confocal microscopy.
METHODS AND RESULTS:
The influences of Ginsenoside Rb3 on these variables were examined. Patch-clamp technique was used to observe the effects of Ginsenoside Rb3 on NMDA-evoked current. The results show that treatment of Rb3 raised the neuronal viability, reduced the leakage of lactate dehydrogenase, and inhibited NMDA-elicited Ca2+ influx in a dose-dependent manner. In the presence of Rb3, NMDA-evoked peak current was inhibited, and Ca2+-induced desensitization of NMDA current was facilitated.
CONCLUSIONS:
It is suggested that Ginsenoside Rb3 could exert a neuroprotective role on hippocampal neurons, a role which was partly mediated by the facilitation of Ca2+-dependent deactivation of NMDA receptors, and the resultant reduction of intracellular free Ca2+ level.
Exp Ther Med. 2014 Dec;8(6):1751-1756.
Ginsenoside-Rb3 protects the myocardium from ischemia-reperfusion injury via the inhibition of apoptosis in rats.[Pubmed:
25371727
]
Ginsenoside Rb3 (G-Rb3) has been previously demonstrated to attenuate myocardial ischemia-reperfusion injury (MIRI). The aim of the present study was to investigate this further and determine whether Ginsenoside Rb3 protects the myocardium from ischemia-reperfusion injury via the inhibition of apoptosis.
METHODS AND RESULTS:
Adult male Sprague Dawley rats were randomly divided into four groups: Sham, MIRI, Ginsenoside Rb3 treatment (orally, 20 mg/kg) and ischemic postconditioning (as the positive control). The drug or placebo treatment was administered to the rats once a day for three consecutive days, and MIRI was then induced by subjecting the rats to left anterior descending coronary artery ligation for 30 min and reperfusion for 2 h. The results showed that Ginsenoside Rb3 treatment significantly reduced the number of apoptotic cells in the myocardium and the expression of B-cell lymphoma 2-associated X protein, and increased the expression of B-cell lymphoma 2. The activities of aspartate aminotransferase, lactate dehydrogenase and creatine kinase-MB in the serum were also reduced significantly by the Ginsenoside Rb3 treatment.
CONCLUSIONS:
These findings suggest that Ginsenoside Rb3 inhibits apoptosis in the early stage of MIRI, and attenuates MIRI when the reperfusion continues. Ginsenoside Rb3 was also shown to significantly reduce the level of malondialdehyde and increase the activity of superoxide dismutase in the myocardium, which suggests that attenuating reactive oxygen species accumulation and oxidative stress may be the major mechanism underlying the anti-apoptotic effects of Ginsenoside Rb3. The release of inflammatory factors was significantly attenuated by Ginsenoside Rb3, which may also be associated with its anti-apoptotic effects.
J Psychopharmacol. 2012 May;26(5):697-713.
Ginsenoside Rb3 exerts antidepressant-like effects in several animal models.[Pubmed:
21948936
]
Total ginsenosides have been shown to have therapeutic actions as antidepressants. We report a major active ingredient of total ginsenosides, the Ginsenoside Rb3 (Rb3), which may have antidepressant-like effects.
METHODS AND RESULTS:
Using the forced swim test, tail suspension test, and learned helplessness procedure, we found that Rb3 had significant anti-immobility effects in mice in the forced swim and tail suspension tests and reduced the number of escape failures in the learned helplessness procedure. In a reserpine-induced syndrome model, Rb3 attenuated hypothermia, palpebral ptosis, and akinesia. In the chronic mild stress model, chronic Rb3 administration reversed the decrease in locomotor activity, novelty-suppressed feeding, and sucrose preference. Furthermore, neurochemical tests were performed to support our hypothesis that biochemical variations (i.e. brain-derived neurotrophic factor and the monoamine neurotransmitters 5-hydroxytryptamine, dopamine, and norepinephrine) are involved in Rb3's antidepressant-like effects. Finally, we found, using whole-cell patch-clamp recordings, that the action potential transmission in neurons within the somatosensory cortex was excited by Rb3 perfusion and blocked with Panax notoginseng total saponins extracted from leaves.
CONCLUSIONS:
This study provides evidence for the mechanism of action of the antidepressant-like effects of Rb3.
Yao Xue Xue Bao. 2014 Oct;49(10):1406-12.
[The estrogen-like protective effect of ginsenoside Rb3 on oxidative stress and dysfunction of endothelial cells induced by oxidized low-density lipoprotein].[Pubmed:
25577870
]
Ginsenoside Rb3 (GRb3) is one of the main components in plasma of Panax quinquefolius Saponin of stem and leaf (PQS), which can be into human plasma. Previous studies have found PQS has estrogen-like vascular protective effects.
METHODS AND RESULTS:
In the present study, we investigated the estrogen-like protective effect of GRb3 on oxidative stress and dysfunction of endothelial cells induced by oxidized low-density lipoprotein. The activities of SOD, NOS and the contents of MDA in the cell lysate were examined by enzyme method or spectrophotometry. The NO and ET-1 concentrations in the cell culture supernatant were measured by ELISA method. The iNOS and eNOS mRNA expression were measured by real time RT-PCR, while the phosphorylation levels of Akt was measured by Western blotting. The results showed that GRb3 could enhance the activity of SOD, reduce the content of MDA, increase the level of NOS, NO, ET-1 and iNOS mRNA expression while decrease the eNOS mRNA expression and the phosphorylation level of Akt.
CONCLUSIONS:
These effects were blocked by estrogen receptor antagonist ICI182780. GRb3 can play a role in protecting vascular endothelial cells by estrogen receptors, the protective mechanism is similar to 17-β estrodiol.
PLoS One. 2014 Aug 1;9(8):e103628.
Ginsenoside Rb3 protects cardiomyocytes against ischemia-reperfusion injury via the inhibition of JNK-mediated NF-κB pathway: a mouse cardiomyocyte model.[Pubmed:
25084093
]
Ginsenoside Rb3 is extracted from the plant Panax ginseng and plays important roles in cardiovascular diseases, including myocardial ischemia-reperfusion (I/R) injury. NF-κB is an important transcription factor involved in I/R injury. However, the underlying mechanism of Ginsenoside Rb3 in myocardial I/R injury remains poorly understood.
METHODS AND RESULTS:
In the current study, a model of myocardial I/R injury was induced via oxygen and glucose deprivation (OGD) followed by reperfusion (OGD-Rep) in mouse cardiac myoblast H9c2 cells. Our data demonstrate that Ginsenoside Rb3 suppresses OGD-Rep-induced cell apoptosis by the suppression of ROS generation. By detecting the NF-κB signaling pathway, we discover that the protective effect of Ginsenoside Rb3 on the OGD-Rep injury is closely related to the inhibition of NF-κB activity. Ginsenoside Rb3 inhibits the upregulation of phospho-IκB-α and nuclear translocation of NF-κB subunit p65 which are induced by ORD-Rep injury. In addition, the extract also inhibits the OGD-Rep-induced increase in the expression of inflammation-related factors, such as IL-6, TNF-α, monocyte chemotactic protein-1 (MCP-1), MMP-2 and MMP-9. However, LPS treatment alleviates the protective roles of Ginsenoside Rb3 and activates the NF-κB pathway. Finally, the upstream factors of NF-κB were analyzed, including the Akt/Foxo3a and MAPK signaling pathways. We find that Ginsenoside Rb3 pretreatment only decreases the phosphorylation of JNK induced by OGD-Rep injury, an indicator of the MAPK pathway. Importantly, an inhibitor of phospho-JNK, SP600125, protects against OGD-Rep induced apoptosis and inhibited NF-κB signaling pathway, similar to the roles of Ginsenoside Rb3.
CONCLUSIONS:
Taken together, our results demonstrate that the protective effect of Ginsenoside Rb3 on the OGD-Rep injury is attributed to the inhibition of JNK-mediated NF-κB activation, suggesting that Ginsenoside Rb3 has the potential to serve as a novel therapeutic agent for myocardial I/R injury.
Med Chem. 2012 Sep;8(5):934-41.
Anti-diabetic effect of ginsenoside Rb(3) in alloxan-induced diabetic mice.[Pubmed:
22741793
]
As one of the main active component of protopanaxdiol type ginsenosides, Ginsenoside Rb3 is rarely reported in the treatment of diabetes.
METHODS AND RESULTS:
The anti-diabetic activity of Ginsenoside Rb3 was investigated in a model of alloxan-induced diabetic mice in the present study. The physiological parameter such as fasting blood glucose level, oral glucose tolerance, body weight, food intake and water intake were measured. Glucose consumption in C2C12 myotubes was also determined in order to investigate the molecular mechanism of Ginsenoside Rb3 in anti-diabetes. The alloxan-induced diabetic mice were treated with Ginsenoside Rb3 for 2 weeks at doses of 5 mg/kg, 15 mg/kg and 25 mg/kg. After 2 weeks treatment of Ginsenoside Rb3, the fasting blood glucose levels of DG 15 and DG 25 were respectively reduced by 36.70% and 37.50% compared to control group. At a dose of 25 mg/kg, oral glucose tolerance was significantly improved compared to control group (P < 0.05). The AUC decreased by 34.47% (from 2442 ± 291 mmol·min/L to 1600 ± 109 mmol·min/L). Both food intake and water intake were remarkably lowered. The injury of pancreas tissues was repaired, which was observed by using HE staining and optic microscope. In vitro, at concentrations of 100 and 200 μM, Ginsenoside Rb3 increased glucose consumption in C2C12 myotubes by 76.83% and 97.20%, respectively, as compared to the control group. However, the body weight of diabetic mice was not significantly altered.
CONCLUSIONS:
In conclusion, our results showed that Ginsenoside Rb3 reduced fasting blood glucose level, food intake, water intake, improved oral glucose tolerance, and repaired injured pancreas tissues of alloxan-induced diabetic mice. Therefore, it was suggested that ginsenoside possesses the potential of the clinical use in preventing and treating diabetes.