Ginsenoside Rb1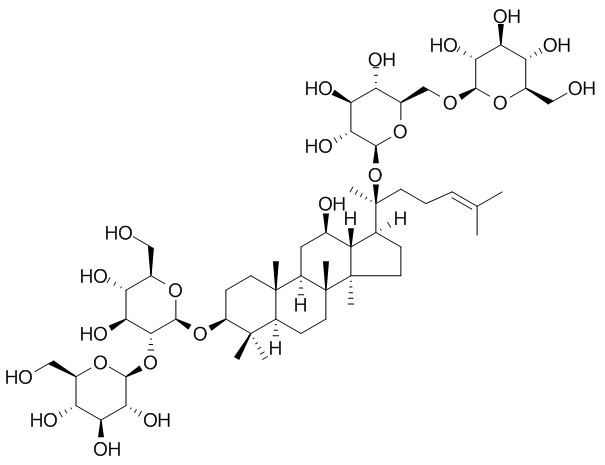 Ginsenoside Rb1 is a protopanaxadiol that has diverse in vitro and in vivo effects, including neuroprotective, cardioprotective, anti-obesity, anti-inflammatory, and anti-oxidative actions. Ginsenoside Rb1 can up-regulate the expression of GLUTs in adipose tissue, in addition to activate insulin signalling pathway, and may effectively ameliorate the progression of asthma through Relegating Th1/Th2. It inhibited Na+, K+-ATPase activity with an IC50 of 6.3±1.0 μM, activated Akt, phosphorylating GSK-3β and inhibited mPTP opening.
Inquire / Order: manager@chemfaces.com
Technical Inquiries: service@chemfaces.com
Tel: +86-27-84237783
Fax: +86-27-84254680

Address:
1 Building, No. 83, CheCheng Rd., Wuhan Economic and Technological Development Zone, Wuhan, Hubei 430056, PRC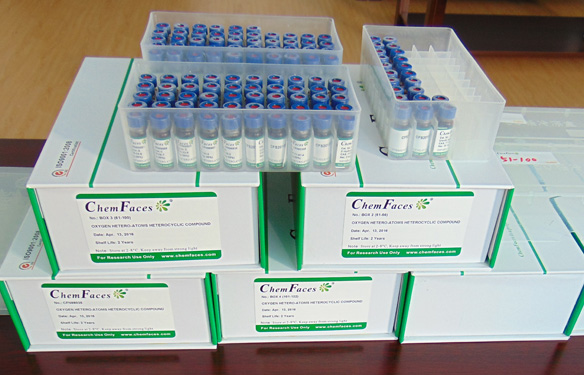 Providing storage is as stated on the product vial and the vial is kept tightly sealed, the product can be stored for up to
24 months(2-8C)
.
Wherever possible, you should prepare and use solutions on the same day. However, if you need to make up stock solutions in advance, we recommend that you store the solution as aliquots in tightly sealed vials at -20C. Generally, these will be useable for up to two weeks. Before use, and prior to opening the vial we recommend that you allow your product to equilibrate to room temperature for at least 1 hour.
Need more advice on solubility, usage and handling? Please email to: service@chemfaces.com
The packaging of the product may have turned upside down during transportation, resulting in the natural compounds adhering to the neck or cap of the vial. take the vial out of its packaging and gently shake to let the compounds fall to the bottom of the vial. for liquid products, centrifuge at 200-500 RPM to gather the liquid at the bottom of the vial. try to avoid loss or contamination during handling.
Biochem Biophys Res Commun.2018, 505(1):261-266
Phytomedicine.2019, 65:153089
Korean J of Food Science&Technology 2017, 49(2):146-150
PLoS One.2017, 12(8):e0181191
Int Immunopharmacol.2019, 71:361-371
Molecules.2015, 20(10):19172-88
Journal of Life Science2017, 233-240
Neuropharmacology.2018, 131:68-82
J Nat Prod.2017, 80(4):854-863
Int J Pharmacol2020, 16:1-9
Vascul Pharmacol. 2015 Oct;73:86-95.
Ginsenoside Rb1 attenuates angiotensin II-induced abdominal aortic aneurysm through inactivation of the JNK and p38 signaling pathways.[Pubmed:
25912763
]
Abdominal aortic aneurysm (AAA), a life-threatening vascular disease, accounts for approximately 10% of the morbidity in people over 65years old. No satisfactory approach is available to treat AAA. Ginsenosides Rb1 and Rg1 are primary ingredients of Panax notoginseng for the treatment of cardiovascular diseases, but their impact on AAA is unknown.
METHODS AND RESULTS:
An AAA model was established using an Ang II infusion in ApoE-/- mice. After continuous stimulation of Ang II for 28days, suprarenal aortic aneurysms developed in 77% mice and 12% mice died suddenly due to AAA rupture. Administration of Ginsenoside Rb1 (20mg/kg/day), but not ginsenoside Rg1, significantly reduced the incidence and mortality of AAA. Ginsenoside Rb1 treatment dramatically suppressed Ang II-induced diameter enlargement, extracellular matrix degradation, matrix metalloproteinase (MMP) production, inflammatory cell infiltration, and vascular smooth muscle cell (VSMC) dysfunction. Mechanistic studies indicated that the protective effects of Ginsenoside Rb1 were associated with the inactivation of JNK and p38 MAPK signaling pathways. A specific activator of JNK and p38, anisomycin, nearly abolished Ginsenoside Rb1-driven suppression of MMP secretion by VSMCs.
CONCLUSIONS:
Ginsenoside Rb1, as a potential anti-AAA agent, suppressed AAA through inhibiting the JNK and p38 signaling pathways.
Inflammation. 2015 Oct;38(5):1814-22.
Anti-Asthmatic Effects of Ginsenoside Rb1 in a Mouse Model of Allergic Asthma Through Relegating Th1/Th2.[Pubmed:
25832478
]
The aim of the study was to investigate the anti-asthma effects of Ginsenoside Rb1 (Rb1) and its possible mechanisms.
METHODS AND RESULTS:
A total of 50 mice were randomly assigned to five experimental groups: control, model, dexamethasone (2 mg/kg), and Rb1 (10 and 20 mg/kg). Airway resistance (RI) was measured; histological studies were evaluated by the hematoxylin and eosin (HE) staining; Th1/Th2, ovalbumin (OVA)-specific serum, and bronchoalveolar lavage fluid (BALF) IgE levels were evaluated enzyme-linked immunosorbent assay (ELISA); and T-bet/GATA3 proteins were evaluated by Western blot. Our study demonstrated that Rb1 inhibited OVA-induced increases in RI and eosinophil counts; interleukin (IL)-4 was recovered, and IFN-γlevel increased in bronchoalveolar lavage fluid. Histological studies demonstrated that Rb1 substantially inhibited OVA-induced eosinophilia in lung tissue. Western blot studies demonstrated that Rb1 substantially inhibited GATA3 and increased T-bet.
CONCLUSIONS:
These findings suggest that Rb1 may effectively ameliorate the progression of asthma and could be used as a therapy for patients with allergic asthma.
Pharmacogn Mag. 2014 Oct;10(40):458-63.
Effects of ginsenosides-Rb1 on exercise-induced oxidative stress in forced swimming mice.[Pubmed:
25422546
]
The fleshy root of Panax ginseng C.A. Meyer (ginseng) is one of the most well-known and valued herbs in traditional Chinese medicine. Ginsenosides are considered mainly responsible for the pharmacological activities of ginseng. The purpose of this study was to investigate the effects of ginsenoside-Rb1 (G-Rb1) on swimming exercise-induced oxidative stress in male mice.
METHODS AND RESULTS:
A total of 48 animals were randomly divided into four groups, with twelve mice in each group. The first, second and third groups were designed as G-Rb1 treatment groups, got 25, 50 and 100 mg/kg bodyweight of G-Rb1, respectively. The fourth group was designed as the control group, got physiologic saline. The mice were intragastrically administered once daily for 4 weeks. The weight-loaded forced swimming test was conducted on the final day of experimentation. Then the exhaustive swimming time, blood lactate, serum creatine kinase (CK), malondialdehyde (MDA) and antioxidant enzymes in liver of mice were measured. The results showed that G-Rb1 could prolong the exhaustive swimming time and improve exercise endurance capacity of mice, as well as accelerate the clearance of blood lactate and decrease serum CK activities. Meanwhile, G-Rb1 could decrease MDA contents and increase superoxide dismutase, catalase, glutathione peroxidase activities in liver of mice.
CONCLUSIONS:
The study suggested that G-Rb1 possessed protective effects on swimming exercise-induced oxidative stress in mice.
Evid Based Complement Alternat Med. 2014;2014:892073.
Ginsenosides Rb1 and Rg1 Stimulate Melanogenesis in Human Epidermal Melanocytes via PKA/CREB/MITF Signaling.[Pubmed:
24799945
]
Reduced or defective melanin skin pigmentation may cause many hypopigmentation disorders and increase the risk of damage to the skin triggered by UV irradiation. Ginsenosides Rb1 and Rg1 have many molecular targets including the cAMP-response element-binding protein (CREB), which is involved in melanogenesis. This study aimed to investigate the effects of ginsenosides Rb1 and Rg1 on melanogenesis in human melanocytes and their related mechanisms.
METHODS AND RESULTS:
The effects of Rb1 and Rg1 on cell viability, tyrosinase activity, cellular melanin content and protein levels of tyrosinase, microphthalmia-associated transcription factor (MITF), and activation of CREB in melanocytes were assessed. Results showed that Rb1 or Rg1 significantly increased cellular melanin content and tyrosinase activity in a dose-dependent manner. By contrast, the cell viability of melanocytes remained unchanged. After exposure to Rb1 or Rg1, the protein levels of tyrosinase, MITF, and phosphorylated CREB were significantly increased. Furthermore, pretreatment with the selective PKA inhibitor H-89 significantly blocked the Rb1- or Rg1-induced increase of melanin content.
CONCLUSIONS:
These findings indicated that Rb1 and Rg1 increased melanogenesis and tyrosinase activity in human melanocytes, which was associated with activation of PKA/CREB/MITF signaling. The effects and mechanisms of Rb1 or Rg1 on skin pigmentation deserve further study.
Mol Med Rep. 2016 Apr;13(4):3083-91.
Neuroprotective effects of ginsenosides on neural progenitor cells against oxidative injury.[Pubmed:
26935530
]
Ginsenosides exhibit various neuroprotective effects against oxidative stress. However, which ginsenoside provides optimal effects for the treatment of neurological disorders as a potent antioxidant remains to be elucidated.
METHODS AND RESULTS:
Therefore, the present study investigated and compared the neuroprotective effects of the Rb1, Rd, Rg1 and Re ginsenosides on neural progenitor cells (NPCs) following tert-Butylhydroperoxide (t-BHP)-induced oxidative injury. Primary rat embryonic cortical NPCs were prepared from E14.5 embryos of Sprague-Dawley rats. The oxidative injury model was established with t‑BHP. A lactate dehydrogenase assay and terminal deoxynucleotidyl transferase dUTP nick‑end labeling staining were used to measure the viability of the NPCs pre‑treated with ginsenosides under oxidative stress. Reverse transcription‑quantitative polymerase chain reaction analysis was used to determine the activation of intracellular signaling pathways triggered by the pretreatment of ginsenosides. Among the four ginsenosides, only Rb1 attenuated t‑BHP toxicity in the NPCs, and the nuclear factor (erythroizd‑derived 2)‑like 2/heme oxygenase‑1 pathway was found to be key in the intracellular defense against oxidative stress.
CONCLUSIONS:
The present study demonstrated the anti-oxidative effects of Ginsenoside Rb1 on NPCs, and suggested that Rb1 may offer potential as a potent antioxidant for the treatment of neurological disorders.
Zhongguo Zhong Yao Za Zhi. 2014 Nov;39(22):4448-52.
[Ginsenoside Rb1 upregulates expressions of GLUTs to promote glucose consumption in adiopcytes].[Pubmed:
25850283
]
Previous studies have shown that Ginsenoside Rb1 (Rb1), one of active components in ginseng, can activate insulin signaling pathway and promote translocation of glucose transporters (GLUTs) to increase glucose uptake in adipocytes. However, the effect of Rb1 on the expressions of GLUTs remains unknown.
METHODS AND RESULTS:
In this study, the effects of Rb1 on GLUT1 and GLUT4 were observed in 3T3-L1 adipocytes and epididymal adipose tissue of db/db obese diabetic mice. Male db/db mice were treated with Rb1 by intraperitoneal injection at the dosage of 20 mg x kg(-1) for 14 d. Rb1 reduced HOMA-IR significantly (P < 0.05, n = 5), and FBG and FINS sowed declining trend after treatment with Rb1. Rb1 recovered the expressions of GLUT1 and GLUT4 and phosphorylation of AKT in adipose tissue of db/db mice. In vitro, glucose consumption in 3T3-L1 adipocytes treated with 10 micromol x L(-1) Rb1 for 24 h was elevated (P < 0.05, n=3), and mRNA of GLUT1 and GLUT4 were up-regulated (P < 0.05, n=3) and proteins of GLUT1 and GLUT4 were also increased. AKT was activated in adipocytes treated with Rb1 for 3 h.
CONCLUSIONS:
It can be concluded that Ginsenoside Rb1 can up-regulate the expression of GLUTs in adipose tissue, in addition to activate insulin signalling pathway, which may partially account for its insulin sensitizing activity and regulating effect of glucose metabolism.
Chin J Integr Med. 2016 Jan 6.
Cardioprotection of ginsenoside Rb1 against ischemia/reperfusion injury is associated with mitochondrial permeability transition pore opening inhibition.[Pubmed:
26740222
]
To investigate the role of Ginsenoside Rb1 (Gs-Rb1) in cardioprotection against ischemia/reperfusion (I/R) or hypoxia/reoxygenation (H/R) injury and to explore whether the cardioprotective action is mediated via attenuating the formation of mitochondrial permeability transition pore (mPTP).
METHODS AND RESULTS:
A Langendorff-perfused model of rat heart was employed. I/R injury was induced by breaking off perfusion for 40 min then reperfusion for 60 min. Gs-Rb1 (100 μmol/L) were administrated for 10 min before I/R. Infarct size was estimated by the 2,3,5-triphenyl tetrazolium chloride (TTC) staining. Lactate dehydrogenase (LDH) and creatine kinase (CK) released from effluents were measured. Transmission electron microscopy was performed to assess morphological difference between cardiac mitochondrial isolated from I/R rats and Gs-Rb1 pretreated rats. Western blot analysis was used to determine phosphorylation of protein kinase B/Akt, and its downstream target glycogen synthase kinase 3β (GSK-3β). Incubation isolated cardiac mitochondria with Gs-Rb1, Ca2+-induced opening of the mPTP was assessed by the reduction of absorbance at 520 nm (A520). Neonatal rat cardiomyocytes were subjected to hypoxia 9 h followed by reoxygenation 4 h to induce H/R injury. After pretreated with different concentration of Gs-Rb1 (6.25, 25, 100 μmol/L ), cell viability was assessed by 3-(4,5-dimethylthiazol-2-yl)-2,5- diphenyltetrazolium bromide (MTT) method. The membrane potential was estimated by Rh123 fluorescence. mPTP opening was measured using the probe calcein-AM. Gs-Rb1 100 μmol/L significantly reduced the infarct size of hearts (26.39%±11.67% vs. I/R group 56.68%±5.88%, P<0.01). Compared with the I/R group, Gs-Rb1 pretreatment decreased LDH and CK levels in the coronary effluent (P<0.05 or P<0.01) as well as attenuated destructive ultrastructure induced by I/R. The protective effect of Gs-Rb1 involved in phosphorylating protein kinase B/PKB (Akt) and GSK-3β. In mitochondria isolated from rat hearts, significant inhibition of Ca2+-induced swelling was observed in samples that were pretreated with Gs-Rb1 (6.25, 25, 100, 400 μmol/L) for 10 min. When cardiomyocytes were isolated from neonatal rat and subjected to H/R, cell viability was increased with treatment of Gs-Rb1 (6.25, 25, 100 μmol/L ). Gs-Rb1 inhibited mPTP opening and restored subsequent loss of mitochondrial membrane potential.
CONCLUSIONS:
Gs-Rb1 presents cardioprotective effect against I/R or H/R injury which involves in activating Akt, phosphorylating GSK-3β and inhibiting mPTP opening.
American Journal of Traditional Chinese Veterinary Medicine, 2012,2(7):1-17.
Estrogen, Ginsenosides Rb1 and Rg1 Exhibit Adjuvant Activities via Estrogen Receptors[Reference:
WebLink
]
The present study was designed to evaluate the adjuvant activities of estrogen and Ginsenoside Rb1 and ginsenoside Rg1, saponins of Ren Shen (Ginseng).
METHODS AND RESULTS:
Seventy-two mice were randomly divided into 9 groups of 8 animals each. Mice were subcutaneously injected on days 1 and 21 with saline alone (Group 1), saline with 10 μg ovalbumin (OVA) (Groups 2 and 3), saline with 10 μg OVA and 30 μg of 17ß-estradiol benzoate (E2) (Groups 4 and 5), saline with 10 μg OVA and 50 μg Ginsenoside Rb1 (Groups 6 and 7) or saline with 10 μg OVA and 50 μg ginsenoside Rg1 (Groups 8 and 9). Animals in Groups 3, 5, 7 and 9 were injected subcutaneously with 200 μg of ICI 182780, an anti-estrogenic compound, for 3 days prior to receiving their respective study treatment. Blood samples were collected 2 weeks after the day 1 and day 21 injections for measurement of serum OVA-specific IgG and IgG subclasses. Splenocytes were harvested at 2 weeks after the day 21 injections for determination of lymphocyte proliferation and cytokines mRNA expression.
CONCLUSIONS:
Results indicated that injection of OVA together with estradiol, Ginsenoside Rb1 or ginsenoside Rg1 significantly enhanced OVA-specific IgG responses, lymphocyte proliferation and cytokines mRNA expression and the enhancement could be blocked by pre-injection of an estrogen receptor antagonist ICI 182780, indicating that estrogen, Ginsenoside Rb1 and ginsenoside Rg1 may exhibit the adjuvant activities through estrogen receptors.