Ginsenoside F2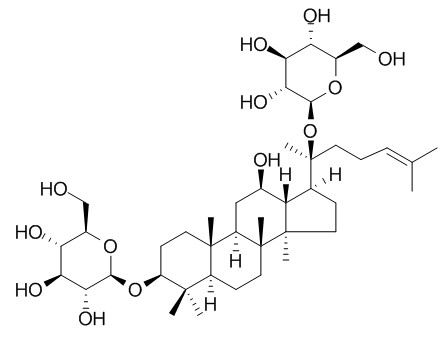 Ginsenoside F2, an autophagic initiater, which has anti-cancer, and anti-obesity activities. Ginsenoside F2 inhibited the growth and invasion of cancer, and activated the intrinsic apoptotic pathway and mitochondrial dysfunction. Ginsenoside F2 suppresses hair cell apoptosis and premature entry to catagen more effectively than finasteride, it decreases the expression of TGF-β2 and SCAP proteins, the factors in the SCAP pathway could be targets for hair loss prevention drugs.
Inquire / Order: manager@chemfaces.com
Technical Inquiries: service@chemfaces.com
Tel: +86-27-84237783
Fax: +86-27-84254680

Address:
1 Building, No. 83, CheCheng Rd., Wuhan Economic and Technological Development Zone, Wuhan, Hubei 430056, PRC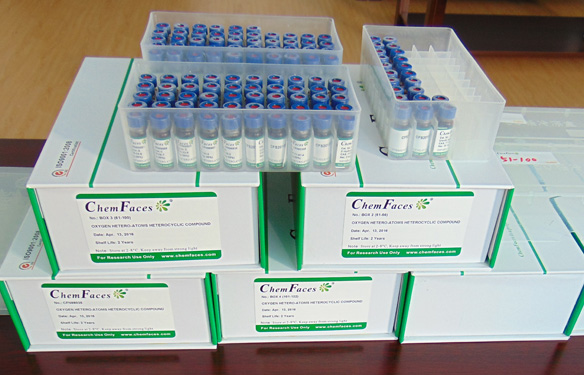 Providing storage is as stated on the product vial and the vial is kept tightly sealed, the product can be stored for up to
24 months(2-8C)
.
Wherever possible, you should prepare and use solutions on the same day. However, if you need to make up stock solutions in advance, we recommend that you store the solution as aliquots in tightly sealed vials at -20C. Generally, these will be useable for up to two weeks. Before use, and prior to opening the vial we recommend that you allow your product to equilibrate to room temperature for at least 1 hour.
Need more advice on solubility, usage and handling? Please email to: service@chemfaces.com
The packaging of the product may have turned upside down during transportation, resulting in the natural compounds adhering to the neck or cap of the vial. take the vial out of its packaging and gently shake to let the compounds fall to the bottom of the vial. for liquid products, centrifuge at 200-500 RPM to gather the liquid at the bottom of the vial. try to avoid loss or contamination during handling.
Phytother Res.2015, 29(7):1088-96
Chemistry of Plant Raw Materials2019, 4:135-147
BMC Complement Altern Med.2014, 14:242
Journal of Analytical Chemistry2017, 854-861
Kor. J. Herbol.2019, 34(2):59-66
Front Plant Sci.2017, 8:723
Biosci. Rep.2020, 10.1024
J Enzyme Inhib Med Chem.2019, 34(1):134-143
J Cell Biochem.2018, 119(2):2231-2239
Front Cell Infect Microbiol.2018, 8:292
J Ginseng Res. 2012 Jan; 36(1): 86–92.
Anti-Cancer Effect of Ginsenoside F2 against Glioblastoma Multiforme in Xenograft Model in SD Rats[Pubmed:
23717108
]
The glioblastoma multiforme (GBM) is the most common malignant brain tumor in adults. Despite combination treatments of radiation and chemotherapy, the survival periods are very short.
METHODS AND RESULTS:
Therefore, this study was conducted to assess the potential of Ginsenoside F2 (F2) to treat GBM. In in vitro experiments with glioblastoma cells U373MG, F2 showed the cytotoxic effect with IC50 of 50 μg/mL through apoptosis, confirmed by DNA condensation and fragmentation. The cell population of cell cycle sub-G1 as indicative of apoptosis was also increased. In xenograft model in SD rats, F2 at dosage of 35 mg/kg weight was intravenously injected every two days. This reduced the tumor growth in magnetic resonance imaging images. The immunohistochemistry revealed that the anticancer activity might be mediated through inhibition of proliferation judged by Ki67 and apoptosis induced by activation of caspase-3 and -8. And the lowered expression of CD31 showed the reduction in blood vessel densities. The expression of matrix metalloproteinase-9 for invasion of cancer was also inhibited. The cell populations with cancer stem cell markers of CD133 and nestin were reduced.
METHODS AND RESULTS:
The results of this study suggested that F2 could be a new potential chemotherapeutic drug for GBM treatment by inhibiting the growth and invasion of cancer.
Eur J Pharmacol. 2014 May 5;730:82-9.
The inductive effect of ginsenoside F2 on hair growth by altering the WNT signal pathway in telogen mouse skin.[Pubmed:
24613976
]
This study was conducted to confirm the possibility of using minor ginseng saponin F2 by oral administration on hair anagen induction effects.
METHODS AND RESULTS:
The signaling pathway and anagen induction effect of Ginsenoside F2 were investigated and compared with finasteride on the effect of hair growth induction. The cell-based MTT assay results indicated that the proliferation rates of HHDPC and HaCaT treated with F2 significantly increased by 30% compared with the finasteride-treated group. A western blot study showed that the expression of β-catenin Lef-1 and DKK-1 increased by 140, 200% and decreased by 40% in the F2-treated group, respectively compared to that of finasteride-treated group. C57BL/6 mice were subjected to the same treatments. The hair growth promotion rates were compared with groups treated with finasteride, which was 20% higher in the F2-treated group. Tissue histological analysis results showed the number of hair follicles, thickness of the epidermis, and follicles of the anagen phase which increased in the F2-treated group, compared with the finasteride-treated groups. Moreover, the effect of F2 on hair growth was confirmed through the immunofluorescence (IF) methods indicating the expression aspect of Wnt signal pathway-related factors in the tissue of C57BL/6 mouse.
CONCLUSIONS:
Our results considered the expression increase in β-catenin, Lef-1 which was suggested as a major factor related to the development and growth of hair follicle and the decrease in DKK-1 when entering catagen by F2. As the data showed, F2 might be a potential new therapeutic source for anagen induction and hair growth through the Wnt signal pathway.
Cancer Lett. 2012 Aug 28;321(2):144-53.
Ginsenoside F2 induces apoptosis accompanied by protective autophagy in breast cancer stem cells.[Pubmed:
22326284
]
Ginsenoside F2 (F2) was assessed for its antiproliferative activity against breast cancer stem cells (CSCs).
METHODS AND RESULTS:
F2 induced apoptosis in breast CSCs by activating the intrinsic apoptotic pathway and mitochondrial dysfunction. Concomitantly, F2 induced the formation of acidic vesicular organelles, recruitment of GFP-LC3-II to autophagosomes, and elevation of Atg-7 levels, suggesting that F2 initiates an autophagic progression in breast CSCs. Treatment with an inhibitor of autophagy enhanced F2-induced cell death.
CONCLUSIONS:
Our findings provide new insights into the anti-cancer activity of F2 and may contribute to the rational use and pharmacological study of F2.
J Enzyme Inhib Med Chem. 2015 Feb;30(1):9-14.
Ginsenoside F2 possesses anti-obesity activity via binding with PPARγ and inhibiting adipocyte differentiation in the 3T3-L1 cell line.[Pubmed:
24666293
]
Panax ginseng Meyer has been shown to be effective in mitigating various diseases. Protopanaxadiols (PPD) and protopanaxatriols (PPT), which are the main constituents of ginseng, have been shown to impact obesity.
METHODS AND RESULTS:
Therefore, we selected several important ginsenosides to perform our docking study and determine if they had binding affinity with the peroxisome proliferator activated receptor gamma (PPARγ), which is a major transcription factor in adipocytes. Among them, only a few ginsenosides demonstrated binding affinity with PPARγ. Other than Ginsenoside F2 rest of them were previously reported by the researchers in experimental study in case of obesity cell line 3T3-L1 adipocyte. In few recent studies, it was reported that F2 has protective effects on malignant brain tumors as well as anti-cancer activity in breast cancer. Therefore, we felt it was important to focus on F2 when considering obesity. Our study focused on this ginsenoside and analyzed its impact on 3T3-L1 adipocytes. Following the molecular interaction studies, further experimental studies were carried out and demonstrated that Ginsenoside F2 when treated with different doses reduces the level of lipid accumulated by the 3T3-L1 cell line during adipogenesis. Reverse transcriptase polymerase chain reaction (RT-PCR) and quantitative real-time PCR results showed reduction in PPARγ and perilipin gene expression levels compared to that of differentiated adipocytes without any treatment.
CONCLUSIONS:
So considering the binding with a major adipocyte transcription factor and the performed experiments, we suggest that Ginsenoside F2 may reduce obesity via the inhibition of adipogenesis in the 3T3-L1 cell line.