Notoginsenoside Fc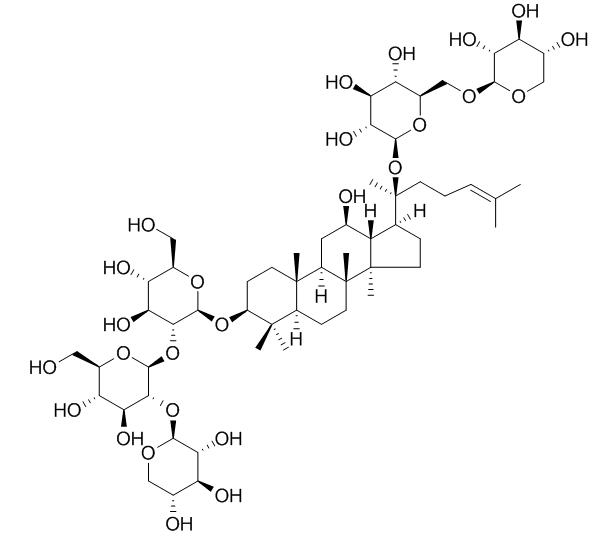 Notoginsenoside Fc has perfect anti-platelet aggregatory effect.
Inquire / Order: manager@chemfaces.com
Technical Inquiries: service@chemfaces.com
Tel: +86-27-84237783
Fax: +86-27-84254680

Address:
1 Building, No. 83, CheCheng Rd., Wuhan Economic and Technological Development Zone, Wuhan, Hubei 430056, PRC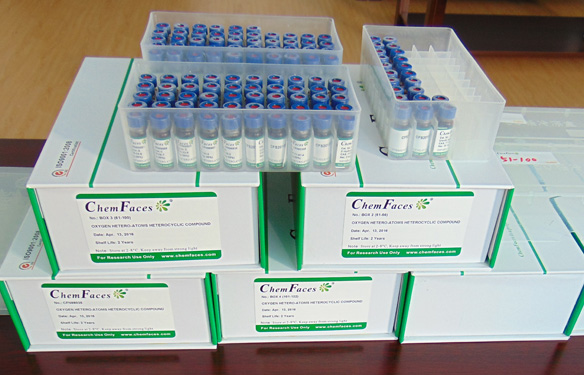 Providing storage is as stated on the product vial and the vial is kept tightly sealed, the product can be stored for up to
24 months(2-8C)
.
Wherever possible, you should prepare and use solutions on the same day. However, if you need to make up stock solutions in advance, we recommend that you store the solution as aliquots in tightly sealed vials at -20C. Generally, these will be useable for up to two weeks. Before use, and prior to opening the vial we recommend that you allow your product to equilibrate to room temperature for at least 1 hour.
Need more advice on solubility, usage and handling? Please email to: service@chemfaces.com
The packaging of the product may have turned upside down during transportation, resulting in the natural compounds adhering to the neck or cap of the vial. take the vial out of its packaging and gently shake to let the compounds fall to the bottom of the vial. for liquid products, centrifuge at 200-500 RPM to gather the liquid at the bottom of the vial. try to avoid loss or contamination during handling.
Evid Based Complement Alternat Med.2017, 2017:9764843
Pharmacological Reports2020, 1-9
Chemistry of Plant Materials.2019, 129-136
Yakugaku Zasshi.2018, 138(4):571-579
Vojnosanit Pregl2016, 75(00):391-391
J Ethnopharmacol.2017, 209:305-316
Pest Manag Sci.2019, 75(9):2530-2541
Biomed Chromatogr.2019, 8:e4774
The Japan Society for Analytical Chemistry2017, 613-617
Phytomedicine.2015, 22(14):1262-8
J Pharm Biomed Anal. 2015 May 10;109:150-7.
Pharmacokinetics, bioavailability, and metabolism of Notoginsenoside Fc in rats by liquid chromatography/electrospray ionization tandem mass spectrometry.[Pubmed:
25770412
]
Notoginsenoside Fc (NGFc) is a protopanaxadiol-type (PPD-type) saponin from Panax notoginseng, which has perfect anti-platelet aggregatory effect. However, its pharmacokinetics and metabolism in vivo remain unknown.
METHODS AND RESULTS:
In this study, a simple and sensitive liquid chromatography/electrospray ionization tandem mass spectrometry (LC-MS/MS) method was first developed for the determination of NGFc in rat plasma. After methanol-mediated protein precipitation, separation was achieved on a C18 column with MS detection operated in negative SRM mode at m/z 604.56→m/z 783.90 and m/z 799.93→m/z 637.64 for NGFc and IS, respectively. The assay was linear over the concentration range (r>0.995) with the LLOQ of 0.002μg/ml. The intra- and inter-day precisions (R.S.D.) were 2.45-12.36% and 3.67-14.22%, respectively; whereas accuracy ranged from (R.R.) 93.90% to 99.41%. The extraction recovery, stability, and matrix effect were within the acceptable limits.
CONCLUSIONS:
The validated LC-MS/MS method was successfully applied to the pre-clinical pharmacokinetic studies of NGFc in rat. After oral and intravenous administration, NGFc showed dose-independent pharmacokinetic behaviors with a t1/2 of >22h and its oral bioavailability was 0.10-0.14%. In addition, a total of 10 metabolites were detected and structurally characterized by UPLC-Q/TOF-MS technique, which suggested that deglycosylation was the major metabolic pathway for NGFc in rats.
Zhongguo Zhong Yao Za Zhi. 1992 Oct;17(10):611-3, 639-40 concl.
Saponins in the fruit pedicels of Panax notoginseng (Burk.) F.H. Chen (continue).[Pubmed:
1294178
]
Six saponins were isolated from the fruit pedicels of Panax notoginseng.
METHODS AND RESULTS:
Five of them were identified as gypenoside-XVII, -XV, ginsenoside-Rb1, and notoginsenoside-Fc, -Fa on the basis of chemical methods, spectroscopic analysis and comparison with authentic standards.
CONCLUSIONS:
Quantitative determination of the major saponins in fruit pedicels from the plant was made by thin layer chromatography-densitometry.