Ginsenoside Rb2
Ginsenoside Rb2 shows hypoglycemic, anti-osteoporosis, anti-oxidant, anti-angiogenesis, and anti-tumor activities, it is a promising candidate as a mucosal immunoadjuvant to enhance antiviral activity and is a valuable component capable of lowering the levels of lipids. Ginsenoside Rb2 also possesses a protective role against the photoaging of human keratinocyte cells under UV-B irradiation, shows inhibitory effects on nicotinic stimulation-evoked catecholamine secretion, at least partly through the increased NO production due to the activation of nitric oxide synthase, which is relevant to neuronal nicotinic receptor blockade.
Inquire / Order: manager@chemfaces.com
Technical Inquiries: service@chemfaces.com
Tel: +86-27-84237783
Fax: +86-27-84254680

Address:
1 Building, No. 83, CheCheng Rd., Wuhan Economic and Technological Development Zone, Wuhan, Hubei 430056, PRC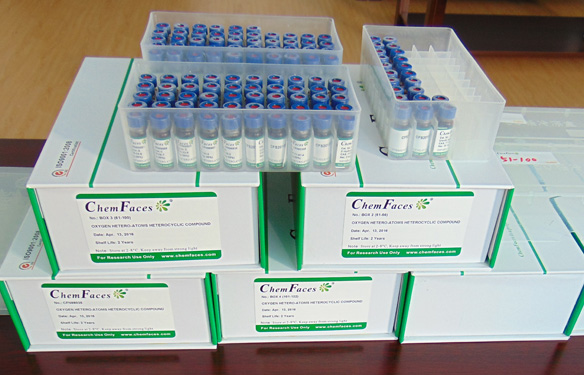 Providing storage is as stated on the product vial and the vial is kept tightly sealed, the product can be stored for up to
24 months(2-8C)
.
Wherever possible, you should prepare and use solutions on the same day. However, if you need to make up stock solutions in advance, we recommend that you store the solution as aliquots in tightly sealed vials at -20C. Generally, these will be useable for up to two weeks. Before use, and prior to opening the vial we recommend that you allow your product to equilibrate to room temperature for at least 1 hour.
Need more advice on solubility, usage and handling? Please email to: service@chemfaces.com
The packaging of the product may have turned upside down during transportation, resulting in the natural compounds adhering to the neck or cap of the vial. take the vial out of its packaging and gently shake to let the compounds fall to the bottom of the vial. for liquid products, centrifuge at 200-500 RPM to gather the liquid at the bottom of the vial. try to avoid loss or contamination during handling.
Pharmacol Rep.2017, 69(6):1224-1231
Molecules.2017, 22(11)
Food Chem.2019, 274:345-350
Front Neurosci.2019, 13:1091
Pharmaceutical Chemistry Journal2019, 52(12):986-991
Eur J Pharmacol.2018, 832:96-103
Phytomedicine.2019, 59:152785
Korean J. of Food Sci. and Tech2016, 172-177
J Chromatogr A.2017, 1518:46-58
Cancer Manag Res.2019, 11:483-500
Biosci Biotechnol Biochem. 2015 Mar 16:1-7.
Suppressive properties of ginsenoside Rb2, a protopanaxadiol-type ginseng saponin, on reactive oxygen species and matrix metalloproteinase-2 in UV-B-irradiated human dermal keratinocytes.[Pubmed:
25774540
]
Ginsenosides, also known as ginseng saponins, are the principal bioactive ingredients of ginseng, which are responsible for its diverse pharmacological activities. The present work aimed to assess skin anti-photoaging properties of Ginsenoside Rb2 (Rb2), one of the predominant protopanaxadiol-type ginsenosides, in human epidermal keratinocyte HaCaT cells under UV-B irradiation.
METHODS AND RESULTS:
When the cultured keratinocytes were subjected to Rb2 prior to UV-B irradiation, Rb2 displayed suppressive activities on UV-B-induced reactive oxygen species elevation and matrix metalloproteinase-2 expression and secretion. However, Rb2 at the used concentrations was unable to modulate cellular survivals in the UV-B-irradiated keratinocytes.
CONCLUSIONS:
In brief, Rb2 possesses a protective role against the photoaging of human keratinocyte cells under UV-B irradiation.
Korean J Physiol Pharmacol. 2014 Oct;18(5):431-9.
Inhibitory effects of ginsenoside-rb2 on nicotinic stimulation-evoked catecholamine secretion.[Pubmed:
25352764
]
The aim of the present study was to investigate whether Ginsenoside Rb2 (Rb2) can affect the secretion of catecholamines (CA) in the perfused model of the rat adrenal medulla.
METHODS AND RESULTS:
Rb2 (3~30 μM), perfused into an adrenal vein for 90 min, inhibited ACh (5.32 mM)-evoked CA secretory response in a dose- and time-dependent fashion. Rb2 (10 μM) also time-dependently inhibited the CA secretion evoked by DMPP (100 μM, a selective neuronal nicotinic receptor agonist) and high K(+) (56 mM, a direct membrane depolarizer). Rb2 itself did not affect basal CA secretion (data not shown). Also, in the presence of Rb2 (50 μg/mL), the secretory responses of CA evoked by veratridine (a selective Na(+) channel activator (50 μM), Bay-K-8644 (an L-type dihydropyridine Ca(2+) channel activator, 10 μM), and cyclopiazonic acid (a cytoplasmic Ca(2+)-ATPase inhibitor, 10 μM) were significantly reduced, respectively. Interestingly, in the simultaneous presence of Rb2 (10 μM) and L-NAME (an inhibitor of NO synthase, 30 μM), the inhibitory responses of Rb2 on ACh-evoked CA secretory response was considerably recovered to the extent of the corresponding control secretion compared with the inhibitory effect of Rb2-treatment alone. Practically, the level of NO released from adrenal medulla after the treatment of Rb2 (10 μM) was greatly elevated compared to the corresponding basal released level.
CONCLUSIONS:
Collectively, these results demonstrate that Rb2 inhibits the CA secretory responses evoked by nicotinic stimulation as well as by direct membrane-depolarization from the isolated perfused rat adrenal medulla. It seems that this inhibitory effect of Rb2 is mediated by inhibiting both the influx of Ca(2+) and Na(+) into the adrenomedullary chromaffin cells and also by suppressing the release of Ca(2+) from the cytoplasmic calcium store, at least partly through the increased NO production due to the activation of nitric oxide synthase, which is relevant to neuronal nicotinic receptor blockade.
Biol Pharm Bull. 1994 May;17(5):635-9.
Inhibition of tumor angiogenesis and metastasis by a saponin of Panax ginseng, ginsenoside-Rb2.[Pubmed:
7522731
]
We studied the effect of Ginsenoside Rb2 extracted from Panax ginseng on angiogenesis and metastasis produced by B16-BL6 melanoma cells in syngeneic mice.
METHODS AND RESULTS:
Intravenous administration of Ginsenoside Rb2 on day 1, 3 or 7 after tumor inoculation achieved a remarkable reduction in the number of vessels oriented toward the tumor mass, but did not cause a significant inhibition of tumor growth. The anti-angiogenic effect was dose-dependent ranging from 10 to 500 micrograms/mouse. In contrast, intra-tumoral or oral administration of Ginsenoside Rb2 caused a marked inhibition of both neovascularization and tumor growth. Ginsenoside Rb2 did not affect the growth of rat lung endothelial (RLE) cells, B16-BL6 melanoma cells or various types of murine normal cells in vitro. The invasion of RLE cells into the reconstituted basement membrane (Matrigel), which is considered to be an essential event in tumor neovascularization, was inhibited by Ginsenoside Rb2 in a concentration-dependent fashion, while Ginsenoside Rb2 did not inhibit the haptotactic migration of endothelial cells to fibronectin-substrate. Multiple administrations of Ginsenoside Rb2 after the intravenous inoculation of B16-BL6 melanoma cells resulted in a significant inhibition of lung metastasis as compared with the untreated control.
CONCLUSIONS:
These results suggest that the inhibition of tumor-associated angiogenesis by Ginsenoside Rb2 may partly contribute to the inhibition of lung tumor metastasis.
BMB Rep. 2009 Apr 30;42(4):194-9.
The ginsenoside-Rb2 lowers cholesterol and triacylglycerol levels in 3T3-L1 adipocytes cultured under high cholesterol or fatty acids conditions.[Pubmed:
19403041
]
The effects of the Ginsenoside Rb2 (Rb2) on lipid metabolism were characterized in 3T3-L1 adipocytes to evaluate their utility for treating obesity.
METHODS AND RESULTS:
While the amounts of total cholesterol and triacylglycerol (TAG) were markedly increased in the adipocytes treated with high amounts of cholesterol and fetal bovine serum (FBS), the test groups treated with Rb2 showed levels that were close to normal. The effect of Rb2 on these cells was comparable to that of lovastatin. Rb2 enhanced the expression of the sterol regulated element binding protein (SREBP) mRNA whereas treatment with cholesterol and FBS led to a reduction in the abundance of this transcript. The activity of fatty acid synthetase (FAS) was lower in the cholesterol group compared to the Rb2 treatment group suggesting that the observed decrease in cholesterol levels and activated SREBP was mediated by Rb2. Treatment with Rb2 also resulted in a decrease in TAG levels in adipocytes cultured under high fatty acid conditions.
CONCLUSIONS:
This effect was mediated by stimulating the expression of SREBP and Leptin mRNA, suggesting that Rb2 might be a valuable component capable of lowering the levels of lipids.
Bone. 2014 Sep;66:306-14.
Ginsenoside-Rb2 displays anti-osteoporosis effects through reducing oxidative damage and bone-resorbing cytokines during osteogenesis.[Pubmed:
24933344
]
Reactive oxygen species (ROS) are a significant pathogenic factor of osteoporosis. Ginsenoside Rb2 (Rb2), a 20(S)-protopanaxadiol glycoside extracted from ginseng, is a potent antioxidant that generates interest regarding the bone metabolism area. We tested the potential anti-osteoporosis effects of Rb2 and its underlying mechanism in this study.
METHODS AND RESULTS:
We produced an oxidative damage model induced by hydrogen peroxide (H2O2) in osteoblastic MC3T3-E1 cells to test the essential anti-osteoporosis effects of Rb2in vitro. The results indicated that treatment of 0.1 to 10μM Rb2 promoted the proliferation of MC3T3-E1 cells, improved alkaline phosphatase (ALP) expression, elevated calcium mineralization and mRNA expressions of Alp, Col1a1, osteocalcin (Ocn) and osteopontin (Opn) against oxidative damage induced by H2O2. Importantly, Rb2 reduced the expression levels of receptor activator of nuclear factor kappa-B ligand (RANKL) and IL-6 and inhibited the H2O2-induced production of ROS. The in vivo study indicated that the Rb2 administered for 12weeks partially decreased blood malondialdehyde (MDA) activity and elevated the activity of reduced glutathione (GSH) in ovariectomized (OVX) mice. Moreover, Rb2 improved the micro-architecture of trabecular bones and increased bone mineral density (BMD) of the 4th lumbar vertebrae (L4) and the distal femur.
CONCLUSIONS:
Altogether, these results demonstrated that the potential anti-osteoporosis effects of Rb2 were linked to a reduction of oxidative damage and bone-resorbing cytokines, which suggests that Rb2 might be effective in preventing and alleviating osteoporosis.
J Ginseng Res. 2013 Mar; 37(1): 80–86.
Protective effect of ginsenoside-Rb2 from Korean red ginseng on the lethal infection of haemagglutinating virus of Japan in mice.[Pubmed:
23717160
]
Korean red ginseng has been shown to possess a variety of biological activities. However, little is known about antiviral activity of ginsenosides of Korean red ginseng.
METHODS AND RESULTS:
Here, we investigated the protective effect by oral administration of various ginsenosides on the lethal infection of haemagglutinating virus of Japan (HVJ) in mice. In a lethal infection model in which almost all mice infected with HVJ died within 15 days, the mice were administered orally (per os) with 1 mg/mouse of dammarane-type (ginsenoside-Rb1, -Rb2, -Rd, -Re, and -Rg2) or oleanolic acid-type (ginsenoside-Ro) ginsenosides 3, 2, and 1 d before virus infection. Ginsenoside Rb2 showed the highest protective activity, although other dammarane-type and oleanolic acid-type ginsenosides also induced a significant protection against HVJ. However, neither the consecutive administration with a lower dosage (300 μg/mouse) nor the single administration of Ginsenoside Rb2 (1 mg/mouse) was active. In comparison of the protective activity between Ginsenoside Rb2 and its two hydrolytic products [20(S)- and 20(R)-ginsenoside-Rg3], 20(S)-ginsenoside-Rg3, but not 20(R)-ginsenoside-Rg3, elicited a partial protection against HVJ. The protective effect of Ginsenoside Rb2 and 20(S)-ginsenoside-Rg3 on HVJ infection was confirmed by the reduction of virus titers in the lungs of HVJ-infected mice.
CONCLUSIONS:
These results suggest that Ginsenoside Rb2 is the most effective among ginsenosides from red ginseng to prevent the lethal infection of HVJ, so that this ginsenoside is a promising candidate as a mucosal immunoadjuvant to enhance antiviral activity.