Acetoxyisovalerylalkannin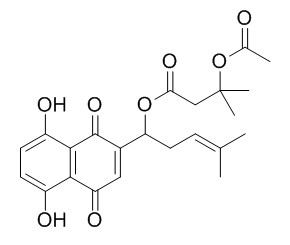 Acetoxyisovalerylalkannin may have anti-ageing activity, it can upregulate Collagen-I, elastin and involucrin syntheses in human dermal fibroblasts or keratinocytes.
Inquire / Order: manager@chemfaces.com
Technical Inquiries: service@chemfaces.com
Tel: +86-27-84237783
Fax: +86-27-84254680

Address:
1 Building, No. 83, CheCheng Rd., Wuhan Economic and Technological Development Zone, Wuhan, Hubei 430056, PRC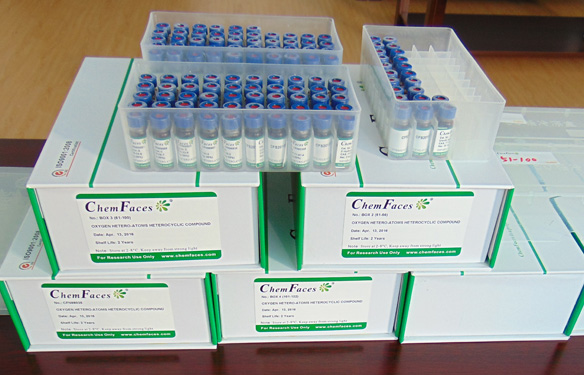 Providing storage is as stated on the product vial and the vial is kept tightly sealed, the product can be stored for up to
24 months(2-8C)
.
Wherever possible, you should prepare and use solutions on the same day. However, if you need to make up stock solutions in advance, we recommend that you store the solution as aliquots in tightly sealed vials at -20C. Generally, these will be useable for up to two weeks. Before use, and prior to opening the vial we recommend that you allow your product to equilibrate to room temperature for at least 1 hour.
Need more advice on solubility, usage and handling? Please email to: service@chemfaces.com
The packaging of the product may have turned upside down during transportation, resulting in the natural compounds adhering to the neck or cap of the vial. take the vial out of its packaging and gently shake to let the compounds fall to the bottom of the vial. for liquid products, centrifuge at 200-500 RPM to gather the liquid at the bottom of the vial. try to avoid loss or contamination during handling.
Mol Med Rep.2015, 12(5):7789-95
LWT-Food Sci Technol2020, 109163
Food Chem.2019, 275:746-753
Food Res Int.2020, 128:108778
Neuropharmacology.2018, 131:68-82
Front Plant Sci.2017, 8:723
Phytochemistry2018, 15:83-92
Journal of Third Military Medical University2018, 40(12):1073-1078
Phytomedicine.2017, 24:77-86
Evid Based Complement Alternat Med.2018, 2018:1073509
Natural Product Research, 2015, Mar 26,30(5):574-577.
Anti-skin ageing activity of napthoquinones from Arnebia nobilis Reichb.f.[Pubmed:
25810219
]
The present isolation and identification of napthoquinones from roots of Arnebia nobilis Reichb.f. can lead to the discovery of new anti-skin ageing ingredient in colour cosmetics.
METHODS AND RESULTS:
Four compounds have been isolated and purified by rigorous column chromatography. The compounds are identified as β, β-dimethylacryl alkannin (AN-I), Acetoxyisovalerylalkannin (AAN-II), acetyl alkannin (AN-III) and alkannin (AN-IV) by interpretation of spectroscopic data. This study is the first to report the isolation of Acetoxyisovaleryl alkannin (AAN-II) from A. nobilis. The IC50 values of the compounds, determined in human skin cells (human dermal fibroblasts and human keratinocytes) and mouse embryonic fibroblasts (NIH3T3) varied significantly among the four alkannins. Among the four compounds, β-acetoxyisovaleryl alkannin (AAN-II) significantly inhibited hydrogen peroxide (H2O2)-induced red blood corpuscle haemolysis and cellular senescence in human dermal fibroblasts. Collagen-I, elastin and involucrin syntheses in human dermal fibroblasts or keratinocytes were up regulated by AAN-II.
CONCLUSIONS:
These results support the potential utility of alkannins as novel anti-ageing ingredients.
Journal of Jilin University, 2010 , 48 (2) :319-322.
Chemical Constituents from Root of Arnebia euchroma(Royle)Johnst[Reference:
WebLink
]
All the compounds were separated from the petroleum ether extracts of Arnebia euchroma root by means of column chromatography and their structures were identified by the spectral analysis and chemical evidence.
METHODS AND RESULTS:
Seven compounds were separated and identified as deoxyshikonin (1),β,β-dimethylacryloylshikonin (2),acetyshikonin (3),shikonin (4),β-sitosterol (5),propionylshikonin (6),Acetoxyisovalerylalkannin (7).