Isobutylshikonin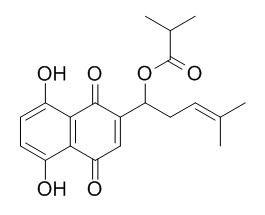 Isobutylshikonin exhibits obvious antioxidant activities , it exerts very good radical scavenging activities toward ABTS+ but shows moderate inhibition of DPPH·.
Inquire / Order: manager@chemfaces.com
Technical Inquiries: service@chemfaces.com
Tel: +86-27-84237783
Fax: +86-27-84254680

Address:
1 Building, No. 83, CheCheng Rd., Wuhan Economic and Technological Development Zone, Wuhan, Hubei 430056, PRC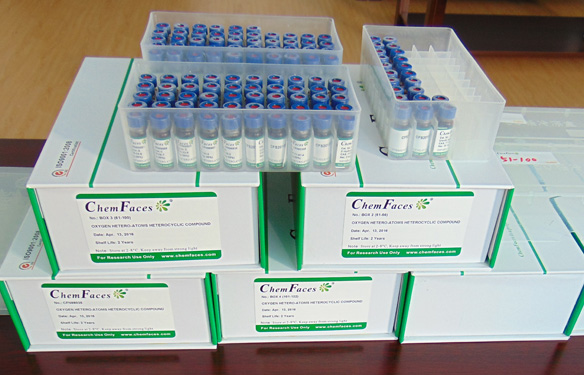 Providing storage is as stated on the product vial and the vial is kept tightly sealed, the product can be stored for up to
24 months(2-8C)
.
Wherever possible, you should prepare and use solutions on the same day. However, if you need to make up stock solutions in advance, we recommend that you store the solution as aliquots in tightly sealed vials at -20C. Generally, these will be useable for up to two weeks. Before use, and prior to opening the vial we recommend that you allow your product to equilibrate to room temperature for at least 1 hour.
Need more advice on solubility, usage and handling? Please email to: service@chemfaces.com
The packaging of the product may have turned upside down during transportation, resulting in the natural compounds adhering to the neck or cap of the vial. take the vial out of its packaging and gently shake to let the compounds fall to the bottom of the vial. for liquid products, centrifuge at 200-500 RPM to gather the liquid at the bottom of the vial. try to avoid loss or contamination during handling.
Biol Pharm Bull.2018, 41(11):1685-1693
Evid Based Complement Alternat Med.2017, 2017:9764843
Molecules.2018, 23(12):E3103
Semyung University2017, 149407
Front Plant Sci.2020, 10:1705
Biochem Biophys Res Commun.2020, 522(1):40-46
Phytochem Anal.2013, 24(5):493-503
Biorxiv2019, 10.1101
Phytother Res.2016, 30(12):2020-2026
Evid Based Complement Alternat Med.2017, 2017:7383104
J Agric Food Chem. 1999 Oct;47(10):4117-20.
Physical stability of shikonin derivatives from the roots of Lithospermum erythrorhizon cultivated in Korea.[Pubmed:
10552776
]

METHODS AND RESULTS:
Five red shikonin pigments, deoxyshikonin, shikonin, acetylshikonin, Isobutylshikonin, and beta-hydroxyisovalerylshikonin, were isolated from the roots of Lithospermum erythrorhizon cultivated in Korea. The purified pigments were red, purple, and blue at acidic, neutral, and alkaline pH values, respectively. Physical stability of the purified pigments against heat and light in an aqueous solution was examined for possible value-added food colorants. The thermal degradation reactions were carried out at pH 3.0 (50 mM glycine buffer) in 50% EtOH/H(2)O. Deoxyshikonin (t(1/2) = 14.6 h, 60 degrees C) and isobutylshikinin (t(1/2) = 19.3 h, 60 degrees C) are relatively less stable than other shikonin derivatives (t(1/2) = 40-50 h, 60 degrees C). Activation energies of thermal degradation of the isolated pigments were calculated. The activation energy of deoxyshikonin was the highest (12.5 kcal mol(-)(1)) and that of beta-hydroxyisovalerylshikonin was the lowest (1.71 kcal mol(-)(1)) value.
CONCLUSIONS:
Light stabilities of the pigments were similar to each other in that the half-life values of photodegradation for 20000 lx light intensity were 4.2-5.1 h.
Food Chemistry, 2008, 106(1):2-10.
Antioxidants from a Chinese medicinal herb – Lithospermum erythrorhizon[Reference:
WebLink
]
Seven compounds, deoxyshikonin (1), β,β-dimethylacrylshikonin (2), Isobutylshikonin (3), shikonin (4), 5,8-dihydroxy-2-(1-methoxy-4-methyl-3-pentenyl)-1,4-naphthalenedione (5), β-sitosterol (6) and a mixture of two caffeic acid esters [7 (7a,7b)] were isolated from Lithospermum erythrorhizon Sieb et. Zucc. and identified by spectroscopic methods. Among them, compound 5 was isolated from this plant species for the first time.
METHODS AND RESULTS:
The antioxidant activities of the seven compounds were compared and evaluated through Rancimat method, reducing power and radical scavenging activity. Results showed that, except compound 6, another 6 compounds all exhibited obvious antioxidant activities against four different methods. Compounds 4 and 7 exerted much more potent antioxidant effects on retarding the lard oxidation than that of BHT and both were found to exhibit strong reducing power. Their antioxidant activities, assessed by Rancimat method and reducing power, decreased in the following order, respectively: compound 7 > 4 > BHT > 2 > 3 > 5 > 1 > 6 and compound 7 > BHT > 4 > 2 approximately 3 approximately 5 > 1> 6. In addition, compounds 1-5 all exerted very good radical scavenging activities toward ABTS+ but showed moderate inhibition of DPPH·, while compound 7 presented as a powerful radical scavenger against both ABTS·+ and DPPH·.
CONCLUSIONS:
Thus, our results suggested that L. erythrorhizon could be a promising rich source of natural antioxidants.
Anal Chim Acta. 2006 Sep 1;577(1):26-31.
Simultaneous determination of naphthoquinone derivatives in Boraginaceous herbs by high-performance liquid chromatography.[Pubmed:
17723649
]

METHODS AND RESULTS:
A high-performance liquid chromatographic method using diode-array detection (HPLC-DAD) has been developed for the simultaneous quantification of eight naphthoquinone derivatives namely shikonin, acetylshikonin, deoxyshikonin, beta-acetoxyisovalerylshikonin, Isobutylshikonin, beta,beta-dimethylacrylshikonin, 2-methyl-n-butyrylshikonin and isovalerylshikonin in nine species of the Boraginaceae family. These species, coming from different areas of China, are all used as interchangeable sourcing plants for the Chinese Materia Medica known as "Zicao", and are Arnebia euchroma (Royle) Johnston., A. guttata Bunge, Lithospermum erythrorhizon Sieb. et Zucc., Onosma paniculatum Bur. et Franch., O. exsertum Hemsl., O. confertum W.W. Smith, O. hookerii Clarke var. longiflorum Duthie, O. hookerii Clarke and O. waltonii Duthic. Quantification of the eight naphthoquinones in all the Zicao samples are reported and compared with each other. Furthermore, two positional isomers, 2-methyl-n-butyrylshikonin and isovalerylshikonin, were successfully separated and quantified for the first time in the present study. The results showed that, besides the three officially used species (namely, A. euchroma, A. guttata and L. erythrorhizon) that were listed in Chinese pharmacopoeia as interchangeable sourcing plants for Zicao, other six species of Onosma used by native peoples in Tibet and Yunnan Province also contain various types and considerable amounts of naphthoquinones and that O. waltonii contains the most.
CONCLUSIONS:
Therefore, these species of Onosma could be developed as new sources of naphthoquinones. The entire analytical procedure is reproducible and suitable for the quantification of naphthoquinones in all related Boraginaceous plants for quality assessment purposes.