Isorubrofusarin 10-gentiobioside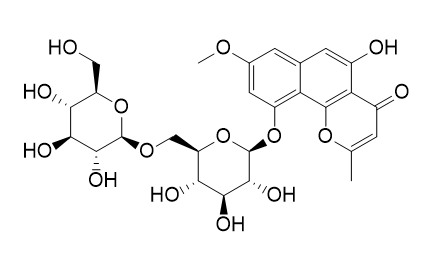 Isorubrofusarin 10-gentiobioside shows promising inhibitory activity against AChE/BACE1.
Inquire / Order: manager@chemfaces.com
Technical Inquiries: service@chemfaces.com
Tel: +86-27-84237783
Fax: +86-27-84254680

Address:
1 Building, No. 83, CheCheng Rd., Wuhan Economic and Technological Development Zone, Wuhan, Hubei 430056, PRC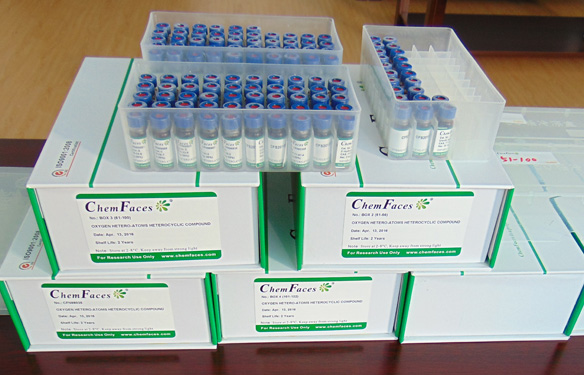 Providing storage is as stated on the product vial and the vial is kept tightly sealed, the product can be stored for up to
24 months(2-8C)
.
Wherever possible, you should prepare and use solutions on the same day. However, if you need to make up stock solutions in advance, we recommend that you store the solution as aliquots in tightly sealed vials at -20C. Generally, these will be useable for up to two weeks. Before use, and prior to opening the vial we recommend that you allow your product to equilibrate to room temperature for at least 1 hour.
Need more advice on solubility, usage and handling? Please email to: service@chemfaces.com
The packaging of the product may have turned upside down during transportation, resulting in the natural compounds adhering to the neck or cap of the vial. take the vial out of its packaging and gently shake to let the compounds fall to the bottom of the vial. for liquid products, centrifuge at 200-500 RPM to gather the liquid at the bottom of the vial. try to avoid loss or contamination during handling.
Trop J Nat Prod Res.2019, 3(1):6-9
J Ethnopharmacol.2020, 269:113752.
Kor. J. Pharmacogn.2016, 47(1):62-72
Metabolites2023, 13(1), 3.
Int J Mol Sci.2020, 21(24):9369.
Asian Journal of Chemistry2018, 30(12):2699-2703
J Clin Med.2022, 11(13):3662.
Applied Biological Chemistry2022, 65(12)
Evid Based Complement Alternat Med.2021, 8707280.
Evid Based Complement Alternat Med.2017, 2017:6360836
Molecules. 2017 Dec 28;23(1). pii: E69.
Structure Related Inhibition of Enzyme Systems in Cholinesterases and BACE1 In Vitro by Naturally Occurring Naphthopyrone and Its Glycosides Isolated from Cassia obtusifolia.[Pubmed:
29283428
]
Cassia obtusifolia Linn. have been used to improve vision, inflammatory diseases, and as hepatoprotective agents and to promote urination from ancient times.
METHODS AND RESULTS:
In the present study, we investigated the influence of glycosylation of components of C. obtusifolia and structure-activity relationships (SARs) with respect to the inhibition of acetylcholinesterase (AChE), butyrylcholinesterase (BChE), and β-site amyloid precursor protein (APP)-cleaving enzyme 1 (BACE1), which are related to Alzheimer's disease (AD). All six C. obtusifolia-derived compounds, rubrofusarin (1), rubrofusarin 6-O-β-d-glucopyranoside (2), rubrofusarin 6-O-β-d-gentiobioside (3), nor-rubrofusarin 6-O-β-d-glucoside (4), isorubrofusarin 10-O-β-d-gentiobioside ( Isorubrofusarin 10-gentiobioside, 5), and rubrofusarin 6-O-β-d-triglucoside (6) showed promising inhibitory activity against AChE/BACE1. Compounds 3 and 4 showed most significant inhibition against AChE and BACE1, respectively. The SARs results emphasized the importance of gentiobiosyl moiety in the rubrofusarin for AChE inhibition, whereas the presence of hydroxyl group at C-8 and the glucosyl moiety at the C-6 position in the nor-rubrofusarin appeared to largely determine BACE1 inhibition. Kinetics and docking studies showed the lowest binding energy and highest affinity for mixed-type inhibitors, 3 and 4. Hydrophobic bonds interactions and the number of hydrogen bonds determined the strength of the protein-inhibitor interaction.
CONCLUSIONS:
These results suggest that C. obtusifolia and its constituents have therapeutic potential, and that the SARs of its active components are further explored with a view towards developing a treatment for AD.