Lapachol
Lapachol shows both antimicrobial, trypanocidal and antiviral activities, it also shows antimalarial activity against Plasmodium falciparum in vitro and Plasmodium berghei in vivo. Probiotics are capable of converting Lapachol into the most effective cytotoxic compound against a breast cancer cell line.
Inquire / Order: manager@chemfaces.com
Technical Inquiries: service@chemfaces.com
Tel: +86-27-84237783
Fax: +86-27-84254680

Address:
1 Building, No. 83, CheCheng Rd., Wuhan Economic and Technological Development Zone, Wuhan, Hubei 430056, PRC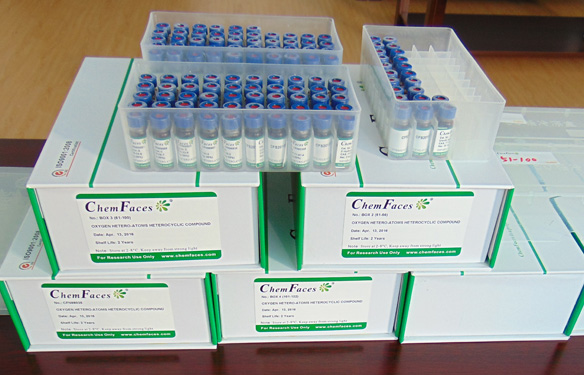 Providing storage is as stated on the product vial and the vial is kept tightly sealed, the product can be stored for up to
24 months(2-8C)
.
Wherever possible, you should prepare and use solutions on the same day. However, if you need to make up stock solutions in advance, we recommend that you store the solution as aliquots in tightly sealed vials at -20C. Generally, these will be useable for up to two weeks. Before use, and prior to opening the vial we recommend that you allow your product to equilibrate to room temperature for at least 1 hour.
Need more advice on solubility, usage and handling? Please email to: service@chemfaces.com
The packaging of the product may have turned upside down during transportation, resulting in the natural compounds adhering to the neck or cap of the vial. take the vial out of its packaging and gently shake to let the compounds fall to the bottom of the vial. for liquid products, centrifuge at 200-500 RPM to gather the liquid at the bottom of the vial. try to avoid loss or contamination during handling.
Pak J Pharm Sci.2018, 31:311-315
J Ethnopharmacol.2019, 236:31-41
J of Health Science and Alternative Medicine2019, 1(1)
Oncotarget.2015, 6(31):30831-49
J Food Biochem.2019, 43(9):e12970
Analytical sci. & Tech2016, 186-193
Faculty of Chem. & Nat. Resource Eng.2014, 62
Appl Biochem Biotechnol.2020, 190(2):732-744
The Korea Society of Pha.2014, 300-314
Molecules.2019, 24(2):E343
Lett Appl Microbiol. 2014 Jul;59(1):108-14.
Cytotoxicity of lapachol metabolites produced by probiotics.[Pubmed:
24635204
]
Probiotics are currently added to a variety of functional foods to provide health benefits to the host and are commonly used by patients with gastrointestinal complaints or diseases. The therapeutic effects of Lapachol continue to inspire studies to obtain derivatives with improved bioactivity and lower unwanted effects. Therefore, the general goal of this study was to show that probiotics are able to convert Lapachol and are important to assess the effects of bacterial metabolism on drug performance and toxicity.
METHODS AND RESULTS:
The microbial transformations of Lapachol were carried out by Bifidobacterium sp. and Lactobacillus acidophilus and different metabolites were produced in mixed and isolated cultures. The cytotoxic activities against breast cancer and normal fibroblast cell lines of the isolated metabolites (4α-hydroxy-2,2-dimethyl-5-oxo-2,3,4,4α,5,9β-hexahydroindeno[1,2-β]pyran-9β-carboxilic acid, a new metabolite produced by mixed culture and dehydro-α-lapachone produced by isolated cultures) were assessed and compared with those of Lapachol. The new metabolite displayed a lower activity against a breast cancer cell line (IC50 = 532.7 μmol l(-1) ) than Lapachol (IC50 = 72.3 μmol l(-1) ), while dehydro-α-lapachone (IC50 = 10.4 μmol l(-1) ) displayed a higher activity than Lapachol. The present study is the first to demonstrate that probiotics are capable of converting Lapachol into the most effective cytotoxic compound against a breast cancer cell line.
CONCLUSIONS:
Probiotics have been used in dairy products to promote human health and have the ability to metabolize drugs and other xenobiotics. Naphthoquinones, such as Lapachol, are considered privileged scaffolds due to their high propensity to interact with biological targets. The present study is the first to demonstrate that probiotics are capable of converting Lapachol into the most effective cytotoxic compound against a breast cancer cell line. The developed approach highlights the importance of probiotics to assess the effects of bacterial metabolism on drug performance and toxicity.
Bioorg Med Chem. 2008 Jan 15;16(2):668-74.
Trypanosoma cruzi: activities of lapachol and alpha- and beta-lapachone derivatives against epimastigote and trypomastigote forms.[Pubmed:
18029184
]

METHODS AND RESULTS:
Derivatives of natural quinones with biological activities, such as Lapachol, alpha- and beta-lapachones, have been synthesized and their trypanocidal activity evaluated in vitro in Trypanosoma cruzi cells. All tested compounds inhibited epimastigote growth and trypomastigote viability. Several compounds showed similar or higher activity as compared with current trypanocidal drugs, nifurtimox and benznidazole. The results presented here show that the anti-T. cruzi activity of the alpha-lapachone derivatives can be increased by the replacement of the benzene ring by a pyridine moiety.
CONCLUSIONS:
Free radical production and consequently oxidative stress through redox cycling or production of electrophilic metabolites are the potential biological mechanism of action for these synthetic quinones.
Bioorg Med Chem Lett. 2004 Mar 8;14(5):1145-9.
Antimalarial activity of phenazines from lapachol, beta-lapachone and its derivatives against Plasmodium falciparum in vitro and Plasmodium berghei in vivo.[Pubmed:
14980653
]

METHODS AND RESULTS:
The antimalarial activity of benzo[a]phenazines synthesized from 1,2-naphthoquinone, Lapachol, beta-lapachone and several derivatives have been tested against Plasmodium falciparum in vitro using isolates of parasites with various susceptibilities to chloroquine and/or mefloquine. Parasite growth in the presence of the test drugs was measured by incorporation of [(3)H]-hipoxanthine in comparison to controls with no drugs, always testing in parallel chloroquine, a standard antimalarial. Among seven benzophenazines tested, four had significant in vitro activities; important, the parasites resistant to chloroquine were more susceptible to the active phenazines in vitro. The doses of phenazines causing 50% inhibition of parasite growth varied from 1.67 to 9.44 microM. The two most active ones were also tested in vivo against Plasmodium berghei in mice, in parallel with Lapachol and beta-lapachone. The 3-sulfonic acid-beta-lapachone-derived phenazine was the most active causing up to 98% inhibition of parasitaemia in long term treatment (7 doses) subcutaneously, whereas the phenazine from 3-bromo-beta-lapachone was inactive.
CONCLUSIONS:
Thus, these simple phenazines, containing polar (-Br,-I) and ionizable (-SO(3)H, -OH) groups, easily synthesized from cheap, natural or synthetic precursors (Lapachol and beta-lapachone), at rather low cost, provide prototypes for development of new antimalarials aiming the chloroquine resistant parasites.
Oncol Rep. 2005 Feb;13(2):329-33.
Demonstration of the lapachol as a potential drug for reducing cancer metastasis.[Pubmed:
15643520
]
Metastasis is the major process responsible for the death in cancer patients. In the search for more effective antineoplasic drugs, many substances are under investigation, among them Lapachol. This study aims to examine the molecular and morphological alterations caused by Lapachol treatment, as well as its effects on the intrinsic tissue invasive property of this cell line.
METHODS AND RESULTS:
HeLa cells were exposed to different concentrations of Lapachol, and the resulting alterations on cellular protein profile, morphology and invasiveness property were studied. At 400 microg/ml, cellular viability remains unchanged, but Lapachol induces alterations in the protein profile and inhibits the invasiveness of HeLa cells in CAM model.
CONCLUSIONS:
With these results, we can conclude that Lapachol has a great potential of application in fighting metastasis.
J Chromatogr B Analyt Technol Biomed Life Sci. 2014 Jan 1;944:128-35.
Structural elucidation of the metabolites of lapachol in rats by liquid chromatography-tandem mass spectrometry.[Pubmed:
24316523
]
Lapachol is a natural naphthoquinone compound derived from Bignoniaceae (Tabebuia sp.) that possesses a range of significant biological activities.
METHODS AND RESULTS:
Nine phase I and four phase II metabolites of Lapachol in rat bile were firstly elucidated and identified using a sensitive LC-ESI-MS(n) method. The molecular structures of the metabolites have been presented on the basis of the characteristics of their precursor and product ions, as well as their fragmentation mechanisms and chromatographic retention times. The results indicated that the phase I metabolites were predominantly biotransformed by the hydroxylation, semiquinone hydrogenation at the oxygen position or a side chain rearrangement. The phase II metabolites were identified as the glucuronidated conjugates which showed a characteristic neutral loss of 176Da. Based on the results of this research, we have proposed the metabolic pathways for Lapachol in rats.
CONCLUSIONS:
This work has provided novel information for the in vivo Lapachol metabolism which could be used to develop a novel drug candidate, as well as a better understanding of the safety and efficacy of the drug.