Acetylshikonin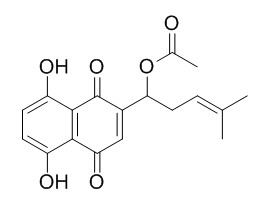 Acetylshikonin can effectively inhibit tumor cells, it can be used to treat hepatocellular carcinoma cells expressing hepatitis B virus X protein (HBX) by inducing ER stress , an oncoprotein from hepatitis B virus. Acetylshikonin inhibits the production of eicosanoid, is due to the attenuation of cytosolic phospholipase A(2) membrane recruitment via the decrease in [Ca(2+)](i) and to the blockade of cyclooxygenase and 5-lipoxygenase activity.
Inquire / Order: manager@chemfaces.com
Technical Inquiries: service@chemfaces.com
Tel: +86-27-84237783
Fax: +86-27-84254680

Address:
1 Building, No. 83, CheCheng Rd., Wuhan Economic and Technological Development Zone, Wuhan, Hubei 430056, PRC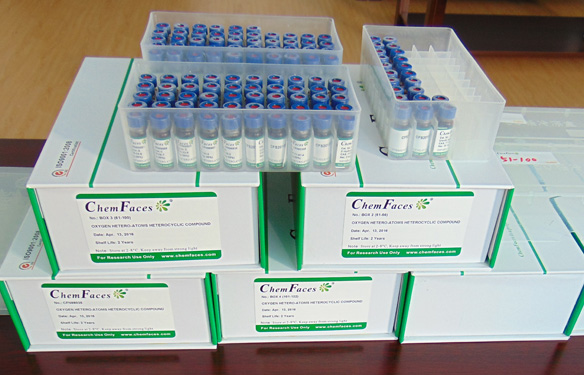 Providing storage is as stated on the product vial and the vial is kept tightly sealed, the product can be stored for up to
24 months(2-8C)
.
Wherever possible, you should prepare and use solutions on the same day. However, if you need to make up stock solutions in advance, we recommend that you store the solution as aliquots in tightly sealed vials at -20C. Generally, these will be useable for up to two weeks. Before use, and prior to opening the vial we recommend that you allow your product to equilibrate to room temperature for at least 1 hour.
Need more advice on solubility, usage and handling? Please email to: service@chemfaces.com
The packaging of the product may have turned upside down during transportation, resulting in the natural compounds adhering to the neck or cap of the vial. take the vial out of its packaging and gently shake to let the compounds fall to the bottom of the vial. for liquid products, centrifuge at 200-500 RPM to gather the liquid at the bottom of the vial. try to avoid loss or contamination during handling.
Food Chem.2019, 276:768-775
Molecules.2016, 21(6)
J Liq Chromatogr R T2018, 41(12):761-769
Oncol Lett.2020, 20(4):122.
ARPN Journal of Eng.& Applied Sci.2016, 2199-2204
J Ginseng Res.2020, 44(4):611-618.
BMC Complement Altern Med.2019, 19(1):339
Plants (Basel).2020, 9(11):1535.
Phytomedicine.2015, 22(4):498-503
Int J Mol Sci.2019, 20(11):E2734
Eur J Pharmacol. 2014 Jul 15;735:132-40.
Acetylshikonin induces apoptosis of hepatitis B virus X protein-expressing human hepatocellular carcinoma cells via endoplasmic reticulum stress.[Pubmed:
24769509
]

METHODS AND RESULTS:
When Acetylshikonin was added to Hep3B cells stably expressing HBX, it induced apoptosis in a dose-dependent manner. Acetylshikonin induced upregulation and export of Nur77 to the cytoplasm and activation of JNK. Likewise, suppression of Nur77 and JNK inactivation protected the cells from Acetylshikonin-induced apoptosis, indicating that Nur77 upregulation and JNK activation were required for Acetylshikonin-mediated apoptosis. Furthermore, Acetylshikonin increased the expression of Bip and ubiquitination levels of cellular proteins, features of endoplasmic reticulum (ER) stress, via the production of reactive oxygen species in a dose-dependent manner. Suppression of reactive oxygen species with N-acetylcysteine reduced levels of Bip protein and ubiquitination levels of cellular proteins during Acetylshikonintreatment, leading to protection of cells from apoptosis. Cycloheximide treatment reduced Acetylshikonin-induced ER stress, suggesting that protein synthesis is involved in Acetylshikonin-induced ER stress. Moreover, we showed using salubrinal, an ER stress inhibitor that reactive oxygen species production, Acetylshikonin activation, and Nur77 upregulation and its translocation to cytoplasm are necessary for ER-induced stress. Interestingly, we found that JNK inactivation suppresses Acetylshikonin-induced ER stress, whereas Nur77 siRNA treatment does not, indicating that JNK is required for Acetylshikonin-induced ER stress.
CONCLUSIONS:
Accordingly, we report that Acetylshikonin induces ER stress, which is prerequisite for apoptosis of HBX-expressing hepatocellular carcinoma cells.
Evid Based Complement Alternat Med. 2013;2013:937370.
Acetylshikonin, a Novel AChE Inhibitor, Inhibits Apoptosis via Upregulation of Heme Oxygenase-1 Expression in SH-SY5Y Cells.[Pubmed:
24302971
]
Acetylcholinesterase inhibitors are prominent alternative in current clinical treatment for AD patients. Therefore, there is a continued need to search for novel AChEIs with good clinical efficacy and less side effects.
METHODS AND RESULTS:
By using our in-house natural product database and AutoDock Vina as a tool in docking study, we have identified twelve phytochemicals (emodin, aloe-emodin, chrysophanol, and rhein in Rhei Radix Et Rhizoma; xanthotoxin, phellopterin, alloisoimperatorin, and imperatorin in Angelicae dahuricae Radix; shikonin, Acetylshikonin, isovalerylshikonin, and β,β-dimethylacrylshikonin in Arnebiae Radix) as candidates of AChEIs that were not previously reported in the literature. In addition to AChEI activity, a series of cell-based experiments were conducted for the investigation of their neuroprotective activities. We found that Acetylshikonin and its derivatives prevented apoptotic cell death induced by hydrogen peroxide in human and rat neuronal SH-SY5Y and PC12 cells at 10 μM.
CONCLUSIONS:
We showed that Acetylshikonin exhibited the most potent antiapoptosis activity through the inhibition of the generation of reactive oxygen species as well as protection of the loss of mitochondria membrane potential. Furthermore, we identified for the first time that the upregulation of heme oxygenase 1 by Acetylshikonin is a key step mediating its antiapoptotic activity from oxidative stress in SH-SY5Y cells.
Eur J Pharmacol. 2009 Apr 1;607(1-3):234-43.
The influence of acetylshikonin, a natural naphthoquinone, on the production of leukotriene B4 and thromboxane A2 in rat neutrophils.[Pubmed:
19232341
]

METHODS AND RESULTS:
Both A23187 and formyl-Met-Leu-Phe (fMLP) induced the release of arachidonic acid and the production of thromboxane B(2) and leukotriene B(4) from rat neutrophils that were inhibited by Acetylshikonin in a concentration-dependent manner. Acetylshikonin blocked exogenous arachidonic acid-induced leukotriene B(4) and thromboxane B(2) production in neutrophils and inhibited the enzymatic activity of ram seminal vesicles cyclooxygenase and human recombinant 5-lipoxygenase, whereas it had no effect on cytosolic phospholipase A(2) activity, in cell-free systems. 3-Morpholinosydnonimine- and 13S-hydroperoxy-9Z,11E-octadecadienoic acid (13-HpODE)-mediated dihydrorhodamine 123 oxidation (to assess the lipid peroxide and peroxynitrite scavenging activity) was reduced by Acetylshikonin. The membrane recruitment of cytosolic phospholipase A(2) was inhibited, but the phosphorylation of cytosolic phospholipase A(2) was enhanced, by Acetylshikonin in the A23187-induced response. Acetylshikonin alone stimulated extracellular signal regulated kinase (ERK) phosphorylation and enhanced this response in cells stimulated with A23187 and fMLP. The phosphorylation of ERKs and cytosolic phospholipase A(2) was attenuated by U0126, a mitogen-activated protein kinase (MAPK)/ERK kinase (MEK) inhibitor. Acetylshikonin facilitated both A23187- and fMLP-mediated translocation of 5-lipoxygenase to the membrane. Acetylshikonin attenuated both fMLP- and ionomycin-mediated [Ca(2+)](i) elevation.
CONCLUSIONS:
These results indicate that the inhibition of eicosanoid production by Acetylshikonin is due to the attenuation of cytosolic phospholipase A(2) membrane recruitment via the decrease in [Ca(2+)](i) and to the blockade of cyclooxygenase and 5-lipoxygenase activity.
World J Gastroenterol. 2009 Apr 21;15(15):1816-20.
Inhibitory effect of acetylshikonin on human gastric carcinoma cell line SGC-7901 in vitro and in vivo.[Pubmed:
19370777
]
To investigate the inhibitory effect of Acetylshikonin on human gastric carcinoma cell line SGC-7901 and its mechanism.
METHODS AND RESULTS:
MTT assay was used to assess the inhibitory effect of Acetylshikonin on proliferation of SGC-7901 cells. Apoptosis-inducing effect was determined by flow cytometry and terminal deoxynucleotidyl transferase-mediated dUTP-biotin nick end-labeling with Hoechst staining. Expression of mRNA and protein in Bcl-2 and Bax was analyzed by reverse transcription-polymerase chain reaction and Western blot. Antitumor effect of Acetylshikonin on a mouse SGC-7901 model was also determined. Forty-eight hours after treatment with Acetylshikonin, MTT assay showed that Acetylshikonin inhibited the proliferation of SGC-7901 cells in a dose-dependent manner. The half maximal inhibitory concentration of Acetylshikonin to SGC-7901 cells was 0.428 +/- 0.07 mg/L. Cell shrinkage, nuclear pyknosis and chromatin condensation, which are the characteristics of cell apoptosis, were observed in treated SGC-7901 cells and the percentage of apoptosis increased in a dose-dependent manner. Acetylshikonin down-regulated the expression of Bcl-2 and up-regulated the expression of Bax in the treated SGC-7901 cells compared with the controls. The experiment in vivo showed that 0.5, 1, and 2 mg/kg of Acetylshikonin significantly inhibited the growth of tumor in the mouse SGC-7901 model, with an inhibitory rate of 25.00%-55.76%.
CONCLUSIONS:
Acetylshikonin inhibits the growth of SGC-7901 cells in vitro and in vivo by inducing cell apoptosis.
AAPS PharmSciTech. 2014 Apr;15(2):425-33.
Encapsulation of acetylshikonin by polyamidoamine dendrimers for preparing prominent nanoparticles.[Pubmed:
24449188
]
Acetylshikonin (AS) has demonstrated antitumor potential. However, the development of therapeutic applications utilizing AS is inhibited by its poor solubility in water.
METHODS AND RESULTS:
In the present work, polyamidoamine (PAMAM) dendrimers and their PEGylated derivatives were employed to increase the solubility of AS. A distinct color transition was observed during the encapsulation of AS suggesting strong intermolecular forces between PAMAM and AS. Ultraviolet-visible, high-performance liquid chromatography, and (1)H NMR were used to verify the interaction between PAMAM and AS. The maximum amount of combined AS to each PAMAM molecule was determined.
CONCLUSIONS:
The cytotoxicity of AS nanoparticles was evaluated against leukemia (K562) and breast cancer (SK-BR-3) cell lines; the AS nanoparticles were shown to effectively inhibit tumor cells.