Jacquilenin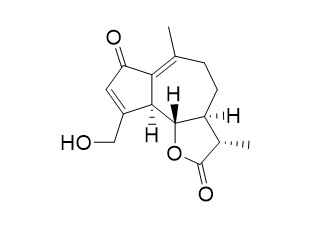 Jacquilenin has anti-inflammatory activity
Inquire / Order: manager@chemfaces.com
Technical Inquiries: service@chemfaces.com
Tel: +86-27-84237783
Fax: +86-27-84254680

Address:
1 Building, No. 83, CheCheng Rd., Wuhan Economic and Technological Development Zone, Wuhan, Hubei 430056, PRC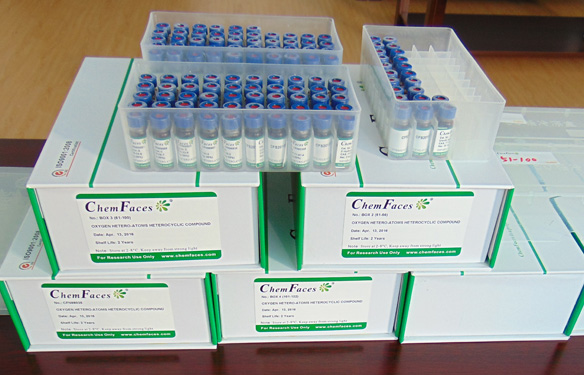 Providing storage is as stated on the product vial and the vial is kept tightly sealed, the product can be stored for up to
24 months(2-8C)
.
Wherever possible, you should prepare and use solutions on the same day. However, if you need to make up stock solutions in advance, we recommend that you store the solution as aliquots in tightly sealed vials at -20C. Generally, these will be useable for up to two weeks. Before use, and prior to opening the vial we recommend that you allow your product to equilibrate to room temperature for at least 1 hour.
Need more advice on solubility, usage and handling? Please email to: service@chemfaces.com
The packaging of the product may have turned upside down during transportation, resulting in the natural compounds adhering to the neck or cap of the vial. take the vial out of its packaging and gently shake to let the compounds fall to the bottom of the vial. for liquid products, centrifuge at 200-500 RPM to gather the liquid at the bottom of the vial. try to avoid loss or contamination during handling.
Korean Journal of Pharmacognosy2019, 50(4):285-290
Saudi Pharm J2020, 10.1016
Plant Methods.2017, 13:108
New Journal of Chemistry2019, 43:12538-12547
Exp Ther Med.2019, 18(6):4388-4396
Evid Based Complement Alternat Med.2021, 2021:6687513.
J Microbiol Biotechnol.2022, 32(2):141-148.
J Agric Food Chem.2021, 69(14):4210-4222.
J. Soc. Cosmet. Sci. Korea2016, 163-171
Dicle Tip Dergisi2020, 47(2),423-430.
Molecules . 2021 Apr 28;26(9):2583.
Supercritical CO 2 Extraction as a Tool to Isolate Anti-Inflammatory Sesquiterpene Lactones from Cichorium intybus L. Roots[Pubmed:
33925241
]
Cichorium intybus L. or chicory plants are a natural source of health-promoting compounds in the form of supplements such as inulin, as well as other bioactive compounds such as sesquiterpene lactones (SLs). After inulin extraction, chicory roots are considered waste, with most SLs not being harnessed. We developed and optimized a new strategy for SL extraction that can contribute to the conversion of chicory root waste into valuable products to be used in human health-promoting applications. In our work, rich fractions of SLs were recovered from chicory roots using supercritical CO2. A response surface methodology was used to optimize the process parameters (pressure, temperature, flow rate, and co-solvent percentage) for the extraction performance. The best operating conditions were achieved at 350 bar, 40 °C, and 10% EtOH as a co-solvent in a 15 g/min flow rate for 120 min. The extraction with supercritical CO2 revealed to be more selective for the SLs than the conventional solid-liquid extraction with ethyl acetate. In our work, 1.68% mass and a 0.09% sesquiterpenes yield extraction were obtained, including the recovery of two sesquiterpene lactones (8-deoxylactucin and 11β,13-dihydro-8-deoxylactucin), which, to the best of our knowledge, are not commercially available. A mixture of the abovementioned compounds were tested at different concentrations for their toxic profile and anti-inflammatory potential towards a human calcineurin/NFAT orthologue pathway in a yeast model, the calcineurin/Crz1 pathway. The SFE extract obtained, rich in SLs, yielded results of inhibition of 61.74 ± 6.87% with 50 μg/mL, and the purified fraction containing 8-deoxylactucin and 11β,13-dihydro-8-deoxylactucin inhibited the activation of the reporter gene up to 53.38 ± 3.9% at 10 μg/mL. The potential activity of the purified fraction was also validated by the ability to inhibit Crz1 nuclear translocation and accumulation. These results reveal a possible exploitable green technology to recover potential anti-inflammatory compounds from chicory roots waste after inulin extraction.
Yao Xue Xue Bao . 2002 Jan;37(1):37-40.
[Chemical constituents of Notoseris rhombiformis][Pubmed:
12579897
]
Aim: To investigate the chemical constituents from the whole plant of the endemic plant Notoseris rhombiformis Shih. Methods: Column chromatography was used for separation and purification, while spectral analysis was used for structure elucidation. Results: Eight compounds were isolated from the whole plant of this Chinese endemic plant and their structures were elucidated as notoserolide A (1), notoserolide D (2), austricin (3), Jacquilenin (4), 3 beta, 14-dihydroxy-11 beta, 13-dihydrocostunolide (5), p-hydroxyphenylacetic acid (6), luteolin-7-O-beta-D-glucopyranoside (7) and daucosterol (8), respectively. Conclusion: All compounds were isolated from this plant for the first time. Among them, 2 is a new compound.