Isovalerylshikonin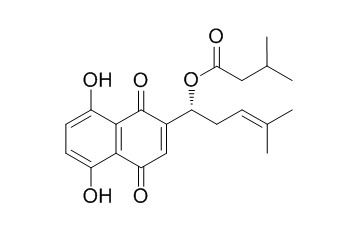 Isovalerylshikonin, a new resistance-modifying agent from Arnebia euchroma, supresses antimicrobial resistance of drug-resistant Staphylococcus aureus; it also has anti-mite activity. Isovalerylshikonin as a candidate of AChE inhibitor, it may prevent apoptotic cell death induced by hydrogen peroxide in human and rat neuronal SH-SY5Y and PC12 cells.
Inquire / Order: manager@chemfaces.com
Technical Inquiries: service@chemfaces.com
Tel: +86-27-84237783
Fax: +86-27-84254680

Address:
1 Building, No. 83, CheCheng Rd., Wuhan Economic and Technological Development Zone, Wuhan, Hubei 430056, PRC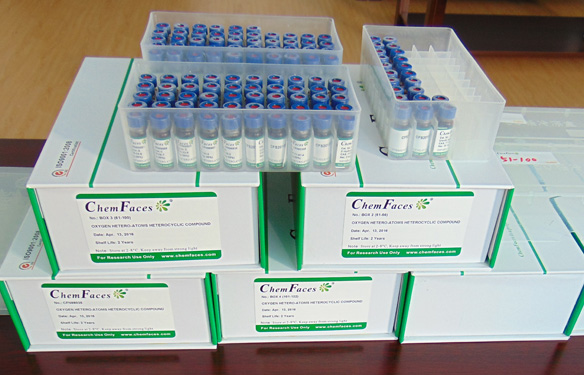 Providing storage is as stated on the product vial and the vial is kept tightly sealed, the product can be stored for up to
24 months(2-8C)
.
Wherever possible, you should prepare and use solutions on the same day. However, if you need to make up stock solutions in advance, we recommend that you store the solution as aliquots in tightly sealed vials at -20C. Generally, these will be useable for up to two weeks. Before use, and prior to opening the vial we recommend that you allow your product to equilibrate to room temperature for at least 1 hour.
Need more advice on solubility, usage and handling? Please email to: service@chemfaces.com
The packaging of the product may have turned upside down during transportation, resulting in the natural compounds adhering to the neck or cap of the vial. take the vial out of its packaging and gently shake to let the compounds fall to the bottom of the vial. for liquid products, centrifuge at 200-500 RPM to gather the liquid at the bottom of the vial. try to avoid loss or contamination during handling.
Sci Rep.2018, 8(1)
The Journal of Internal Korean Medicine2015, 36(4):486-497
Preprints2022, 2022030063.
J Biosci.2020, 45:46.
Kor. J. Herbol.2019, 34(2):59-66
Front Immunol.2018, 9:2091
The Japan Society for Analy. Chem.2017, 66(8):613-617
Asian Pac J Cancer Prev.2021, 22(S1):97-106.
Phytomedicine.2018, 40:37-47
Pharmaceuticals (Basel).2021, 14(6):588.
Int J Antimicrob Agents. 2019 Jan;53(1):70-73.
Isovalerylshikonin, a new resistance-modifying agent from Arnebia euchroma, supresses antimicrobial resistance of drug-resistant Staphylococcus aureus.[Pubmed:
30176356
]
Antimicrobial resistance is the greatest threat to the treatment of bacterial infectious diseases. The development of resistance-modifying agents (RMAs) represents a promising strategy to mitigate the spread of bacterial antimicrobial resistance.
METHODS AND RESULTS:
In this study, a natural product, Isovalerylshikonin (IVS), was isolated from Arnebia euchroma, a traditional Chinese medicine herb, that exhibited marginal antibacterial activity against drug-resistant Staphylococcus aureus RN4220, with a minimum inhibitory concentration (MIC) of 16 mg/L. In addition, a synergistic effect between IVS and streptomycin (STM) was detected by the microdilution antimicrobial chequerboard assay, with a reduction in the MIC of STM by up to 16-fold against strain RN4220. A bacterial ethidium bromide efflux assay and reverse transcription PCR were performed to investigate the synergistic mechanism. IVS significantly inhibited bacterial efflux and expression of msrA mRNA in vitro. A murine peritonitis/sepsis model was employed to test the in vivo synergistic activity of IVS and STM. IVS synergistically decreased bacterial counts with STM in peritoneal, spleen and liver tissue and increased mouse survival with STM in 7 days. The acute toxicity of IVS was tested and the 50% lethal dose (LD50) of IVS with a single exposure was 2.584 g/kg in mice.
CONCLUSIONS:
Overall, IVS, a low-toxicity RMA, exhibited synergistic antibacterial activities in vitro and in vivo against drug-resistant S. aureus. The effects were mediated by suppression of msrA mRNA expression and reduced bacterial efflux. In addition, these data support that IVS is a potential RMA against microbial resistance caused by the MsrA efflux pump.
Molecules. 2017 Jun 16;22(6). pii: E1002.
Identification of Onosma visianii Roots Extract and Purified Shikonin Derivatives as Potential Acaricidal Agents against Tetranychus urticae.[Pubmed:
28621748
]
There is an increasing need for the discovery of reliable and eco-friendly pesticides and natural plant-derived products may play a crucial role as source of new active compounds.
METHODS AND RESULTS:
In this research, a lipophilic extract of Onosma visianii roots extract containing 12% of shikonin derivatives demonstrated significant toxicity and inhibition of oviposition against Tetranychus urticae mites. Extensive chromatographic separation allowed the isolation of 11 naphthoquinone derivatives that were identified by spectral techniques and were tested against Tetranychus urticae.
CONCLUSIONS:
All the isolated compounds presented effects against the considered mite and isobutylshikonin (1) and Isovalerylshikonin (2) were the most active, being valuable model compounds for the study of new anti-mite agents.
Oncotarget. 2015 Nov 17;6(36):38934-51.
Inhibition of c-MYC with involvement of ERK/JNK/MAPK and AKT pathways as a novel mechanism for shikonin and its derivatives in killing leukemia cells.[Pubmed:
26472107
]
Leukemia remains life-threatening despite remarkable advances in chemotherapy. The poor prognosis and drug resistance are challenging treatment. Novel drugs are urgently needed. Shikonin, a natural naphthoquinone, has been previously shown by us to be particularly effective towards various leukemia cell lines compared to solid tumors. However, the underlying mechanisms are still poorly understood.
METHODS AND RESULTS:
Here, we investigated shikonin and 14 derivatives on U937 leukemia cells. Four derivatives (isobutyrylshikonin, 2-methylbutyrylshikonin, Isovalerylshikonin and β,β-dimethylacrylshikonin) were more active than shikonin. AnnexinV-PI analysis revealed that shikonins induced apoptosis. Cell cycle G1/S check point regulation and the transcription factor c-MYC, which plays a vital role in cell cycle regulation and proliferation, were identified as the most commonly down-regulated mechanisms upon treatment with shikonins in mRNA microarray hybridizations. Western blotting and DNA-binding assays confirmed the inhibition of c-MYC expression and transcriptional activity by shikonins. Reduction of c-MYC expression was closely associated with deregulated ERK, JNK MAPK and AKT activity, indicating their involvement in shikonin-triggered c-MYC inactivation. Molecular docking studies revealed that shikonin and its derivatives bind to the same DNA-binding domain of c-MYC as the known c-MYC inhibitors 10058-F4 and 10074-G5. This finding indicates that shikonins bind to c-MYC. The effect of shikonin on U937 cells was confirmed in other leukemia cell lines (Jurkat, Molt4, CCRF-CEM, and multidrug-resistant CEM/ADR5000), where shikonin also inhibited c-MYC expression and influenced phosphorylation of AKT, ERK1/2, and SAPK/JNK.
CONCLUSIONS:
In summary, inhibition of c-MYC and related pathways represents a novel mechanism of shikonin and its derivatives to explain their anti-leukemic activity.
Evid Based Complement Alternat Med. 2013;2013:937370.
Acetylshikonin, a Novel AChE Inhibitor, Inhibits Apoptosis via Upregulation of Heme Oxygenase-1 Expression in SH-SY5Y Cells.[Pubmed:
24302971
]
Acetylcholinesterase inhibitors are prominent alternative in current clinical treatment for AD patients. Therefore, there is a continued need to search for novel AChEIs with good clinical efficacy and less side effects.
METHODS AND RESULTS:
By using our in-house natural product database and AutoDock Vina as a tool in docking study, we have identified twelve phytochemicals (emodin, aloe-emodin, chrysophanol, and rhein in Rhei Radix Et Rhizoma; xanthotoxin, phellopterin, alloisoimperatorin, and imperatorin in Angelicae dahuricae Radix; shikonin, acetylshikonin, Isovalerylshikonin, and β,β-dimethylacrylshikonin in Arnebiae Radix) as candidates of AChEIs that were not previously reported in the literature. In addition to AChEI activity, a series of cell-based experiments were conducted for the investigation of their neuroprotective activities. We found that acetylshikonin and its derivatives prevented apoptotic cell death induced by hydrogen peroxide in human and rat neuronal SH-SY5Y and PC12 cells at 10 μM.
CONCLUSIONS:
We showed that acetylshikonin exhibited the most potent antiapoptosis activity through the inhibition of the generation of reactive oxygen species as well as protection of the loss of mitochondria membrane potential. Furthermore, we identified for the first time that the upregulation of heme oxygenase 1 by acetylshikonin is a key step mediating its antiapoptotic activity from oxidative stress in SH-SY5Y cells.