Salvianolic acid B
Salvianolic acid B is a bioactive compound isolated from the Chinese medicinal herb Danshen, which is used for treating neoplastic and chronic inflammatory diseases in China, it shows a protective action against the ischemia-reperfusion induced injury in rat brain. It inhibited the expression of COX,ERK,TNF-α, NO.
Inquire / Order: manager@chemfaces.com
Technical Inquiries: service@chemfaces.com
Tel: +86-27-84237783
Fax: +86-27-84254680

Address:
1 Building, No. 83, CheCheng Rd., Wuhan Economic and Technological Development Zone, Wuhan, Hubei 430056, PRC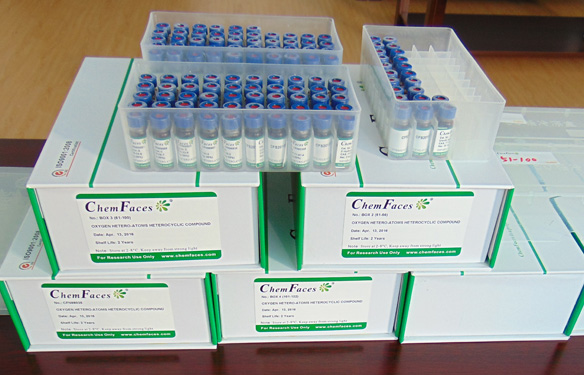 Providing storage is as stated on the product vial and the vial is kept tightly sealed, the product can be stored for up to
24 months(2-8C)
.
Wherever possible, you should prepare and use solutions on the same day. However, if you need to make up stock solutions in advance, we recommend that you store the solution as aliquots in tightly sealed vials at -20C. Generally, these will be useable for up to two weeks. Before use, and prior to opening the vial we recommend that you allow your product to equilibrate to room temperature for at least 1 hour.
Need more advice on solubility, usage and handling? Please email to: service@chemfaces.com
The packaging of the product may have turned upside down during transportation, resulting in the natural compounds adhering to the neck or cap of the vial. take the vial out of its packaging and gently shake to let the compounds fall to the bottom of the vial. for liquid products, centrifuge at 200-500 RPM to gather the liquid at the bottom of the vial. try to avoid loss or contamination during handling.
Pharmaceutics.2021, 13(2):187.
Korean Journal of Pharmacognosy2019, 50(4):285-290
Kangwon National University2022, 37(1):29-37
Appl. Sci. 2021, 11(17),7829
Pharmaceuticals (Basel).2020, 13(10):302.
LWT-Food Sci Technol2020, 109163
Front Cell Dev Biol.2021, 9:588093.
Arch Biochem Biophys.2020, 687:108384.
JPC-Journal of Planar Chromatography2023, 36:179-190
J Enzyme Inhib Med Chem.2019, 34(1):134-143
Eur J Pharmacol. 2012 Dec 15;697(1-3):81-7.
Salvianolic acid B possesses vasodilation potential through NO and its related signals in rabbit thoracic aortic rings.[Pubmed:
23051676
]
Salviae miltiorrhizae, a traditional Chinese medicine, is widely used in the treatment of cardiovascular and cerebrovascular diseases. Salvianolic acid B is identified as one of the most important water-soluble active ingredients in Salviae miltiorrhizae and associated with the activation of Ca(2+) channel of cytomembrane. But the further mechanism of action was not very clearly.
METHODS AND RESULTS:
In our study, we investigated the vasodilation activity of Salvianolic acid B using the isolated thoracic aortic rings from Japanese white rabbit. Salvianolic acid B significantly released the contraction of the isolated thoracic aortic rings induced by phenylephrine and CaCl(2) while had no effects on the aortic rings with KCl stimulated. Different with Di-ao-xin-xue-kang capsule, Salvianolic acid B caused an increase of Ca(2+) in cytoplasm from not only activation of Ca(2+) channel in cytomembrane but also release of endogenous Ca(2+). Then, a series of endogenous Ca(2+) inhibitors were pretreated to explore the mechanism of Salvianolic acid B, and the results provided further evidences that Salvianolic acid B causes intracellular calcium release in ryanodine receptors-dependent manners. Moreover, combining l-arginine (l-Arg) with Salvianolic acid B promoted the vasodilation activity suggesting a relationship with nitric oxide (NO). To further investigated its mechanism, both guanylate cyclase (GC) inhibitor and NO Synthase inhibitor were used and demonstrated to block vasodilation activity of the aortic rings.
CONCLUSIONS:
Our findings reveal a NO-sGC-cGMP signals dependence mechanism of Salvianolic acid B on its vasodilation activity which provide an evidence for its subsequent application in clinic.
Asian Pac J Trop Med. 2014 Apr;7(4):280-4.
Effect and mechanism of salvianolic acid B on the myocardial ischemia-reperfusion injury in rats.[Pubmed:
24507676
]
To investigate the effect of Salvianolic acid B on rats with myocardial ischemia-reperfusion injury.
METHODS AND RESULTS:
SD rats were randomly divided into five groups (n=10 in each group): A sham operation group, B ischemic reperfusion group model group, C low dose Salvianolic acid B group, D median dose Salvianolic acid B group, E high dose Salvianolic acid B group. One hour after establishment of the myocardial ischemia-reperfusion model, the concentration and the apoptotic index of the plasma level of myocardial enzymes (CTn I, CK-MB), SOD, MDA, NO, ET were measured. Heart tissues were obtained and micro-structural changes were observed. RESULTS: Compared the model group, the plasma CTn, CK-MB, MDA and ET contents were significantly increased, NO, T-SOD contents were decreased in the treatment group (group C, D, and E) (P<0.05); compared with group E, the plasma CTn I, CK-MB, MDA and ET levels were increased, the NO, T-SOD levels were decreased in groups C and D (P<0.05). Infarct size was significantly reduced, and the myocardial ultrastructural changes were improved significantly in treatment group.
CONCLUSIONS:
Salvianolic acid B has a significant protective effect on myocardial ischemia-reperfusion injury. It can alleviate oxidative stress, reduce calcium overload, improve endothelial function and so on.
Int J Biochem Cell Biol. 2014 Jun;51:1-9.
Salvianolic acid B promotes osteogenesis of human mesenchymal stem cells through activating ERK signaling pathway.[Pubmed:
24657587
]
Salvianolic acid B, a major bioactive component of Chinese medicine herb, Salvia miltiorrhiza, is widely used for treatment of cardiovascular diseases. Our recent studies have shown that Salvianolic acid B can prevent development of osteoporosis. However, the underlying mechanisms are still not clarified clearly.
METHODS AND RESULTS:
In the present study, we aim to investigate the effects of Salvianolic acid B on viability and osteogenic differentiation of human mesenchymal stem cells (hMSCs). The results showed Salvianolic acid B (Sal B) had no obvious toxic effects on hMSCs, whereas Sal B supplementation (5μM) increased the alkaline phosphatase activity, osteopontin, Runx2 and osterix expression in hMSCs. Under osteogenic induction condition, Sal B (5μM) significantly promoted mineralization; and when the extracellular-signal-regulated kinases signaling (ERK) pathway was blocked, the anabolic effects of Sal B were diminished, indicating that Sal B promoted osteogenesis of hMSCs through activating ERK signaling pathway.
CONCLUSIONS:
The current study confirms that Sal B promotes osteogenesis of hMSCs with no cytotoxicity, and it may be used as a potential therapeutic agent for the management of osteoporosis.
Int J Cancer. 2009 May 1;124(9):2200-9.
Salvianolic acid B inhibits growth of head and neck squamous cell carcinoma in vitro and in vivo via cyclooxygenase-2 and apoptotic pathways.[Pubmed:
19123475
]
Salvianolic acid B (Sal-B) is a leading bioactive component of Salvia miltiorrhiza Bge, which is used for treating neoplastic and chronic inflammatory diseases in China.
METHODS AND RESULTS:
The purpose of this study was to investigate the mechanisms by which Sal-B inhibits HNSCC growth. Sal-B was isolated from S. miltiorrhiza Bge by solvent extraction followed by 2 chromatographic steps. Pharmacological activity of Sal-B was assessed in HNSCC and other cell lines by estimating COX-2 expression, cell viability and caspase-dependent apoptosis. Sal-B inhibited growth of HNSCC JHU-022 and JHU-013 cells with IC(50) of 18 and 50 microM, respectively. Nude mice with HNSCC solid tumor xenografts were treated with Sal-B (80 mg/kg/day) or celecoxib (5 mg/kg/day) for 25 days to investigate in vivo effects of the COX-2 inhibitors. Tumor volumes in Sal-B treated group were significantly lower than those in celecoxib treated or untreated control groups (p < 0.05). Sal-B inhibited COX-2 expression in cultured HNSCC cells and in HNSCC cells isolated from tumor xenografts. Sal-B also caused dose-dependent inhibition of prostaglandin E(2) synthesis, either with or without lipopolysaccharide stimulation.
CONCLUSIONS:
Taken together, Sal-B shows promise as a COX-2 targeted anticancer agent for HNSCC prevention and treatment.
Clin Exp Pharmacol Physiol. 2014 Jul;41(7):502-8.
Antagonism by salvianolic acid B of lipopolysaccharide-induced disseminated intravascular coagulation in rabbits.[Pubmed:
24739088
]
Animal Models: DIC model in rabbits
Formulation: ---
Dosages:1, 3 or 6 mg/kg
Administration: i.v.