Astin B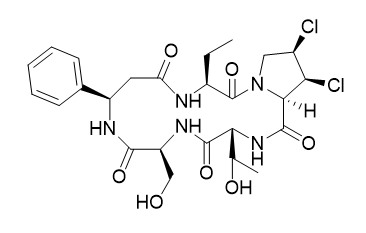 Astin B has antitumor activity.
Inquire / Order: manager@chemfaces.com
Technical Inquiries: service@chemfaces.com
Tel: +86-27-84237783
Fax: +86-27-84254680

Address:
1 Building, No. 83, CheCheng Rd., Wuhan Economic and Technological Development Zone, Wuhan, Hubei 430056, PRC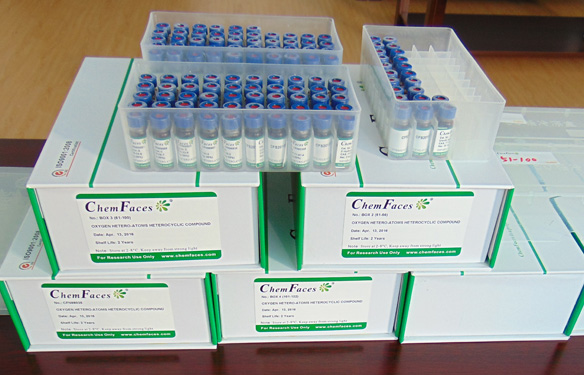 Providing storage is as stated on the product vial and the vial is kept tightly sealed, the product can be stored for up to
24 months(2-8C)
.
Wherever possible, you should prepare and use solutions on the same day. However, if you need to make up stock solutions in advance, we recommend that you store the solution as aliquots in tightly sealed vials at -20C. Generally, these will be useable for up to two weeks. Before use, and prior to opening the vial we recommend that you allow your product to equilibrate to room temperature for at least 1 hour.
Need more advice on solubility, usage and handling? Please email to: service@chemfaces.com
The packaging of the product may have turned upside down during transportation, resulting in the natural compounds adhering to the neck or cap of the vial. take the vial out of its packaging and gently shake to let the compounds fall to the bottom of the vial. for liquid products, centrifuge at 200-500 RPM to gather the liquid at the bottom of the vial. try to avoid loss or contamination during handling.
Exp Parasitol.2018, 194:67-78
JEJU National University2022, 10478.
BioResources J.2020, 15(3).
Journal of Functional Foods2022, 96: 105216.
Agriculture2022, 12(2),227.
Molecules.2016, 21(10)
Int J Mol Sci.2021, 22(12):6466.
J Microbiol Immunol Infect.2021, S1684-1182(21)00142-0.
Appl. Sci. 2021, 11(22),10569
Archives of Biological sciences2022, 00:21-21
J Sep Sci. 2015 Feb;38(4):571-5.
Simultaneous separation and determination of phenolic acids, pentapeptides, and triterpenoid saponins in the root of Aster tataricus by high-performance liquid chromatography coupled with electrospray ionization quadrupole time-of-flight mass spectrometry.[Pubmed:
25491750
]

METHODS AND RESULTS:
We established a qualitative method to analyze the main chemical compositions of the root of Aster tataricus. Most of the peaks were separated on a C(18) column packed with 5.0 μm particles, and 28 compounds were identified, including 11 chlorogenic acids, ten astins/asterinins, and seven astersaponins, four of which were reported for the first time from A. tataricus. Furthermore, we developed a reliable method for the simultaneous quantification of 3-caffeoylquinic acid, 3,4-dicaffeoylquinic acid, 3,5-dicaffeoylquinic acid, astin A, Astin B, astin C, astersaponin A, and astersaponin C, and the qualified separations were achieved only on a C18 column packed with 2.7 μm particles.
CONCLUSIONS:
The method was used to measure the concentrations of eight components in samples from two major producing areas in China, and the average contents in samples from Bozhou (Anhui) were higher than those in samples from Anguo (Hebei).
Chem Pharm Bull (Tokyo). 1996 May;44(5):1026-32.
Cyclic peptides from higher plants. XXVIII. Antitumor activity and hepatic microsomal biotransformation of cyclic pentapeptides, astins, from Aster tataricus.[Pubmed:
8689717
]

METHODS AND RESULTS:
Antitumor activities on Sarcoma 180A of a series of cyclic pentapeptides, astins, isolated from the roots of Aster tataricus, were examined.
CONCLUSIONS:
The activities on various congeners of the dichlorinated proline residues prepared by chemical conversion and a hepatic microsomal biotransformation in rats suggested that 1,2-cis dichlorinated proline residues of astin A, Astin B and astin C play an important role in the antitumor activity of astins.