Rosmarinyl glucoside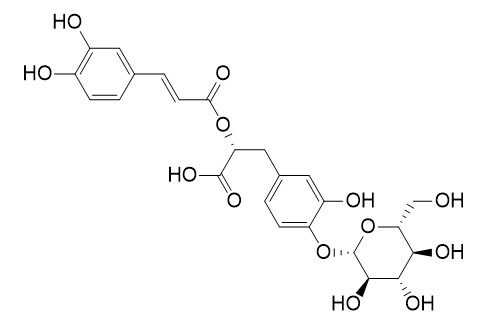 Anti-inflammatory effects of rosmarinic acid-4-O-β-D-glucoside in reducing acute lung injury in mice infected with influenza virus.
The scientists found a solution to make Rosmarinic acid available for skin care products. They used glycosylation to convert Rosmarinic acid into Rosmarinyl Glucoside, which is bioavailable, water-soluble and stable in formulations. After penetration trough skin barriers Rosmarinyl Glucoside disintegrates back into Rosmarinic acid. Its biologically active in cells with anti-ageing properties - protecting collagen and hyaluronic acid from destruction by inhibiting enzymes (collagen-destroying enzyme and hyaluronidase). Protects against the degradation of the cellular matrix and captures free-radicals.
A healing herb and one of the most well-known polyphenols for skincare, Rosmarinyl Glucoside guards skin's extracellular matrix to maintain collagen and keep skin firm, strong and resilient. Its antioxidant activity captures the free radicals that damage skin and inhibit the breakdown of the hyaluronic acid that keeps skin hydrated, plumped, and refreshed.
Inquire / Order: manager@chemfaces.com
Technical Inquiries: service@chemfaces.com
Tel: +86-27-84237783
Fax: +86-27-84254680

Address:
1 Building, No. 83, CheCheng Rd., Wuhan Economic and Technological Development Zone, Wuhan, Hubei 430056, PRC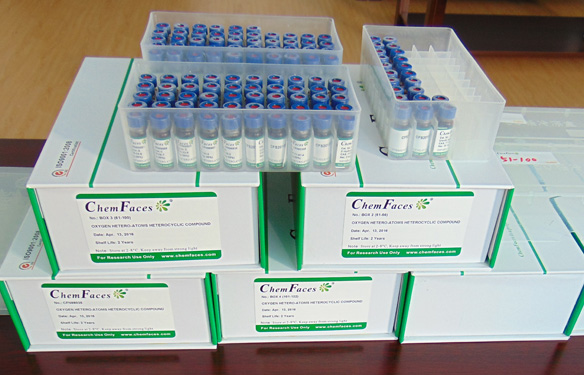 Providing storage is as stated on the product vial and the vial is kept tightly sealed, the product can be stored for up to
24 months(2-8C)
.
Wherever possible, you should prepare and use solutions on the same day. However, if you need to make up stock solutions in advance, we recommend that you store the solution as aliquots in tightly sealed vials at -20C. Generally, these will be useable for up to two weeks. Before use, and prior to opening the vial we recommend that you allow your product to equilibrate to room temperature for at least 1 hour.
Need more advice on solubility, usage and handling? Please email to: service@chemfaces.com
The packaging of the product may have turned upside down during transportation, resulting in the natural compounds adhering to the neck or cap of the vial. take the vial out of its packaging and gently shake to let the compounds fall to the bottom of the vial. for liquid products, centrifuge at 200-500 RPM to gather the liquid at the bottom of the vial. try to avoid loss or contamination during handling.
Oxid Med Cell Longev2019, 9056845:13
Universidade Estadual Paulista2017, 42785
Pak J Pharm Sci.2019, 32(6):2879-2885
JEJU National University2022, 24032.
Antioxidants (Basel).2020, 9(7):581.
Plants (Basel).2021, 10(5):951.
Cancers (Basel).2023, 15(1):293.
Daru.2022, 30(2):273-288.
Food Research International2020, 108987
Plants (Basel).2022, 11(21):2947.
Antiviral Res . 2017 Aug;144:34-43.
Anti-inflammatory effects of rosmarinic acid-4-O-β-D-glucoside in reducing acute lung injury in mice infected with influenza virus[Pubmed:
28461072
]
Rosmarinic acid-4-O-β-D-glucoside (RAG) is a dicaffeoyl phenolic compound isolated from Sarcandra glabra (Thunb.) Nakai. Preliminary studies show that RAG has significant anti-inflammatory properties and can alleviate ear swelling in mice and the paw swelling in rats. Here, the anti-influenza effects of RAG were investigated in mice infected with A/FM/1/47 H1N1 virus. The survival rate and body weight were observed, the lung edema, virus copies, inflammatory cytokines (including IL-4, IL-5, TNF-α and IFN-γ) and oxidative damage indexes (including SOD, MDA, NO, and CAT) were measured. Moreover, immune cell recruitment in alveoli was measured with white blood cells and differential counts. Therapeutic RAG concentrations substantially improve the symptoms, mitigate body weight loss and alleviate lung edema induced by virus, thus improve survival protection effects. Furthermore, RAG was shown to regulate influenza virus-induced inflammatory cytokine expression, specifically by downregulating the Th1 cell cytokines IFN-γ, TNF-α and upregulating the Th2 cell cytokines IL-4, IL-5. Cell migration and infiltration were also diminished after RAG administration.