Isoformononetin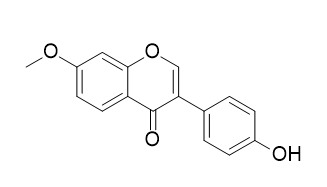 Isoformononetin shows fungitoxic activity against Cladosporium sphaerospermum; it also has immunomodulatory activity, it inhibits the differentiation of Th17 cells and B-cell lymphopoesis to promote osteogenesis in estrogen-deficient bone loss conditions. Isoformononetin reverses bone loss in osteopenic rats and exerts bone anabolic action by preventing osteoblast apoptosis.
Inquire / Order: manager@chemfaces.com
Technical Inquiries: service@chemfaces.com
Tel: +86-27-84237783
Fax: +86-27-84254680

Address:
1 Building, No. 83, CheCheng Rd., Wuhan Economic and Technological Development Zone, Wuhan, Hubei 430056, PRC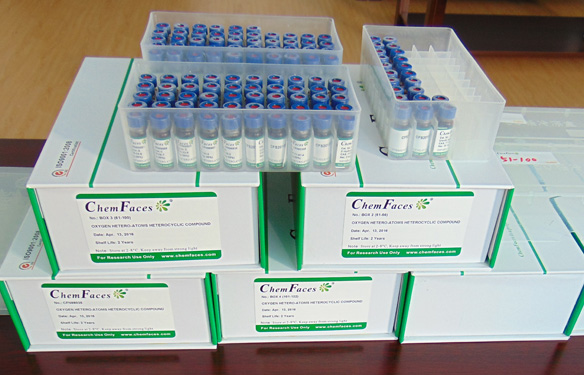 Providing storage is as stated on the product vial and the vial is kept tightly sealed, the product can be stored for up to
24 months(2-8C)
.
Wherever possible, you should prepare and use solutions on the same day. However, if you need to make up stock solutions in advance, we recommend that you store the solution as aliquots in tightly sealed vials at -20C. Generally, these will be useable for up to two weeks. Before use, and prior to opening the vial we recommend that you allow your product to equilibrate to room temperature for at least 1 hour.
Need more advice on solubility, usage and handling? Please email to: service@chemfaces.com
The packaging of the product may have turned upside down during transportation, resulting in the natural compounds adhering to the neck or cap of the vial. take the vial out of its packaging and gently shake to let the compounds fall to the bottom of the vial. for liquid products, centrifuge at 200-500 RPM to gather the liquid at the bottom of the vial. try to avoid loss or contamination during handling.
J. Food Composition and Analysis2022, 114:104731
Biology (Basel).2020, 9(11):363.
Agriculture.2022, 12(3), 342.
Tissue Cell.2022, 75:101728.
Inflammation.2015, 38(4):1502-16
J Biomol Struct Dyn.2022, 1-21.
Chem Biol Interact.2018, 283:59-74
Anal Bioanal Chem.2016, 408(1):177-90.
Korean J. of Food Sci. and Tech2016, 172-177
Neurotoxicology.2022, 91:218-227.
J Asian Nat Prod Res. 2013;15(1):71-7.
Chemical constituents of Arisaema franchetianum tubers.[Pubmed:
23106482
]

METHODS AND RESULTS:
A novel pyrrolidine alkaloid, (2R*,3S*,5S*)-N,2-dimethyl-3-hydroxy-5-(10-phenyldecyl)pyrrolidine (1), and 17 known compounds were isolated from Arisaema franchetianum Engl. (Araceae) tubers. The 17 compounds were bergenin (2), emodin (3), caffeic acid (4), nobiletin (5), 3-O-β-d-galactopyranosyl-hederagenin 28-O-β-d-xylopyranosyl(1 → 6)-β-d-galactopyranosyl ester (6), coniferin (7), qingyangshengenin (8), methylconiferin (9), syringaresinol 4'-O-β-d-glucopyranoside (10), gagaminine (11), perlolyrine (12), (S)-1-(1'-hydroxyethyl)-β-carboline (13), 1-(β-carboline-1-yl)-3,4,5-trihydroxy-1-pentanone (14), 1-methoxycarbonyl-β-carboline (15), indolo[2,3-α]carbazole (16), 4-hydroxycinnamic acid methyl ester (17), and methyl 4-[2-hydroxy-2-(4-hydroxy-3-methoxyphenyl)-1-(hydroxymethyl)ethyl] ferulate (18).
CONCLUSIONS:
The inhibitory activities of compound 1 and its N-methyl derivative (1a) against porcine respiratory and reproductive syndrome virus (PRRSV), human leukemic K562 cells, and human breast cancer MCF-7 cells were evaluated. Compounds 1 [50% inhibited concentration (IC(50)) = 12.5 ± 0.6 μM] and 1a (IC(50) = 15.7 ± 0.9 μM) were cytotoxic against K562 cells. Compound 1a also had a weak effect on PRRSV with an IC(50) value of 31.9 ± 6.0 μM [selectivity index (SI) = 18.7].
J Agric Food Chem. 2000 Aug;48(8):3662-5.
Effect of spores of saprophytic fungi on phytoalexin accumulation in seeds of frog-eye leaf spot and stem canker-resistant and -susceptible soybean (Glycine max L.) cultivars.[Pubmed:
10956166
]

METHODS AND RESULTS:
Two saprophytic fungi (Mucor ramosissimus and Rhizopus sp.) were tested for their ability to induce phytoalexin production by seeds of frog-eye leaf spot and stem canker-resistant and -susceptible soybean (Glycine max L.) cultivars. Only M. ramosissimus was shown to elicit a response and qualitative differences in phytoalexin accumulation were found between the susceptible and resistant cultivars. Glyceollins I, II, and III and glycinol were isolated from the susceptible cultivar, whereas Glyceollins I, II, and III, glycinol, glyceocarpin, genistein, Isoformononetin, and N-acetyltyramine accumulated in the resistant cultivar in response to the same fungal elicitor. Genistein was found to be an inducibly formed isoflavonoid instead of a constitutive metabolite in the resistant cultivar, whereas N-acetyltyramine is described for the first time as a soybean phytoalexin.
CONCLUSIONS:
All the compounds, except genistein, showed fungitoxic activity against Cladosporium sphaerospermum. Spectral data of the pterocarpan phytoalexins, genistein, and N-acetyltyramine are also given in this work.
Menopause. 2016 May;23(5):565-76.
Methoxyisoflavones formononetin and isoformononetin inhibit the differentiation of Th17 cells and B-cell lymphopoesis to promote osteogenesis in estrogen-deficient bone loss conditions.[Pubmed:
27070807
]
Recent studies have shown that immune system plays a major role in pathophysiology of postmenopausal osteoporosis. Previously we have shown that phytoestrogens like daidzein and medicarpin exhibit immunoprotective effects, by virtue of which they alleviate bone loss. With this background, methoxyisoflavones like formononetin (formo) and Isoformononetin (isoformo) that have been studied for preventing bone loss in ovariectomized rats were tested for their immunomodulatory effects in estrogen-deficient bone loss mice model.
METHODS AND RESULTS:
Adult Balb/c mice (N = 8/group) were given oral dose of formo and isoformo at 10 mg/kg body weight, post ovariectomy (Ovx) daily for 6 weeks. Animals were autopsied and long bones were harvested to study bone microarchitecture. Peripheral blood mononuclear cells were isolated for fluorescence-activated cell sorting and RNA analysis. Serum was collected for enzyme-linked immunosorbent assay. It was observed that formo and isoformo treatment to Ovx mice led to significant restoration of Ovx-induced deterioration of trabecular microarchitecture. Pro-osteoclastogenic subset Th17 and B cells were decreased in formo/isoformo-treated Ovx mice in comparison with vehicle-treated Ovx group. Formo and isoformo treatment to Ovx mice also led to decreased expression of Th17 diffentiation factors and promoted T-regulatory cell differentiation. Formo was more effective in enhancing the FOXP3 expression compared with isoformo. IL-17A-induced osteoclastogenesis and inhibition of osteoblast apoptosis were also suppressed by formo and isoformo treatment, with formo having a more potent effect.
CONCLUSIONS:
Our study demonstrates the immunomodulatory activity of methoxyisoflavones, formo, and isoformo, which translate into improved skeletal parameters, thereby preventing Ovx-induced bone loss.
Phytomedicine. 2013 Apr 15;20(6):470-80.
Isoformononetin, a methoxydaidzein present in medicinal plants, reverses bone loss in osteopenic rats and exerts bone anabolic action by preventing osteoblast apoptosis.[Pubmed:
23395215
]
Daidzein (Daid) has been implicated in bone health for its estrogen-'like' effects but low bioavailability, unfavorable metabolism and uterine estrogenicity impede its clinical potential. This study was aimed at assessing Isoformononetin (Isoformo), a naturally occurring methoxydaidzein, for bone anabolic effect by overcoming the pitfalls associated with Daid.
METHODS AND RESULTS:
Sprague-Dawley ovariectomized (OVx) rats with established osteopenia were administered Isoformo, 17β-oestradiol (E2) or human parathyroid hormone. Efficacy was evaluated by bone microarchitecture using microcomputed tomography and determination of new bone formation by fluorescent labeling of bone. Osteoblast apoptosis was measured by co-labeling of bone sections with Runx-2 and TUNEL. Biochemical markers of bone metabolism were measured by ELISA. Plasma and bone marrow levels of Isoformo and Daid were determined by LC-MS-MS. Rat bone marrow stromal cells were harvested to study osteoblastic differentiation by Isoformo and Daid. New born rat pups were injected with Isoformo and Daid to study the effect of the compounds on the expression of osteogenic genes in the calvaria by real time PCR. In osteopenic rats, Isoformo treatment restored trabecular microarchitecture, increased new bone formation, increased the serum osteogenic marker (procollagen N-terminal propeptide), decreased resorptive marker (urinary C-terminal teleopeptide of type I collagen) and diminished osteoblast apoptosis in bone. At the most effective osteogenic dose of Isoformo, plasma and bone marrow levels were comprised of ~90% Isoformo and the rest, Daid. Isoformo at the concentration reaching the bone marrow achieved out of its most effective oral dosing induced stromal cell mineralization and osteogenic gene expression in the calvaria of neonatal rats. Isoformo exhibited uterine safety.
CONCLUSIONS:
Our study demonstrates that Isoformo reverses established osteopenia in adult OVx rats likely via its pro-survival effect on osteoblasts. Given its bone anabolic and anti-catabolic effects accompanied with safety at uterine level we propose its potential in the management of postmenopausal osteoporosis.