3,7,25-Trihydroxycucurbita-5,23-dien-19-al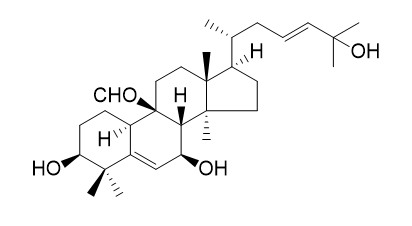 Reference standards.
Inquire / Order: manager@chemfaces.com
Technical Inquiries: service@chemfaces.com
Tel: +86-27-84237783
Fax: +86-27-84254680

Address:
1 Building, No. 83, CheCheng Rd., Wuhan Economic and Technological Development Zone, Wuhan, Hubei 430056, PRC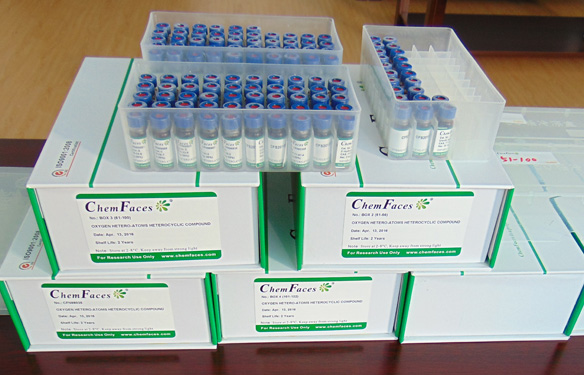 Providing storage is as stated on the product vial and the vial is kept tightly sealed, the product can be stored for up to
24 months(2-8C)
.
Wherever possible, you should prepare and use solutions on the same day. However, if you need to make up stock solutions in advance, we recommend that you store the solution as aliquots in tightly sealed vials at -20C. Generally, these will be useable for up to two weeks. Before use, and prior to opening the vial we recommend that you allow your product to equilibrate to room temperature for at least 1 hour.
Need more advice on solubility, usage and handling? Please email to: service@chemfaces.com
The packaging of the product may have turned upside down during transportation, resulting in the natural compounds adhering to the neck or cap of the vial. take the vial out of its packaging and gently shake to let the compounds fall to the bottom of the vial. for liquid products, centrifuge at 200-500 RPM to gather the liquid at the bottom of the vial. try to avoid loss or contamination during handling.
J Sep Sci.2020, 201901140
Plant J.2017, 90(3):535-546
Korean Journal of Pharmacognosy.2019, 50(1):65-71
J Ethnopharmacol.2017, 206:327-336
Sci Rep.2019, 9(1):4342
Industrial Crops and Products2019, 140:111612
Chem Biol Interact.2016, 260:168-175
Nat Chem Biol.2018, 14(8):760-763
Evid Based Complement Alternat Med.2017, 2017:1583185
J Chromatogr A.2017, 1518:46-58
Phytomedicine. 2011 Dec 15;19(1):32-7.
Saponins from the traditional medicinal plant Momordica charantia stimulate insulin secretion in vitro.[Pubmed:
22133295
]
The antidiabetic activity of Momordica charantia (L.), Cucurbitaceae, a widely-used treatment for diabetes in a number of traditional medicine systems, was investigated in vitro. Antidiabetic activity has been reported for certain saponins isolated from M. charantia.
METHODS AND RESULTS:
In this study insulin secretion was measured in MIN6 β-cells incubated with an ethanol extract, saponin-rich fraction, and five purified saponins and cucurbitane triterpenoids from M. charantia, 3β,7β,25-trihydroxycucurbita-5,23(E)-dien-19-al (3,7,25-Trihydroxycucurbita-5,23-dien-19-al, 1), momordicine I (2), momordicine II (3), 3-hydroxycucurbita-5,24-dien-19-al-7,23-di-O-β-glucopyranoside (4), and kuguaglycoside G (5). Treatments were compared to incubation with high glucose (27 mM) and the insulin secretagogue, glipizide (50 μM). At 125 μg/ml, an LC-ToF-MS characterized saponin-rich fraction stimulated insulin secretion significantly more than the DMSO vehicle, p=0.02. At concentrations 10 and 25 μg/ml, compounds 3 and 5 also significantly stimulated insulin secretion as compared to the vehicle, p≤0.007, and p=0.002, respectively.
CONCLUSIONS:
This is the first report of a saponin-rich fraction, and isolated compounds from M. charantia, stimulating insulin secretion in an in vitro, static incubation assay.