Salvianolic acid A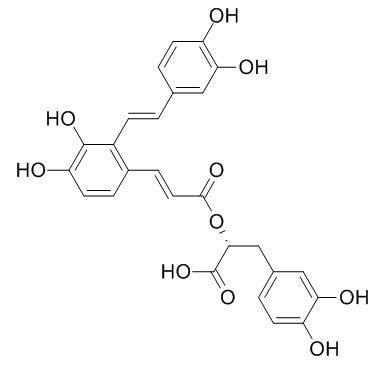 Salvianolic acid A has antioxidant, hepatoprotective, antithrombotic effect, and antiplatelet actions. it also has a significant protective effect against isoproterenol-induced myocardial infarction; it activates the Nrf2/HO-1 axis in RPE cells and protects against oxidative stress via activation of Akt/mTORC1 signaling. Salvianolic acid A (oral) can significantly improve glucose metabolism and inhibit oxidative injury as well as protect against impaired vascular responsiveness in STZ-induced diabetic rats. It is a novel matrix metalloproteinase-9 inhibitor, can prevents cardiac remodeling in spontaneously hypertensive rats.
Inquire / Order: manager@chemfaces.com
Technical Inquiries: service@chemfaces.com
Tel: +86-27-84237783
Fax: +86-27-84254680

Address:
1 Building, No. 83, CheCheng Rd., Wuhan Economic and Technological Development Zone, Wuhan, Hubei 430056, PRC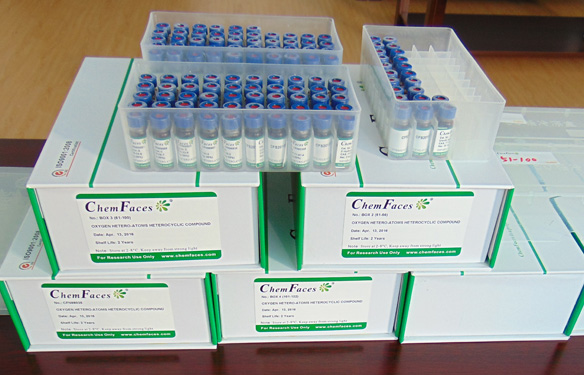 Providing storage is as stated on the product vial and the vial is kept tightly sealed, the product can be stored for up to
24 months(2-8C)
.
Wherever possible, you should prepare and use solutions on the same day. However, if you need to make up stock solutions in advance, we recommend that you store the solution as aliquots in tightly sealed vials at -20C. Generally, these will be useable for up to two weeks. Before use, and prior to opening the vial we recommend that you allow your product to equilibrate to room temperature for at least 1 hour.
Need more advice on solubility, usage and handling? Please email to: service@chemfaces.com
The packaging of the product may have turned upside down during transportation, resulting in the natural compounds adhering to the neck or cap of the vial. take the vial out of its packaging and gently shake to let the compounds fall to the bottom of the vial. for liquid products, centrifuge at 200-500 RPM to gather the liquid at the bottom of the vial. try to avoid loss or contamination during handling.
Molecules.2021, 26(9):2526.
Cells.2022, 11(8), 1311.
Plants (Basel).2021, 10(7):1376.
Clin Transl Oncol.2019, 10.1007
Biomed Pharmacother.2023, 166:115329.
Front Plant Sci.2022, 13: 905275.
Food Addit Contam Part A Chem Anal Control Expo Risk Assess.2020, 37(9):1437-1448.
Pharmaceuticals (Basel).2021, 14(8):742.
Planta Medica International2022, 9(01):e108-e115.
Int J Mol Sci.2020, 21(7):2530.
Phytomedicine. 2014 Oct 15;21(12):1725-32.
Salvianolic acid A reverses paclitaxel resistance in human breast cancer MCF-7 cells via targeting the expression of transgelin 2 and attenuating PI3 K/Akt pathway.[Pubmed:
25442283
]
Chemotherapy resistance represents a major problem for the treatment of patients with breast cancer and greatly restricts the use of first-line chemotherapeutics paclitaxel.
METHODS AND RESULTS:
The purpose of this study was to investigate the role of transgelin 2 in human breast cancer paclitaxel resistance cell line (MCF-7/PTX) and the reversal mechanism of Salvianolic acid A (SAA), a phenolic active compound extracted from Salvia miltiorrhiza. Western blotting and real-time quantitative polymerase chain reaction (qRT-PCR) indicated that transgelin 2 may mediate paclitaxel resistance by activating the phosphatidylinositol 3-kinase (PI3 K)/Akt signaling pathway to suppress MCF-7/PTX cells apoptosis. The reversal ability of SAA was confirmed by MTT assay and flow cytometry, with a superior 9.1-fold reversal index and enhancement of the apoptotic cytotoxicity induced by paclitaxel. In addition, SAA effectively prevented transgelin 2 and adenosine-triphosphate binding cassette transporter (ABC transporter) including P-glycoprotein (P-gp), multidrug resistance associated protein 1 (MRP1), and breast cancer resistance protein (BCRP) up-regulation and exhibited inhibitory effect on PI3 K/Akt signaling pathway in MCF-7/PTX cells. Taken together, SAA can reverse paclitaxel resistance through suppressing transgelin 2 expression by mechanisms involving attenuation of PI3 K/Akt pathway activation and ABC transporter up-regulation.
CONCLUSIONS:
These results not only provide insight into the potential application of SAA in reversing paclitaxel resistance, thus facilitating the sensitivity of breast cancer chemotherapy, but also highlight a potential role of transgelin 2 in the development of paclitaxel resistance in breast cancer.
J Ethnopharmacol. 2014 Sep 29;155(3):1589-96.
Prevention of pulmonary fibrosis with salvianolic acid a by inducing fibroblast cell cycle arrest and promoting apoptosis.[Pubmed:
25102244
]
Danshen (Salvia miltiorrhiza Bunge) is widely used in traditional Chinese medicine (TCM), often in combination with other herbs, to treat a diversity of ailments. More recent studies have focused on its possible roles in the treatment of respiratory diseases (pneumonia and pulmonary fibrosis) and found that it has pharmacological activity that protects pulmonary morphology and function. However, the mechanism underlying this activity has not yet been clarified.
METHODS AND RESULTS:
The purpose of this study was to investigate the anti-pulmonary fibrosis effects exerted by Salvianolic acid A (SAA), the ingredient responsible for the pharmacological activity of Danshen, and the underlying mechanisms. Bleomycin (BLM)-induced rat pulmonary fibrosis was used to evaluate the antifibrotic role of SAA, and fibroblast cells were used to study the mechanism involved. BLM-treated rats exhibited increased alveolar wall thickness and collagen deposition in lung tissues, but these pathologies were greatly attenuated by daily administration of SAA. We also found that SAA significantly inhibited the proliferation, adhesion and migration of fibroblasts in vitro. This was partly due to a strong induction of cell cycle arrest and apoptosis upon SAA treatment. Consistent with these phenotypes, we observed decreased expression of the cell cycle-related proteins cyclin D1, cyclin E1, and cyclin B1, and increased expression of p53 and p21 in SAA-treated cells. In addition, the anti-apoptotic Bcl-2 protein decreased in a dose-dependent manner, while cleaved caspase-3 protein increased upon SAA treatment.
CONCLUSIONS:
These results suggest that the alleviation of rat pulmonary fibrosis by SAA is due to the inhibition of fibroblast proliferation and induction of apoptosis, which occurs mainly through p53-dependent growth arrest and apoptosis. We suggest that SAA should be considered as a potential novel therapeutic agent for the treatment of fibrotic lung diseases.
Chin J Nat Med . 2018 Mar;16(3):184-193.
Salvianolic acid A attenuates ischemia reperfusion induced rat brain damage by protecting the blood brain barrier through MMP-9 inhibition and anti-inflammation[Pubmed:
29576054
]
Abstract Salvianolic acid A (SAA) is a water-soluble component from the root of Salvia Miltiorrhiza Bge, a traditional Chinese medicine, which has been used for the treatment of cerebrovascular diseases for centuries. The present study aimed to determine the brain protective effects of SAA against cerebral ischemia reperfusion injury in rats, and to figure out whether SAA could protect the blood brain barrier (BBB) through matrix metallopeptidase 9 (MMP-9) inhibition. A focal cerebral ischemia reperfusion model was induced by middle cerebral artery occlusion (MCAO) for 1.5-h followed by 24-h reperfusion. SAA was administered intravenously at doses of 5, 10, and 20 mg·kg-1. SAA significantly reduced the infarct volumes and neurological deficit scores. Immunohistochemical analyses showed that SAA treatments could also improve the morphology of neurons in hippocampus CA1 and CA3 regions and increase the number of neurons. Western blotting analyses showed that SAA downregulated the levels of MMP-9 and upregulated the levels of tissue inhibitor of metalloproteinase 1 (TIMP-1) to attenuate BBB injury. SAA treatment significantly prevented MMP-9-induced degradation of ZO-1, claudin-5 and occludin proteins. SAA also prevented cerebral NF-κB p65 activation and reduced inflammation response. Our results suggested that SAA could be a promising agent to attenuate cerebral ischemia reperfusion injury through MMP-9 inhibition and anti-inflammation activities. Keywords: Blood brain barrier; Ischemia; MCAO; MMP-9; NF-κB; Salvianolic acid A.
J Cardiovasc Pharmacol. 2014 Oct;64(4):318-25.
Salvianolic acid A suppresses CCL-20 expression in TNF-α-treated macrophages and ApoE-deficient mice.[Pubmed:
24853487
]
The CC chemokine ligand-20 (CCL-20)/macrophage inflammatory protein-3α has been seen as one of the most important chemokines and played a key role in atherogenesis, but the mechanism that underlies the regulation of CCL-20 has not been established clearly yet. The aim of this study was to investigate the influence of Salvianolic acid A (SAA) on the expression of CCL-20 in macrophages and ApoE-deficient (ApoE) mice.
METHODS AND RESULTS:
The expression of CCL-20 was detected both at protein and messenger RNA levels in RAW264.7 cells. We validated the result in ApoE mice that were intraperitoneally injected with SAA. Phosphorylation of p38 mitogen-activated protein kinase was detected with Western blot, and inhibitor of p38 was used to investigate the mechanism of regulation of CCL-20. Hematoxylin and eosin and Oil-Red-O staining were used to evaluate the atherosclerotic lesions and lipid accumulation in ApoE mice. Immunohistochemical analysis was used to detect the expressions of CCL-20 and CCR6 in the atherosclerotic lesions. Immunofluorescent analysis was used to certify the origination of CCL-20. Recombinant tumor necrosis factor-α (TNF-α) upregulated CCL-20 production in dose- and time-dependent manners in RAW264.7 cells. The activity of TNF-α-induced CCL-20 production seemed to be significantly suppressed by SAA. Using p38 mitogen-activated protein kinase inhibitor, we found that p38 mediated the effects of TNF-α- and SAA-induced CCL-20 expression changes. In addition, immunohistochemical analysis of aortic root of ApoE mice also demonstrated that the expressions of CCL-20 and CCR6 were both downregulated significantly with SAA treatment. Furthermore, treatment of SAA inhibited the progression of the atherosclerotic plaques and lipid accumulation.
CONCLUSIONS:
These results demonstrate that TNF-α increased but SAA suppressed CCL-20 production significantly via a novel mechanism.
PLoS One. 2014 Jul 14;9(7):e102292.
The anti-apoptotic and cardioprotective effects of salvianolic acid a on rat cardiomyocytes following ischemia/reperfusion by DUSP-mediated regulation of the ERK1/2/JNK pathway.[Pubmed:
25019380
]

METHODS AND RESULTS:
The purpose of this study was to observe the effects of Salvianolic acid A (SAA) pretreatment on the myocardium during ischemia/reperfusion (I/R) and to illuminate the interrelationships among dual specificity protein phosphatase (DUSP) 2/4/16, ERK1/2 and JNK pathways during myocardial I/R, with the ultimate goal of elucidating how SAA exerts cardioprotection against I/R injury (IRI). Wistar rats were divided into the following six groups: control group (CON), I/R group, SAA+I/R group, ERK1/2 inhibitor PD098059+I/R group (PD+I/R), PD+SAA+I/R group, and JNK inhibitor SP600125+I/R group (SP+I/R). The cardioprotective effects of SAA on the myocardium during I/R were investigated with a Langendorff device. Heart rate (HR), left ventricular systolic pressure (LVSP), left ventricular end-diastolic pressure (LVEDP), maximum rate of ventricular pressure rise and fall (±dp/dtmax), myocardial infarction areas (MIA), lactate dehydrogenase (LDH), and cardiomyocytes apoptosis were monitored. To determine the crosstalk betwee JNK and ERK1/2 via DUSP2/4/16 with SAA pretreatment, siRNA-DUSP2/4/16 were performed. The expression levels of Bcl-2, Bax, caspase 3, p-JNK, p-ERK1/2 and DUSP2/4/16 in cardiomyocytes were assayed by Western blot. Our results showed that LDH, MIA and cell apoptosis were decreased, and various parameters of heart function were improved by SAA pretreatment and SP application. In the I/R group, the expression levels of p-ERK1/2 and DUSP4/16 were not significantly different compared with the CON group, however, the protein expression levels of p-ERK1/2, Bcl-2 and DUSP4/16 were higher, while p-JNK, Bax, caspase 3 and DUSP2 levels were reduced among the SAA+I/R, PD+SAA+I/R and SP+I/R groups. The above indices were not significantly different between the SAA+I/R and SP+I/R groups. Compared with the SAA+I/R group, p-ERK1/2 was increased and p-JNK was decreased in the SAA+si-DUSP2+I/R, however, p-ERK was downregulated and p-JNK was upregulated in SAA+si-DUSP4+I/R group.
CONCLUSIONS:
SAA exerts an anti-apoptotic role against myocardial IRI by inhibiting DUSP2-mediated JNK dephosphorylation and activating DUSP4/16-mediated ERK1/2 phosphorylation.