Salvianolic acid C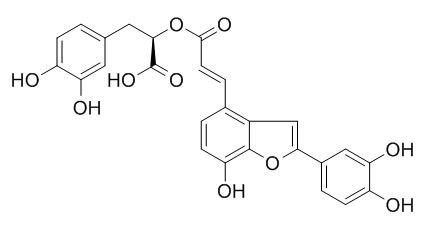 Salvianolic acid C has antioxidant effect, it exhibits potent XOD inhibitory activity with an IC(50) of 9.07 μM. Salvianolic acid C enhances the inhibitory effects on sEH might be efficient ways to improve its cardiovascular protective and anti-inflammatory effects.
Inquire / Order: manager@chemfaces.com
Technical Inquiries: service@chemfaces.com
Tel: +86-27-84237783
Fax: +86-27-84254680

Address:
1 Building, No. 83, CheCheng Rd., Wuhan Economic and Technological Development Zone, Wuhan, Hubei 430056, PRC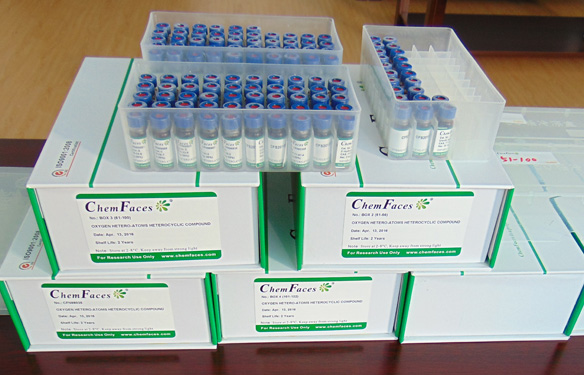 Providing storage is as stated on the product vial and the vial is kept tightly sealed, the product can be stored for up to
24 months(2-8C)
.
Wherever possible, you should prepare and use solutions on the same day. However, if you need to make up stock solutions in advance, we recommend that you store the solution as aliquots in tightly sealed vials at -20C. Generally, these will be useable for up to two weeks. Before use, and prior to opening the vial we recommend that you allow your product to equilibrate to room temperature for at least 1 hour.
Need more advice on solubility, usage and handling? Please email to: service@chemfaces.com
The packaging of the product may have turned upside down during transportation, resulting in the natural compounds adhering to the neck or cap of the vial. take the vial out of its packaging and gently shake to let the compounds fall to the bottom of the vial. for liquid products, centrifuge at 200-500 RPM to gather the liquid at the bottom of the vial. try to avoid loss or contamination during handling.
J Colloid Interface Sci.2022, 622:298-308.
Anal Bioanal Chem.2016, 408(1):177-90.
Int J Vitam Nutr Res.2022, doi: 10.1024.
Front Pharmacol.2021, 12:762829.
Korean J Dent Mater2020, 47(2):63-70.
Academic J of Second Military Medical University2018, 39(11)
J Neuroinflammation.2020, 17(1):75.
Planta Med.2019, 85(9-10):766-773
Chem Pharm Bull (Tokyo).2017, 65(9):826-832
Chem Biol Interact.2016, 258:59-68
Phytomedicine. 2015 Apr 15;22(4):444-51.
In vitro inhibitory effects of ethanol extract of Danshen (Salvia miltiorrhiza) and its components on the catalytic activity of soluble epoxide hydrolase.[Pubmed:
25925966
]
Soluble epoxide hydrolase (sEH) has been demonstrated to be a key enzyme involved in the pathologic development of several cardiovascular diseases and inflammation, and inhibition of sEH is therefore very helpful or crucial for the treatment of ischemia-reperfusion injury, cardiac hypertrophy, hypertension and inflammation. Danshen, the dried root of Salvia miltiorrhiza (Fam. Labiatae), has been used for the treatment of cardiovascular and cerebrovascular diseases in China and other countries for hundreds of years. Recent studies indicated that Danshen and its preparations also have potential for the management of inflammation. However, little information is available about the possibility of Danshen and its components on sEH inhibition.
METHODS AND RESULTS:
Danshen extracts and its constituents were tested for sEH inhibition using its physiological substrate, 8,9-EET, based on a LC-MS/MS assay in this study. Among the tested 15 compounds, tanshinone IIA and cryptotanshinone were found to be the potent (Ki = 0.87 μM) and medium (Ki = 6.7 μM) mixed-type inhibitors of sEH, respectively. Salvianolic acid C (Ki = 8.6 μM) was proved to be a moderate noncompetitive sEH inhibitor. In consistent with the inhibition results of the pure compounds, the 75% ethanol extract of Danshen (EE, IC50 = 86.5 μg/ml) which contained more tanshinone IIA and cryptotanshinone exhibited more potent inhibition on sEH than the water extract (WE, IC50 > 200 μg/ml) or 1 M NaHCO3 (BE, IC50 > 200 μg/ml) extract.
CONCLUSIONS:
These data indicated that using the ethanol fraction of Danshen and increasing the amounts of tanshinone IIA, cryptotanshinone and Salvianolic acid C, especially the contents of tanshinone IIA in Danshen extract or preparations to enhance the inhibitory effects on sEH might be efficient ways to improve its cardiovascular protective and anti-inflammatory effects, and that herbal medicines could be an untapped reservoir for sEH-inhibition agents and developing sEH inhibitors from the cardiovascular protective and anti-inflammatory herbs is a promising approach.
Chem Biol Interact . 2018 Jun 1;289:15-22.
Inhibitory Effects of Danshen components on CYP2C8 and CYP2J2[Pubmed:
29689254
]
Abstract The use of Chinese herbal medicines and natural products has become increasingly popular in both China and Western societies as an alternative medicine for the treatment of diseases or as a health supplement. Danshen, the dried root of Salvia miltiorrhiza (Fam.Labiatae), which is rich in phenolic acids and tanshinones, is a widely used herbal medicine for the treatment of cardio-cerebrovascular diseases. The goal of this study was to examine the inhibitory effects of fifteen components derived from Danshen on CYP2C8 and CYP2J2, which are expressed both in human liver and cardiovascular systems. Recombinant CYP2C8 and CYP2J2 were used, and the mechanism, kinetics, and type of inhibition were determined. Taxol 6-hydroxylation and astemizole O-desmethyastemizole were determined as probe activities for CYP2C8 and CYP2J2, respectively. Metabolites formations were analyzed using liquid chromatography-tandem mass spectrometry (LC-MS/MS). The results demonstrated that salvianolic acid A was a competitive inhibitor of CYP2C8 (Ki = 2.5 μM) and mixed-type inhibitor of CYP2J2 (Ki = 7.44 μM). Salvianolic acid C had moderate noncompetitive and mixed-type inhibitions on CYP2C8 (Ki = 4.82 μM) and CYP2J2 (Ki = 5.75 μM), respectively. Tanshinone IIA was a moderate competitive inhibitor of CYP2C8 (Ki = 1.18 μM). Dihydrotanshinone I had moderate noncompetitive inhibition on CYP2J2 (Ki = 6.59 μM), but mechanism-based inhibition on CYP2C8 (KI = 0.43 μM, kinact = 0.097 min-1). Tanshinone I was a moderate competitive inhibitor of CYP2C8 (Ki = 4.20 μM). These findings suggested that Danshen preparations appear not likely to pose a significant risk of drug interactions mediated by CYP2C8 after oral administration; but their inhibitory effects on intestinal CYP2J2 mediated drug metabolism should not be neglected when they are given orally in combination with other drugs. Additionally, this study provided novel insights into the underling pharmacological mechanisms of Danshen components from the perspective of CYP2C8 and CYP2J2 inhibition. Keywords: CYP2C8; CYP2J2; Cytochrome P450; Danshen; Herb-drug interactions; Inhibitory effects. Copyright © 2018. Published by Elsevier B.V.
Int Immunopharmacol . 2018 Oct;63:299-310.
Activation of Nrf2 signaling by salvianolic acid C attenuates NF‑κB mediated inflammatory response both in vivo and in vitro[Pubmed:
30142530
]
Abstract Neurodegenerative diseases are closely related to neuroinflammation. Drugs targeting inflammation have been proved to be effective in many animal models. Salvianolic acid C (SalC) is a compound isolated from Salvia miltiorrhiza Bunge, a plant with reported effects of inhibiting inflammation. However, the anti-inflammation effects and biological mechanisms of SalC on LPS-stimulated neuroinflammation remain unknown. The aim of this paper was to study its protective effects and its anti-inflammation mechanisms. LPS was used both in vivo and in vitro to induce neuroinflammation in SD rats and microglia cells. MTT assay was carried out to detect cell viability. The levels of TNF‑α, IL‑1β, IL‑6, IL‑10 and PGE2 were detected by ELISA method. The expressions of p‑AMPK, p‑NF‑κB p65, p‑IκBα, Nrf2, HO‑1 and NQO1 proteins were examined by Western blot analysis. The nuclear translocation of NF‑κB p65 was studied by immunofluorescence assay. The specific Nrf2 siRNA was used to clarify the interaction between Nrf2 and NF‑κB p65. The AMPK inhibitor Compound C was used study the upstream protein of Nrf2. Results showed that LPS induced the overexpression of inflammatory cytokines and mediated the phosphorylation and nuclear translocation of NF‑κB p65 in rat brains and microglia cells. SalC reversed the inflammatory response induced by LPS and inhibited the NF‑κB activation. SalC also upregulated the expression of p‑AMPK, Nrf2, HO‑1 and NQO1. But the anti-inflammation and NF‑κB inhibition effects of SalC were attenuated by transfection with specific Nrf2 siRNA or interference with the potent AMPK inhibitor Compound C. In conclusion, SalC inhibited LPS-induced inflammatory response and NF‑κB activation through the activation of AMPK/Nrf2 signaling both in vivo and in vitro. Keywords: AMPK; LPS; NF‑κB; Neuroinflammation; Nrf2; Salvianolic acid C.