Oleuroside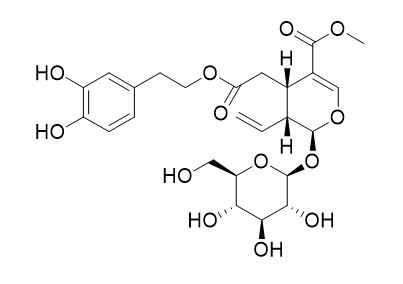 Reference standards.
Inquire / Order: manager@chemfaces.com
Technical Inquiries: service@chemfaces.com
Tel: +86-27-84237783
Fax: +86-27-84254680

Address:
1 Building, No. 83, CheCheng Rd., Wuhan Economic and Technological Development Zone, Wuhan, Hubei 430056, PRC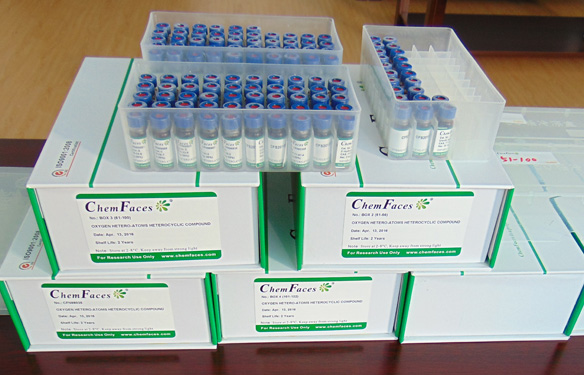 Providing storage is as stated on the product vial and the vial is kept tightly sealed, the product can be stored for up to
24 months(2-8C)
.
Wherever possible, you should prepare and use solutions on the same day. However, if you need to make up stock solutions in advance, we recommend that you store the solution as aliquots in tightly sealed vials at -20C. Generally, these will be useable for up to two weeks. Before use, and prior to opening the vial we recommend that you allow your product to equilibrate to room temperature for at least 1 hour.
Need more advice on solubility, usage and handling? Please email to: service@chemfaces.com
The packaging of the product may have turned upside down during transportation, resulting in the natural compounds adhering to the neck or cap of the vial. take the vial out of its packaging and gently shake to let the compounds fall to the bottom of the vial. for liquid products, centrifuge at 200-500 RPM to gather the liquid at the bottom of the vial. try to avoid loss or contamination during handling.
J Microbiol Biotechnol.2020, 30(2):178-186.
Antioxidants (Basel).2021, 10(10):1638.
Front Pharmacol.2021, 12:764297.
Journal of Functional Foods2022, 91:105019.
Nutrients.2021, 13(12):4364.
Korean Herb. Med. Inf.2020, 8(2):205-213
The University of Manitoba2021, 35690.
Molecules.2017, 22(12)
Chem Biol Interact.2016, 260:168-175
J Drug Delivery Science and Tech.2022, 67:102957.
J Sci Food Agric. 2016 Jun;96(8):2723-30.
Anti-adhesion activity of thyme (Thymus vulgaris L.) extract, thyme post-distillation waste, and olive (Olea europea L.) leaf extract against Campylobacter jejuni on polystyrene and intestine epithelial cells.[Pubmed:
26304165
]
In order to survive in food-processing environments and cause disease, Campylobacter jejuni requires specific survival mechanisms, such as biofilms, which contribute to its transmission through the food chain to the human host and present a critical form of resistance to a wide variety of antimicrobials. RESULTS: Phytochemical analysis of thyme ethanolic extract (TE), thyme post-hydrodistillation residue (TE-R), and olive leaf extract (OE) using high-performance liquid chromatography with photodiode array indicates that the major compounds in TE and TE-R are flavone glucuronides and rosmarinic acid derivatives, and in OE verbascoside, luteolin 7-O-glucoside and Oleuroside. TE and TE-R reduced C. jejuni adhesion to abiotic surfaces by up to 30% at 0.2-12.5 µg mL(-1) , with TE-R showing a greater effect. OE from 3.125 to 200 µg mL(-1) reduced C. jejuni adhesion to polystyrene by 10-23%. On the other hand, C. jejuni adhesion to PSI cl1 cells was inhibited by almost 30% over a large concentration range of these extracts. CONCLUSION: Our findings suggest that TE, the agro-food waste material TE-R, and the by-product OE represent sources of bioactive phytochemicals that are effective at low concentrations and can be used as therapeutic agents to prevent bacterial adhesion.
J Pharm Biomed Anal. 2016 Sep 10;129:198-202.
A novel liquid chromatography method using diode-array detector for the determination of oleuropein in dietary supplements.[Pubmed:
27429369
]
A simple and fast chromatographic method using ultraviolet diode-array detector (UV-DAD) was developed for the automatic high performance liquid chromatography (HPLC) determination of the title of oleuropein in a new dietary supplements in form of effervescent granules.
METHODS AND RESULTS:
The chromatographic separations were performed on a C18 core-shell column with detection at λ=232nm. The mobile phase consisted of deionized water with 0.1% TFA and acetonitrile under gradient conditions at a flow-rate of 0.8mL/min. Oleuropein and Oleuroside present in the raw material were characterized by high performance liquid chromatography-electrospray ionization tandem mass spectrometry (HPLC-ESI-MS/MS). The validation of the analytical procedure has been performed determining the following parameters: specificity, linearity, repeatability, reproducibility, accuracy, limit of quantification (LOQ), stability of the standard and sample solutions. Linear response was observed in fortified placebo solutions (determination coefficient: 0.9998). Intra-day precision (relative standard deviation, RSD) was ≤5.0% for peak area and for retention times (tR) without significant differences between intra- and inter-day data. The limits of quantitation (LOQ) was about 5μg/mL and 9pmol/inject. Oleuropein recovery studies gave good results (99.9%) with a R.S.D. of 0.5%. The speed of analysis and the stability of the solutions with a fluctuation Δ (%) ≤2.0 at room temperature means an undoubted advantage of the method allowing the simultaneous preparation of many samples and consecutive chromatographic analyses by using an autosampler.
CONCLUSIONS:
The developed method is suitable for the quality control of oleuropein in raw material and industrial products. The method can be applied in any analytical laboratory not requiring a sophisticated instrumentation.