Microgrewiapine A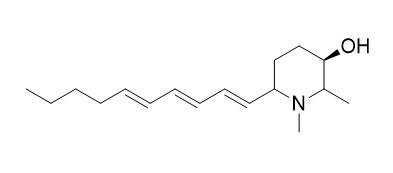 Microgrewiapine A is a selective cytotoxic agent for colon cancer cells over normal colon cells and to exhibit nicotinic receptor antagonistic activity for both the hα3β4 and hα4β2 receptor subtypes.
Inquire / Order: manager@chemfaces.com
Technical Inquiries: service@chemfaces.com
Tel: +86-27-84237783
Fax: +86-27-84254680

Address:
1 Building, No. 83, CheCheng Rd., Wuhan Economic and Technological Development Zone, Wuhan, Hubei 430056, PRC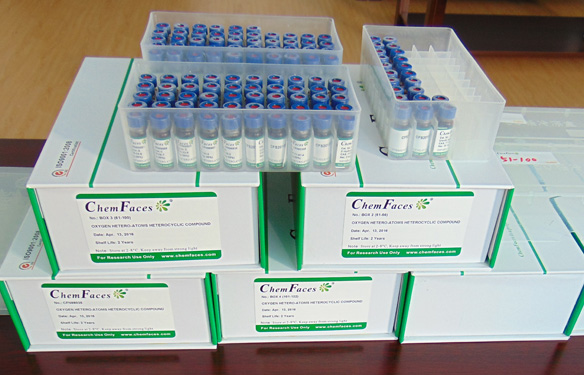 Providing storage is as stated on the product vial and the vial is kept tightly sealed, the product can be stored for up to
24 months(2-8C)
.
Wherever possible, you should prepare and use solutions on the same day. However, if you need to make up stock solutions in advance, we recommend that you store the solution as aliquots in tightly sealed vials at -20C. Generally, these will be useable for up to two weeks. Before use, and prior to opening the vial we recommend that you allow your product to equilibrate to room temperature for at least 1 hour.
Need more advice on solubility, usage and handling? Please email to: service@chemfaces.com
The packaging of the product may have turned upside down during transportation, resulting in the natural compounds adhering to the neck or cap of the vial. take the vial out of its packaging and gently shake to let the compounds fall to the bottom of the vial. for liquid products, centrifuge at 200-500 RPM to gather the liquid at the bottom of the vial. try to avoid loss or contamination during handling.
Virus Res.2023, 335:199199.
Biotechnol Bioeng.2020, 117(7):2198-2208.
Phytochem Anal.2013, 24(5):493-503
Biomed Pharmacother.2022, 145:112474.
Exp Parasitol.2015, 153:160-4
Molecules.2021, 26(19):6032.
Nutrients.2019, 11(4):E936
Food Chem.2021, 360:130063.
Int J Mol Sci.2022, 23(23):14826.
Sustainability2021, 13(23),12981.
J Nat Prod. 2013 Feb 22;76(2):243-9.
Alkaloids from Microcos paniculata with cytotoxic and nicotinic receptor antagonistic activities.[Pubmed:
23327794
]
Microcos paniculata is a large shrub or small tree that grows in several countries in South and Southeast Asia.
METHODS AND RESULTS:
In the present study, three new piperidine alkaloids, microgrewiapines A, microgrewiapine B, microgrewiapine C (1-3), as well as three known compounds, inclusive of microcosamine A (4), 7'-(3',4'-dihydroxyphenyl)-N-[4-methoxyphenyl)ethyl]propenamide (5), and liriodenine (6), were isolated from cytotoxic fractions of the separate chloroform-soluble extracts of the stem bark, branches, and leaves of M. paniculata. Compounds 1-6 and 1a (Microgrewiapine A 3-acetate) showed a range of cytotoxicity values against the HT-29 human colon cancer cell line. When evaluated for their effects on human α3β4 or α4β2 nicotinic acetylcholine receptors (nAChRs), several of these compounds were shown to be active as nAChR antagonists.
CONCLUSIONS:
As a result of this study, Microgrewiapine A (1) was found to be a selective cytotoxic agent for colon cancer cells over normal colon cells and to exhibit nicotinic receptor antagonistic activity for both the hα3β4 and hα4β2 receptor subtypes.
Chem Biodivers. 2017 Dec;14(12).
Quick Identification of Piperidine Alkaloid from Roots of Grewia nervosa and Their Glucosidase Inhibitory Activity.[Pubmed:
29044865
]
Grewia nervosa is a herbal plant used in traditional medicine for different purposes.
METHODS AND RESULTS:
Bioassay-guided chemical fractionation of G. nervosa roots resulted in an identification of two known and one new compound, namely Microgrewiapine A, homomicrogrewiapine, and N-methylmicrocosamine, respectively. Their structures were determined using combination of LC/HR-MS, 1 H-NMR, and IR spectral analyses and followed by comparison with those reported in the literature. The problematic separation of these alkaloids on traditional column chromatography (Silica gel, Octadecyl silane, Sephadex) was resolved by using HPLC. Structurally similar compounds from the piperidine family have been characterized by using HR-MS analysis in combination with NMR data of crude samples. The major constituent i.e. N-methylmicrocosamine isolated from the butanol fraction of methanol root extract (MRE) was found to possess the dose dependent α-glucosidase inhibition activity with an IC50 value of 53.40 μm. Furthermore, N-methylmicrocosamine showed maximum α-glucosidase inhibition of 97.48 ± 0.7% at 107.5 μm, which is approximately 1.3 × 103 fold higher than the activity shown by acarbose (97.72% inhibition at 61.95 mm), a standard anti-diabetic drug available commercially.
CONCLUSIONS:
This work also reports the in vitro α-glucosidase inhibitory activity of the major alkaloids isolated from G. nervosa for the first time.