3',8-Dihydroxyvestitol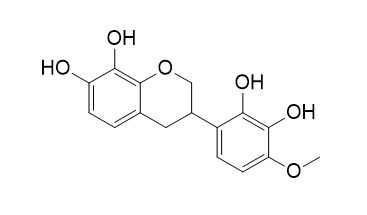 3',8-Dihydroxyvestitol could serve as antiviral drugs for dengue infection.
Inquire / Order: manager@chemfaces.com
Technical Inquiries: service@chemfaces.com
Tel: +86-27-84237783
Fax: +86-27-84254680

Address:
1 Building, No. 83, CheCheng Rd., Wuhan Economic and Technological Development Zone, Wuhan, Hubei 430056, PRC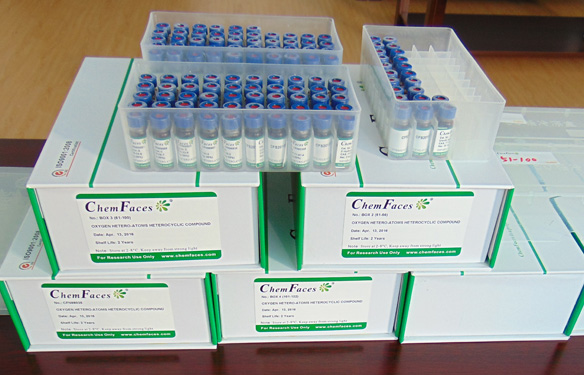 Providing storage is as stated on the product vial and the vial is kept tightly sealed, the product can be stored for up to
24 months(2-8C)
.
Wherever possible, you should prepare and use solutions on the same day. However, if you need to make up stock solutions in advance, we recommend that you store the solution as aliquots in tightly sealed vials at -20C. Generally, these will be useable for up to two weeks. Before use, and prior to opening the vial we recommend that you allow your product to equilibrate to room temperature for at least 1 hour.
Need more advice on solubility, usage and handling? Please email to: service@chemfaces.com
The packaging of the product may have turned upside down during transportation, resulting in the natural compounds adhering to the neck or cap of the vial. take the vial out of its packaging and gently shake to let the compounds fall to the bottom of the vial. for liquid products, centrifuge at 200-500 RPM to gather the liquid at the bottom of the vial. try to avoid loss or contamination during handling.
Sci Rep.2016, 6:25094
Aging (Albany NY).2021, 13(19):22867-22882.
Sci Rep.2019, 9(1):4342
Evid Based Complement Alternat Med.2020, 2020:2584783.
J Pharm Anal.2016, 6(6):363-373
J Agric Food Chem.2019, 67(27):7748-7754
Journal of Ginseng Research2021, 3 June.
Mol Neurobiol.2021, 58(8):3665-3676.
J Microbiol Biotechnol.2020, 30(2):178-186.
J Mol Histol.2019, 50(4):343-354
Bioinformation . 2014 Jul 22;10(7):460-465.
Molecular Docking Based Screening of Plant Flavonoids as Dengue NS1 Inhibitors[Pubmed:
25187688
]
Dengue infection has turned into a serious health concern globally due to its high morbidity rate and a high possibility of increase in its mortality rate on the account of unavailability of any proper treatment for severe dengue infection. The situation demands an urgent development of efficient and practicable treatment to deal with Dengue virus (DENV). Flavonoids, a class of phytochemicals present in medicinal plants, possess anti-viral activity and can be strong drug candidates against viruses. NS1 glycoprotein of Dengue virus is involved in its RNA replication and can be a strong target for screening of drugs against this virus. Current study focuses on the identification of flavonoids which can block Asn-130 glycosylation site of Dengue virus NS1 to inhibit viral replication as glycosylation of NS1 is required for its biological functioning. Molecular docking approach was used in this study and the results revealed that flavonoids have strong potential interactions with active site of NS1. Six flavonoids (Deoxycalyxin A; 3,5,7,3',4'-pentahydroxyflavonol-3-O-beta-D-galactopyranoside; (3R)-3',8-Dihydroxyvestitol; Sanggenon O; Epigallocatechin gallate; Chamaejasmin) blocked the Asn-130 glycosylation site of NS1 and could be able to inhibit the viral replication. It can be concluded from this study that these flavonoids could serve as antiviral drugs for dengue infections. Further in-vitro analyses are required to confirm their efficacy and to evaluate their drug potency.