Fraxamoside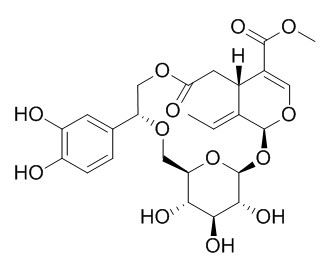 Fraxamoside is a xanthine oxidase inhibitor (XOI) comparable in potency in vitro to the standard antigout drug allopurinol. It shows significant free radical scavenging effect against DPPH(EC50=62.6 uM).
Inquire / Order: manager@chemfaces.com
Technical Inquiries: service@chemfaces.com
Tel: +86-27-84237783
Fax: +86-27-84254680

Address:
1 Building, No. 83, CheCheng Rd., Wuhan Economic and Technological Development Zone, Wuhan, Hubei 430056, PRC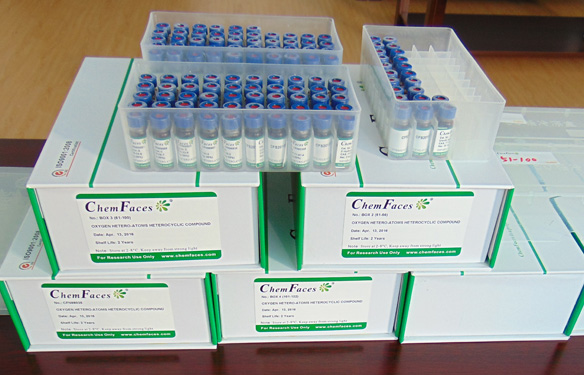 Providing storage is as stated on the product vial and the vial is kept tightly sealed, the product can be stored for up to
24 months(2-8C)
.
Wherever possible, you should prepare and use solutions on the same day. However, if you need to make up stock solutions in advance, we recommend that you store the solution as aliquots in tightly sealed vials at -20C. Generally, these will be useable for up to two weeks. Before use, and prior to opening the vial we recommend that you allow your product to equilibrate to room temperature for at least 1 hour.
Need more advice on solubility, usage and handling? Please email to: service@chemfaces.com
The packaging of the product may have turned upside down during transportation, resulting in the natural compounds adhering to the neck or cap of the vial. take the vial out of its packaging and gently shake to let the compounds fall to the bottom of the vial. for liquid products, centrifuge at 200-500 RPM to gather the liquid at the bottom of the vial. try to avoid loss or contamination during handling.
Planta Med.2019, 85(3):217-224
Exp Ther Med.2019, 18(6):4388-4396
J Chromatogr B Analyt Technol Biomed Life Sci.2019, 1113:1-13
J Liq Chromatogr R T2018, 41(12):761-769
Nutrients.2019, 11(6):E1380
Molecules.2017, 22(12)
J Chromatogr B Analyt Technol Biomed Life Sci. 2017, 1064:115-123
Environ Toxicol Pharmacol.2019, 66:109-115
Acta Chromatographica2016, 29(3)
J Ethnopharmacol.2017, 198:87-90
Anticancer Agents Med Chem. 2014;14(10):1376-85.
Antioxidant activity and chemical components as potential anticancer agents in the olive leaf (Olea europaea L. cv Leccino.) decoction.[Pubmed:
25102361
]
Epidemiological studies have shown that a reduced risk of chronic diseases such as cancer and cardiovascular diseases is correlated with a regular consumption of fruits and vegetable, many of which are rich in polyphenols. The additive and synergistic effect of phytochemicals in fruits and vegetables may reduce chronic diseases related to oxidative stress in human body. Olea europaea L. leaf are rich in phenolic components, which have been proposed to play a role in cancer prevention.
METHODS AND RESULTS:
The purpose of this study was to identify the main components in the Olea europaea L. leaf (cv. Leccino) preserved during the decoction preparation, in order to delineate the antioxidant activities of the crude extracts and its isolated compounds by using different in vitro assays including DPPH radicalscavenging capacity, total antioxidant capacity (TAC), xanthine oxidase (XO) inhibitory effect and the ability to delay the linoleic acid peroxidation process (ALP). The aqueous decoction was partitioned obtaining four extracts and the n-butanol extract showed the highest antioxidant activity and the highest total phenolic content. Phytochemical investigation leads to the isolation of thirteen secondary metabolites including simple phenolics, flavonoids, secoiridoids whose structures were elucidated by spectroscopic data (1D and 2D NMR) and spectrometric techniques. A significant free radical scavenging effect against DPPH has been evidenced in Fraxamoside (1) (EC50 62.6 µM) and taxifolin (5) (EC50 50.0 µM), isolated for the first time from the water decoction. The most active compound in the TAC evaluation, was the 3,4 dihydro-phenyl glycol (8) (0.90 caffeic acid equiv.) while taxifolin and Fraxamoside resulted as the most efficient inhibitors of XO activity (IC50 2.7 and 5.2 µM, respectively). Secoxyloganin (4), oleuropein (2) and tyrosol (6) showed the highest ALP activity.
CONCLUSIONS:
This study adds to the growing body of data supporting the bioactivities of phytochemicals and their potential impact on human health.
J Enzyme Inhib Med Chem. 2017 Dec;32(1):345-354.
Structure-activity relationships of fraxamoside as an unusual xanthine oxidase inhibitor.[Pubmed:
28097900
]
Fraxamoside, a macrocyclic secoiridoid glucoside featuring a hydroxytyrosol group, was recently identified as a xanthine oxidase inhibitor (XOI) comparable in potency in vitro to the standard antigout drug allopurinol. However, this activity and its considerably higher value than its derivatives oleuropein, oleoside 11-methyl ester, and hydroxytyrosol are not explained by structure-activity relationships (SARs) of known XOIs.
METHODS AND RESULTS:
To exclude allosteric mechanisms, we first determined the inhibition kinetic of Fraxamoside. The resulting competitive mechanism prompted a computational SAR characterization, combining molecular docking and dynamics, which fully explained the behavior of Fraxamoside and its derivatives, attributed the higher activity of the former to conformational properties of its macrocycle, and showed a substantial contribution of the glycosidic moiety to binding, in striking contrast with glycoside derivatives of most other XOIs.
CONCLUSIONS:
Overall, Fraxamoside emerged as a lead compound for a new class of XOIs potentially characterized by reduced interference with purine metabolism.