Ligustroside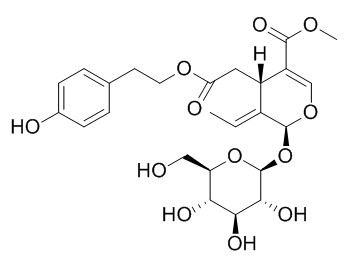 Ligustroside shows little antioxidant, and anti-inflammatory properties, it shows a significant inhibition effect on prostaglandin E2 (PGE2)-release. Ligustroside shows moderate antiviral activities against parainfluenza type 3 virus.
Inquire / Order: manager@chemfaces.com
Technical Inquiries: service@chemfaces.com
Tel: +86-27-84237783
Fax: +86-27-84254680

Address:
1 Building, No. 83, CheCheng Rd., Wuhan Economic and Technological Development Zone, Wuhan, Hubei 430056, PRC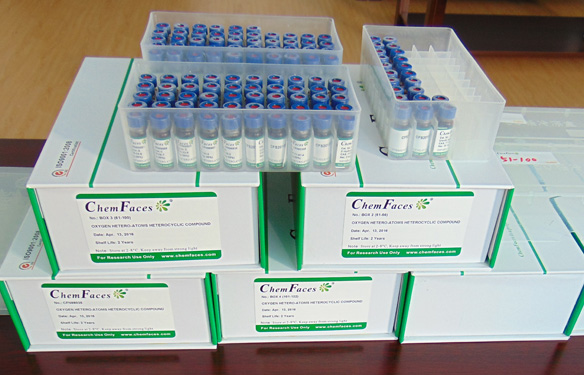 Providing storage is as stated on the product vial and the vial is kept tightly sealed, the product can be stored for up to
24 months(2-8C)
.
Wherever possible, you should prepare and use solutions on the same day. However, if you need to make up stock solutions in advance, we recommend that you store the solution as aliquots in tightly sealed vials at -20C. Generally, these will be useable for up to two weeks. Before use, and prior to opening the vial we recommend that you allow your product to equilibrate to room temperature for at least 1 hour.
Need more advice on solubility, usage and handling? Please email to: service@chemfaces.com
The packaging of the product may have turned upside down during transportation, resulting in the natural compounds adhering to the neck or cap of the vial. take the vial out of its packaging and gently shake to let the compounds fall to the bottom of the vial. for liquid products, centrifuge at 200-500 RPM to gather the liquid at the bottom of the vial. try to avoid loss or contamination during handling.
J Liq Chromatogr R T2018, 41(12):761-769
Sci Rep. 2018, 462(8)
Hum Exp Toxicol.2017, 36(11):1169-1176
Food and Bioprocess Technology2017, 10(6):1074-1092
Molecules.2019, 24(1):E159
Journal of Third Military Medical University2018, 40(12):1073-1078
Plos One.2020, 10.1371
Exp Parasitol.2017, 183:160-166
Ind Crops Prod.2014, 62:173-178
Drug Des Devel Ther.2020, 14:61-71
J Nat Med. 2011 Jan;65(1):237-40.
Cytotoxic and EGFR tyrosine kinase inhibitory activities of aglycone derivatives obtained by enzymatic hydrolysis of oleoside-type secoiridoid glucosides, oleuropein and ligustroside.[Pubmed:
21042869
]

METHODS AND RESULTS:
Hydrolysis of oleoside-type secoiridoid glucosides, oleuropein (1) and Ligustroside (2), in the presence of β-glucosidase provided their aglycones, named (5S,8R,9S)-7-3,4-dihydroxyphenethyl elenolate (3) and (5S,8R,9S)-7-4-hydroxyphenethyl elenolate (4), respectively. The structures of 3 and 4 were identified by spectroscopic means and optical rotation measurements.
CONCLUSIONS:
Evaluation of the cytotoxic and epidermal growth factor receptor (EGFR) tyrosine kinase inhibitory activities of compounds 1-4 showed that compounds 3 and 4 exhibited moderate cytotoxicity against a disease-oriented panel of 39 human cancer cell lines in vitro, whereas compound 3 inhibited the enzyme.
J Chromatogr A. 2006 Apr 21;1112(1-2):311-8.
Isolation and identification of radical scavengers in olive tree (Olea europaea) wood.[Pubmed:
16426626
]
Several extracts of Olea europaea wood (Picual olive cultivar) were obtained with solvents of different polarity and their antioxidant activities determined.
METHODS AND RESULTS:
The active compounds were detected in fractions of an ethyl acetate extract using HPLC with on-line radical scavenging detection. After applying different separation techniques, hydroxytyrosol, tyrosol, cycloolivil, 7-deoxyloganic acid, oleuropein and Ligustroside were isolated and characterized. Hydroxytyrosol showed a higher activity than the natural antioxidant rosmarinic acid in scavenging the DPPH model radical.
CONCLUSIONS:
Cycloolivil and oleuropein showed stronger activities than the synthetic antioxidant BHT against the same radical. Ligustroside, tyrosol and 7-deoxyloganic acid showed little activity. The latter compound has not been previously identified in the genus Olea.
Chem Pharm Bull (Tokyo). 2001 Nov;49(11):1471-3.
In vitro evaluation of secoiridoid glucosides from the fruits of Ligustrum lucidum as antiviral agents.[Pubmed:
11724241
]
Six secoiridoid glucosides, lucidumoside C (1), oleoside dimethylester (2), neonuezhenide (3), oleuropein (4), Ligustroside (5) and lucidumoside A (6), isolated from the fruits of Ligustrum lucidum (Oleaceae), were examined in vitro for their activities against four strains of pathogenic viruses, namely herpes simplex type I virus (HSV-1), influenza type A virus (Flu A), respiratory syncytial virus (RSV) and parainfluenza type 3 virus (Para 3).
METHODS AND RESULTS:
Antiviral activities were evaluated by the cytopathic effect (CPE) inhibitory assay. The purpose was to check if the antioxidative potency of these glucosides correlated with their antiviral potency. Results showed that none of the glucosides had any significant activity against HSV-1 and Flu A. Oleuropein, however, showed significant antiviral activities against RSV and Para 3 with IC50 value of 23.4 and 11.7 microg/ml, respectively. Lucidumoside C, oleoside dimethylester and Ligustroside showed potent or moderate antiviral activities against Para 3 with IC50 values of 15.6-20.8 microg/ml.
CONCLUSIONS:
These results also documented that the anti-oxidative potency of these secoiriodoid glucosides was not directly related to their antiviral effects.
Biol Pharm Bull. 2000 Nov;23(11):1307-13.
In vitro anti-inflammatory activity of iridoids and triterpenoid compounds isolated from Phillyrea latifolia L.[Pubmed:
11085357
]
Two iridoids, oleuropeoside and Ligustroside, and two triterpenoid compounds, oleanolic acid and ursolic acid, have been isolated from the leaves of Phillyrea latifolia L. (Oleaceae).
METHODS AND RESULTS:
These compounds were tested for interactions with the cyclooxygenase (COX) and 5-lipoxygenase (5-LOX) pathways of arachidonate metabolism in calcium ionophore-stimulated mouse peritoneal macrophages and human platelets, and for their effect on cell viability. Structure-activity relationships obtained for in vitro screening results were discussed. These compounds are capable of exerting inhibitory actions on enzymes of the arachidonate cascade. All compounds assayed showed a significant effect on prostaglandin E2 (PGE2)-release, with inhibition percentages similar to the reference drug indomethacin (IC50 = 0.95 microM). The IC50 values of the active compounds are: oleuropeoside 47 microM, Ligustroside 48.53 microM, oleanolic acid 23.51 microM and ursolic acid 60.91 microM. In the leukotriene C4 (LTC4)-assay, only oleanolic acid showed a significant effect (IC50 = 16.79 microM). We also investigated the action of compounds on thromboxane B2 (TXB2)-release induced by calcium ionophore in human platelets. Of all the tested compounds, only Ligustroside (IC50 = 122.63 microM) and ursolic acid (IC50 = 50.21 microM) showed a significant effect, although with less potency than the reference drug ibuprofen (IC50 = 1.27 microM).
CONCLUSIONS:
Thus, our compounds possess an array of potentially beneficial anti-inflammatory properties which may, alongside other constituents, contribute to the claimed therapeutic properties of the plant from which they are derived.