Oleuropein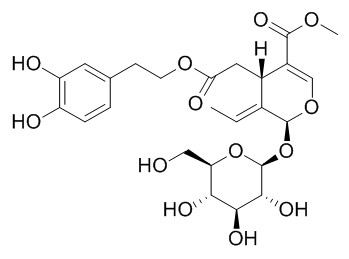 Oleuropein exhibits anti-ischemic, antioxidative, hypolipidemic, in vitro antimycoplasmal , anti-inflammatory, and anti-cancer effects., it also may be helpful in the prevention of diabetic complications associated with oxidative stress. Oleuropein prevents oxidative myocardial injury induced by ischemia and reperfusion, and reduces viremia in duck hepatitis B virus (DHBV)-infected ducks. Oleuropein reduces TLR and MAPK signaling.
Inquire / Order: manager@chemfaces.com
Technical Inquiries: service@chemfaces.com
Tel: +86-27-84237783
Fax: +86-27-84254680

Address:
1 Building, No. 83, CheCheng Rd., Wuhan Economic and Technological Development Zone, Wuhan, Hubei 430056, PRC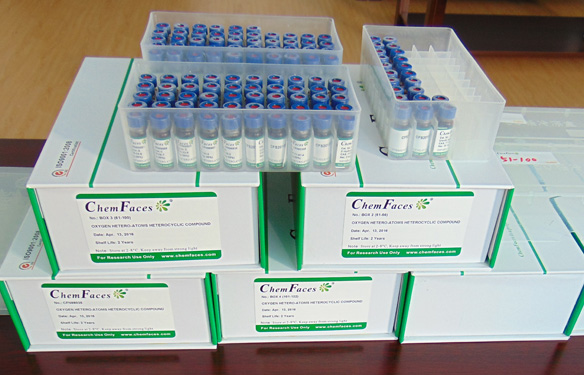 Providing storage is as stated on the product vial and the vial is kept tightly sealed, the product can be stored for up to
24 months(2-8C)
.
Wherever possible, you should prepare and use solutions on the same day. However, if you need to make up stock solutions in advance, we recommend that you store the solution as aliquots in tightly sealed vials at -20C. Generally, these will be useable for up to two weeks. Before use, and prior to opening the vial we recommend that you allow your product to equilibrate to room temperature for at least 1 hour.
Need more advice on solubility, usage and handling? Please email to: service@chemfaces.com
The packaging of the product may have turned upside down during transportation, resulting in the natural compounds adhering to the neck or cap of the vial. take the vial out of its packaging and gently shake to let the compounds fall to the bottom of the vial. for liquid products, centrifuge at 200-500 RPM to gather the liquid at the bottom of the vial. try to avoid loss or contamination during handling.
Cell Death Dis.2019, 10(12):882
Evid Based Complement Alternat Med.2015, 2015:165457
Microchemical Journal2018, 137:168-173
Evid Based Complement Alternat Med.2017, 2017:7383104
Front Pharmacol.2018, 9:756
JPC-Journal of Planar Chromatography 2017, 30(2)
Biomed Pharmacother.2019, 116:108987
Food Chem.2019, 275:746-753
Neurochem Int.2020, 133:104629
Molecules.2017, 22(6)
Mol Med Rep. 2015 Jun;11(6):4617-24.
Oleuropein induces apoptosis via activation of caspases and suppression of phosphatidylinositol 3-kinase/protein kinase B pathway in HepG2 human hepatoma cell line.[Pubmed:
25634350
]
Oleuropein is a polyphenol, that is found in extra‑virgin olive oil. Previous studies have shown that Oleuropein inhibits cell proliferation and induces apoptosis in breast cancer, colorectal cancer and thyroid cancer. The aim of the present study was to investigate the effects of Oleuropein in hepatocellular carcinoma (HCC) cells.
METHODS AND RESULTS:
The results of Cell Counting Kit 8 and flow cytometric analysis indicated that Oleuropein effectively inhibited cell viability and induced apoptosis in HepG2 human hepatoma cells in a dose‑dependent manner, through activation of the caspase pathway. Proapoptotic Bcl‑2 family members, BAX and Bcl‑2, were involved in Oleuropein‑induced apoptosis. The phosphatidylinositol 3‑kinase/protein kinase B (PI3K/AKT) signaling pathway was also shown to be involved in this process. Oleuropein was demonstrated to suppress the expression of activated AKT. In addition, AKT overexpression promoted cell survival following treatment with Oleuropein, while inhibition of AKT promoted cell death. Furthermore, the data demonstrated that Oleuropein induces the production of reactive oxygen species (ROS) and that the function of Oleuropein is, at least partially, ROS‑dependent.
CONCLUSIONS:
These results suggest that Oleuropein may be a promising novel chemotherapeutic agent in hepatocellular carcinoma.
Int J Antimicrob Agents. 2002 Oct;20(4):293-6.
In vitro antimycoplasmal activity of oleuropein.[Pubmed:
12385687
]

METHODS AND RESULTS:
The activity of Oleuropein, a phenolic glycoside contained in olive oil, was investigated in vitro against Mycoplasma hominis, Mycoplasma fermentans, Mycoplasma pneumoniae and Mycoplasma pirum. Oleuropein inhibited mycoplasmas at concentrations from 20 to 320 mg/l.
CONCLUSIONS:
The MICs of Oleuropein to M. pneumoniae, M. pirum, M. hominis and M. fermentans were 160, 320, 20 and 20 mg/l, respectively.
J Nutr Biochem. 2004 Aug;15(8):461-6.
Oleuropein prevents oxidative myocardial injury induced by ischemia and reperfusion.[Pubmed:
15302080
]
The potential protective effects of Oleuropein, a dietary antioxidant of olive oil, has been investigated in the isolated rat heart.
METHODS AND RESULTS:
The organs were subjected to 30 minutes of no-flow global ischemia and then reperfused. At different time intervals, the coronary effluent was collected and assayed for creatine kinase activity as well as for reduced and oxidized glutathione. In addition, the extent of lipid peroxidation was evaluated by measuring thiobarbituric acid reactive substance concentration in cardiac muscle. Pretreatment with 20 microg/g Oleuropein before ischemia resulted in a significant decrease in creatine kinase and reduced glutathione release in the perfusate. The protective effect of Oleuropein against the post-ischemic oxidative burst was investigated by measuring the release, in the coronary effluent, of oxidized glutathione, a sensitive marker of heart's exposure to oxidative stress. Reflow in ischemic hearts was accompanied by a prompt release of oxidized glutathione; in ischemic hearts pretreated with Oleuropein, this release was significantly reduced. Membrane lipid peroxidation was also prevented by Oleuropein. The reported data provide the first experimental evidence of a direct cardioprotective effect of Oleuropein in the acute events that follow coronary occlusion, likely because of its antioxidant properties.
CONCLUSIONS:
This finding strengthens the hypothesis that the nutritional benefit of olive oil in the prevention of coronary heart disease can be also related to the high content of Oleuropein and its derivatives. Moreover, our data, together with the well documented antithrombotic and antiatherogenic activity of olive oil polyphenols, indicate these antioxidants as possible therapeutic tools for the pharmacological treatment of coronary heart disease as well as in the case of cardiac surgery, including transplantation.
J Ethnopharmacol. 2009 Sep 7;125(2):265-8.
Antiviral efficacy against hepatitis B virus replication of oleuropein isolated from Jasminum officinale L. var. grandiflorum.[Pubmed:
19580857
]
Jasminum officinale L. var. grandiflorum (JOG) is a folk medicine used for the treatment of hepatitis in south of China. Phytochemical studies showed that secoiridoid glycosides are the typical constituents of this plant. The present study was undertaken to evaluate the effect of Oleuropein (Ole) derived from the flowers of JOG on hepatitis B virus (HBV) replication in HepG2 2.2.15 cell line in vitro and duck hepatitis B virus (DHBV) replication in ducklings in vivo.
METHODS AND RESULTS:
The extracellular hepatitis B e antigen (HBeAg) and hepatitis B surface antigen (HBsAg) concentrations in cell culture medium were determined by ELISA. DHBV in duck serum was analyzed by dot blot. Ole blocks effectively HBsAg secretion in HepG2 2.2.15 cells in a dose-dependent manner (IC(50)=23.2 microg/ml). Ole (80 mg/kg, intraperitoneally, twice daily) also reduced viremia in DHBV-infected ducks.
CONCLUSIONS:
Ole therefore warrants further investigation as a potential therapeutic agent for HBV infection.
J Agric Food Chem. 2015 Feb 25;63(7):2098-105.
Oleuropein suppresses LPS-induced inflammatory responses in RAW 264.7 cell and zebrafish.[Pubmed:
25613688
]
Oleuropein is one of the primary phenolic compounds present in olive leaf. In this study, the anti-inflammatory effect of Oleuropein was investigated using lipopolysaccharide (LPS)-stimulated RAW 264.7 and a zebrafish model.
METHODS AND RESULTS:
The inhibitory effect of Oleuropein on LPS-induced NO production in macrophages was supported by the suppression of inducible nitric oxide synthase (iNOS) and cyclooxygenase-2 (COX-2). In addition, our enzyme immunoassay showed that Oleuropein suppressed the release of pro-inflammatory cytokines such as interleukin-1β (IL-1β) and interleukin-6 (IL-6). Oleuropein inhibited the translocation of p65 by suppressing phosphorylation of inhibitory kappa B-α (IκB-α). Oleuropein also decreased activation of ERK1/2 and JNK, which are associated with LPS-induced inflammation, and its downstream gene of AP-1. Furthermore, Oleuropein inhibited LPS-stimulated NO generation in a zebrafish model.
METHODS AND RESULTS:
Taken together, our results demonstrated that Oleuropein could reduce inflammatory responses by inhibiting TLR and MAPK signaling, and may be used as an anti-inflammatory agent.
Life Sci. 2006 Feb 16;78(12):1371-7.
Hypoglycemic and antioxidant effect of oleuropein in alloxan-diabetic rabbits.[Pubmed:
16236331
]
Patients with diabetes mellitus are likely to develop certain complication such as retinopathy, nephropathy and neuropathy as a result of oxidative stress and overwhelming free radicals. Treatment of diabetic patients with antioxidant may be of advantage in attenuating these complications. Oleuropein, the active constituent of olive leaf (Olea europaea), has been endowed with many beneficial and health promoting properties mostly linked to its antioxidant activity.
CONCLUSIONS:
This study aimed to evaluate the significance of supplementation of Oleuropein in reducing oxidative stress and hyperglycemia in alloxan-induced diabetic rabbits. After induction of diabetes, a significant rise in plasma and erythrocyte malondialdehyde (MDA) and blood glucose as well as alteration in enzymatic and non-enzymatic antioxidants was observed in all diabetic animals. During 16 weeks of treatment of diabetic rabbits with 20 mg/kg body weight of Oleuropein the levels of MDA along with blood glucose and most of the enzymatic and non-enzymatic antioxidants were significantly restored to establish values that were not different from normal control rabbits. Untreated diabetic rabbits on the other hand demonstrated persistent alterations in the oxidative stress marker MDA, blood glucose and the antioxidant parameters.
CONCLUSIONS:
These results demonstrate that Oleuropein may be of advantage in inhibiting hyperglycemia and oxidative stress induced by diabetes and suggest that administration of Oleuropein may be helpful in the prevention of diabetic complications associated with oxidative stress.
Spectrochim Acta A Mol Biomol Spectrosc. 2015 Sep 5;148:260-5.
Spectroscopic and electrochemical studies of the interaction between oleuropein, the major bio-phenol in olives, and salmon sperm DNA.[Pubmed:
25909900
]
Interaction of Oleuropein, the major bio-phenol in olive leaf and fruit, with salmon sperm double-stranded DNA was investigated by employing electronic absorption titrations, fluorescence quenching spectroscopy, competitive fluorescence spectroscopy, thermal denaturation and voltammetric studies.
METHODS AND RESULTS:
Titration of Oleuropein with the DNA caused a hypochromism accompanied with a red shift indicating an intercalative mode of interaction. Binding constant of 1.4×10(4) M(-1) was obtained for this interaction. From the curves of fluorescence titration of Oleuropein with the DNA, binding constant and binding sites were calculated to be 8.61×10(3) M(-1) and 1.05, respectively. Competitive studies with ethidium bromide (a well-known DNA intercalator) showed that the bio-phenol could take the place of ethidium bromide in the DNA intercalation sites. The interaction of Oleuropein with DNA was also studied electrochemically. In the presence of the DNA, the anodic and cathodic peak currents of Oleuropein decreased accompanied with increases in peak-to-peak potential separation and formal potential, indicating the intercalation of Oleuropein into the DNA double helix. Moreover, melting temperature of the DNA was found to increase in the presence of Oleuropein, indicating the stabilization of the DNA double helix due to an intercalative interaction.