Methyl kulonate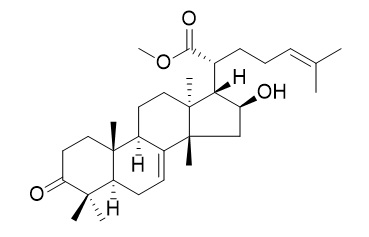 Methyl kulonate shows interesting antimycobacterial activity (with MIC value of 70 uM ). Methyl kulonate exhibits potent cytotoxicities against HL60 cells with IC50 values in the range of 2.8-5.8 uM.It inhibits production of nitric oxide (NO) in mouse macrophage RAW 264.7 cells induced by lipopolysaccharide (LPS).
Inquire / Order: manager@chemfaces.com
Technical Inquiries: service@chemfaces.com
Tel: +86-27-84237783
Fax: +86-27-84254680

Address:
1 Building, No. 83, CheCheng Rd., Wuhan Economic and Technological Development Zone, Wuhan, Hubei 430056, PRC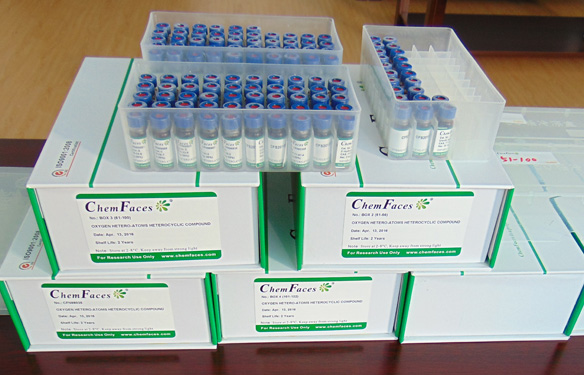 Providing storage is as stated on the product vial and the vial is kept tightly sealed, the product can be stored for up to
24 months(2-8C)
.
Wherever possible, you should prepare and use solutions on the same day. However, if you need to make up stock solutions in advance, we recommend that you store the solution as aliquots in tightly sealed vials at -20C. Generally, these will be useable for up to two weeks. Before use, and prior to opening the vial we recommend that you allow your product to equilibrate to room temperature for at least 1 hour.
Need more advice on solubility, usage and handling? Please email to: service@chemfaces.com
The packaging of the product may have turned upside down during transportation, resulting in the natural compounds adhering to the neck or cap of the vial. take the vial out of its packaging and gently shake to let the compounds fall to the bottom of the vial. for liquid products, centrifuge at 200-500 RPM to gather the liquid at the bottom of the vial. try to avoid loss or contamination during handling.
Korean Journal of Pharmacognosy2018, 49(3):270-277
Biochemistry.2018, 57(40):5886-5896
Semyung University2017, 149407
J Cell Physiol.2020, 10.1002
Biochem Biophys Res Commun.2017, 482(4):1095-1101
Biol Pharm Bull.2018, 41(11):1645-1651
Comput Biol Chem.2019, 83:107096
Food Res Int.2017, 96:40-45
Asian Journal of Chemistry2014, 26(22):7811-7816
ACS Nano.2018, 12(4):3385-3396
PLoS One. 2015 Oct 20;10(10):e0141272.
Limonoids from Melia azedarach Fruits as Inhibitors of Flaviviruses and Mycobacterium tubercolosis.[Pubmed:
26485025
]
The biological diversity of nature is the source of a wide range of bioactive molecules. The natural products, either as pure compounds or as standardized plant extracts, have been a successful source of inspiration for the development of new drugs. The present work was carried out to investigate the cytotoxicity, antiviral and antimycobacterial activity of the methanol extract and of four identified limonoids from the fruits of Melia azedarach (Meliaceae).
METHODS AND RESULTS:
The extract and purified limonoids were tested in cell-based assays for antiviral activity against representatives of ssRNA, dsRNA and dsDNA viruses and against Mycobacterium tuberculosis. Very interestingly, 3-α-tigloyl-melianol and melianone showed a potent antiviral activity (EC50 in the range of 3-11μM) against three important human pathogens, belonging to Flaviviridae family, West Nile virus, Dengue virus and Yellow Fever virus. Mode of action studies demonstrated that title compounds were inhibitors of West Nile virus only when added during the infection, acting as inhibitors of the entry or of a very early event of life cycle. Furthermore, 3-α-tigloyl-melianol and Methyl kulonate showed interesting antimycobacterial activity (with MIC values of 29 and 70 μM respectively). The limonoids are typically lipophilic compounds present in the fruits of Melia azeradach. They are known as cytotoxic compounds against different cancer cell lines, while their potential as antiviral and antibacterial was poorly investigated.
CONCLUSIONS:
Our studies show that they may serve as a good starting point for the development of novel drugs for the treatment of infections by Flaviviruses and Mycobacterium tuberculosis, for which there is a continued need.
Chem Biodivers. 2014 Aug;11(8):1121-39.
Cytotoxic and nitric oxide production-inhibitory activities of limonoids and other compounds from the leaves and bark of Melia azedarach.[Pubmed:
25146759
]
Nine limonoids, 1-9, one apocarotenoid, 11, one alkaloid, 12, and one steroid, 13, from the leaf extract; and one triterpenoid, 10, five steroids, 14-18, and two flavonoids, 19 and 20, from the bark extract of Melia azedarach L. (Chinaberry tree; Meliaceae) were isolated.
METHODS AND RESULTS:
Among these compounds, three compounds, 4-6, were new, and their structures were established as 3-deacetyl-28-oxosalannolactone, 3-deacetyl-28-oxosalanninolide, and 3-deacetyl-17-defurano-17,28-dioxosalannin, respectively, on the basis of extensive spectroscopic analyses and comparison with literature data. All of the isolated compounds were evaluated for their cytotoxic activities against leukemia (HL60), lung (A549), stomach (AZ521), and breast (SK-BR-3) cancer cell lines. 3-Deacetyl-4'-demethyl-28-oxosalannin (3) against HL60 and AZ521 cells, and Methyl kulonate (10) against HL60 cells exhibited potent cytotoxicities with IC50 values in the range of 2.8-5.8 μM. In addition, upon evaluation of compounds 1-13 against production of nitric oxide (NO) in mouse macrophage RAW 264.7 cells induced by lipopolysaccharide (LPS), seven, i.e., trichilinin B (1), 4, ohchinin (7), 23-hydroxyohchininolide (8), 21-hydroxyisoohchininolide (9), 10, and methyl indole 3-carboxylate (12), inhibited production of NO with IC50 values in the range of 4.6-87.3 μM with no, or almost no, toxicity to the cells (IC50 93.2-100 μM).
CONCLUSIONS:
Western blot analysis revealed that compound 7 reduced the expression levels of the inducible NO synthase (iNOS) and COX-2 proteins in a concentration-dependent manner. Furthermore, compounds 5, 6, 13, and 18-20 exhibited potent inhibitory effects (IC50 299-381 molar ratio/32 pmol TPA) against Epstein-Barr virus early antigen (EBV-EA) activation induced by 12-O-tetradecanoylphorbol-13-acetate (TPA) in Raji cell line.
Molecules. 2010 Aug 27;15(9):5866-77.
Cytotoxic tirucallane triterpenoids from Melia azedarach fruits.[Pubmed:
20802401
]

METHODS AND RESULTS:
The phytochemical investigation of the dichloromethane-soluble part of the methanol extract obtained from the fruits of Melia azedarach afforded one new tirucallane-type triterpene, 3-alpha-tigloylmelianol and three known tirucallanes, melianone, 21-beta-acetoxy-melianone, and Methyl kulonate. The structure of the isolated compounds was mainly determined by 1D and 2D NMR experiments as well as HPLC-Q-TOF mass spectrometry.
CONCLUSIONS:
The cytotoxicity of the isolated compounds toward the human lung adenocarcinoma epithelial cell line A549 was determined, while no activity was observed against the phytonematode Meloidogyne incognita.