Oroselol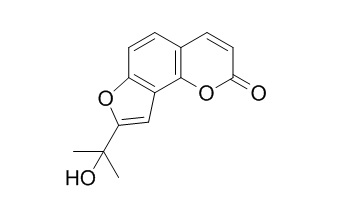 Oroselol, jatamansinol, nardostachysin, jatamansinone and nardosinone are Nardostachys jatamansi rhizome extract marker compounds.
Inquire / Order: manager@chemfaces.com
Technical Inquiries: service@chemfaces.com
Tel: +86-27-84237783
Fax: +86-27-84254680

Address:
1 Building, No. 83, CheCheng Rd., Wuhan Economic and Technological Development Zone, Wuhan, Hubei 430056, PRC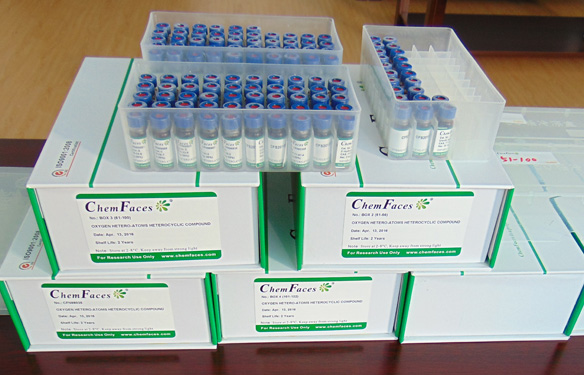 Providing storage is as stated on the product vial and the vial is kept tightly sealed, the product can be stored for up to
24 months(2-8C)
.
Wherever possible, you should prepare and use solutions on the same day. However, if you need to make up stock solutions in advance, we recommend that you store the solution as aliquots in tightly sealed vials at -20C. Generally, these will be useable for up to two weeks. Before use, and prior to opening the vial we recommend that you allow your product to equilibrate to room temperature for at least 1 hour.
Need more advice on solubility, usage and handling? Please email to: service@chemfaces.com
The packaging of the product may have turned upside down during transportation, resulting in the natural compounds adhering to the neck or cap of the vial. take the vial out of its packaging and gently shake to let the compounds fall to the bottom of the vial. for liquid products, centrifuge at 200-500 RPM to gather the liquid at the bottom of the vial. try to avoid loss or contamination during handling.
Sci Rep.2017, 7:467-479
Chem Biol Interact.2016, 258:59-68
Anal Biochem.2019, 569:10-15
Plant Direct.2021, 5(12):e372.
Appl. Sci.2021, 11(19),9343.
Biomed Pharmacother.2019, 111:262-269
Evid Based Complement Alternat Med.2021, 2021:5319584.
Eur Rev Med Pharmacol Sci.2020, 24(9):5127-5139.
Plants (Basel).2021, 10(4):702.
Journal of Physiology & Pathology in Korean Medicine.2018, 32(2): 106-112
Curr Cancer Drug Targets. 2017;17(1):74-88.
Strong Anti-tumorous Potential of Nardostachys jatamansi Rhizome Extract on Glioblastoma and In Silico Analysis of its Molecular Drug Targets.[Pubmed:
27774879
]
Glioblastoma has been reckoned as the prime cause of death due to brain tumours, being the most invasive and lethal. Available treatment options, i.e. surgery, radiotherapy, chemotherapy and targeted therapies are not effective in improving prognosis, so an alternate therapy is insistent. Plant based drugs are efficient due to their synergistic action, multi-targeted approach and least side effects.
METHODS AND RESULTS:
The anti-tumorous potential of Nardostachys jatamansi rhizome extract (NJRE) on U87 MG cell line was evaluated through various in vitro and in silico bio-analytical tools. NJRE had a strong anti-proliferative effect on U87 MG cells, Its IC50 was 33.73±3.5, 30.59±3.4 and 28.39±2.9 μg/mL, respectively after 24, 48 and 72 h. NJRE at 30 μg/mL induced DNA fragmentation, indicating apoptosis, early apoptosis began in the cells at 20 μg/mL, whereas higher doses exhibited late apoptosis as revealed by dual fluorescence staining. NJRE at 60 and 80 μg /mL caused a G0/G1 arrest and at 20 and 40 μg/mL showed excessive nucleation and mitotic catastrophe in the cells. Immuno-blotting validated the apoptotic mode of cell death through intrinsic pathway. NJRE was harmless to normal cells. In silico docking of NJRE marker compounds: Oroselol, jatamansinol, nardostachysin, jatamansinone and nardosinone have revealed their synergistic and multi-targeted interactions with Vestigial endothelial growth factor receptor 2 (VEGFR2), Cyclin dependent kinase 2 (CDK2), B-cell lymphoma 2 (BCL2) and Epidermal growth factor receptor (EGFR).
CONCLUSIONS:
A strong dose specific and time dependent anti-tumorous potential of NJRE on U87 MG cells was seen. The extract can be used for the development of safe and multi-targeted therapy to manage glioblastoma, which has not been reported earlier.
Phytochemistry. 2012 Sep;81:109-16.
Biotransformation of columbianadin by rat hepatic microsomes and inhibition of biotransformation products on NO production in RAW 264.7 cells in vitro.[Pubmed:
22784551
]
Columbianadin (CBN, 1), 1-[(8S)-8,9-dihydro-2-oxo-2H-furo[2,3-h]-1-benzopyran-8-yl]-1-methylethyl-[(2Z)-2-methyl-2-butenoic acid]ester is a coumarin-type compound and one of the main bioactive constituents of the underground part of Angelica pubescens Maxim. f. biserrata Shan et Yuan.
METHODS AND RESULTS:
Although numerous investigations have been undertaken to study the biological activities of CBN, such as analgesic, anti-inflammatory, calcium-channel blocking, and platelet aggregation inhibiting functions, little attention has been paid to its metabolism and/or biotransformation. Biotransformation of CBN by rat liver microsomes in vitro was studied, and thirteen biotransformation products including eight hitherto unknown compounds [columbianadiratimetins A-H (3-10)] and five known compounds [columbianadin oxide (2), (+)-2,3-dihydro-4-hydroxy-2-(1-hydroxy-1-methylethyl)-5-benzofurancarboxaldehyde (11), Oroselol (12), columbianetin (13), and vaginol (14)] were produced by liver microsomes from rats pre-treated with sodium phenobarbital. The structures of these compounds were elucidated on the basis of extensive spectroscopic analyses which included IR, UV, EIMS, HRESIMS, 1D NMR and 2D NMR, respectively.
CONCLUSIONS:
The inhibition of CBN and its main biotransformation products on nitric oxide production induced by lipopolysaccharide was assayed in RAW 264.7 cells at concentrations ranging from 10 to 200 μM to evaluate the biological significance of biotransformation.