Cucurbitadienol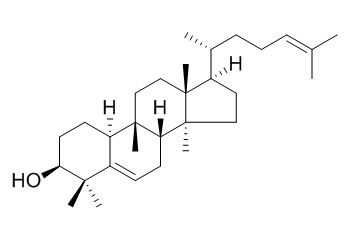 Cucurbitadienol has significant anti-inflammatory, anti-tumor effect, is also CucurbitacinBE compounds biosynthesis the key intermediate. Cucurbitadienol synthase, the first committed enzyme for cucurbitacin biosynthesis, is a distinct enzyme from cycloartenol synthase for phytosterol biosynthesis. CYP87D18 catalyzed the oxidation of cucurbitadienol at C-11 to produce 11-oxo cucurbitadienol and 11-hydroxy cucurbitadienol.
Inquire / Order: manager@chemfaces.com
Technical Inquiries: service@chemfaces.com
Tel: +86-27-84237783
Fax: +86-27-84254680

Address:
1 Building, No. 83, CheCheng Rd., Wuhan Economic and Technological Development Zone, Wuhan, Hubei 430056, PRC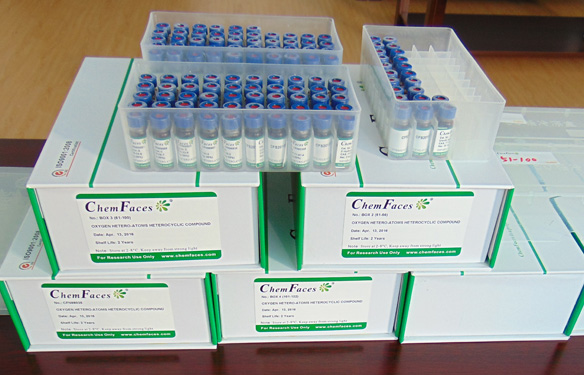 Providing storage is as stated on the product vial and the vial is kept tightly sealed, the product can be stored for up to
24 months(2-8C)
.
Wherever possible, you should prepare and use solutions on the same day. However, if you need to make up stock solutions in advance, we recommend that you store the solution as aliquots in tightly sealed vials at -20C. Generally, these will be useable for up to two weeks. Before use, and prior to opening the vial we recommend that you allow your product to equilibrate to room temperature for at least 1 hour.
Need more advice on solubility, usage and handling? Please email to: service@chemfaces.com
The packaging of the product may have turned upside down during transportation, resulting in the natural compounds adhering to the neck or cap of the vial. take the vial out of its packaging and gently shake to let the compounds fall to the bottom of the vial. for liquid products, centrifuge at 200-500 RPM to gather the liquid at the bottom of the vial. try to avoid loss or contamination during handling.
Biol Pharm Bull.2018, 41(11):1685-1693
Int J Mol Sci. 2014, 15(5):8443-57
Molecules.2018, 23(3):E615
Korean J. Medicinal Crop Sci.2018, 26(2):148-156
Food Chem.2018, 252:207-214
The Korea Society of Pha.2014, 300-314
Ind Crops Prod.2015, 67:185-191
Integr Med Res.2017, 6(4):395-403
Biochem Biophys Res Commun.2020, 522(1):40-46
Exp Neurobiol.2018, 27(3):200-209
Plant Cell Physiol. 2015 Mar 9.
Functional Characterization of Cucurbitadienol Synthase and Triterpene Glycosyltransferase Involved in Biosynthesis of Mogrosides from Siraitia grosvenorii.[Pubmed:
25759326
]
Hexahydrocurcumin, 1-Dehydro-6-gingerdione, 6-dehydroshogaol and 6-shogaol were evaluated for their antioxidant and anti-inflammatory activities in the present study.
METHODS AND RESULTS:
The relative antioxidant potencies of ginger compounds decreased in similar order of 1-Dehydro-6-gingerdione, hexahydrocurcumin>6-shogaol>6-dehydroshogaol in both 1,1-diphenyl-2-picyrlhydrazyl (DPPH) radical-scavenging and trolox equivalent antioxidant capacity (TEAC) assays. All tested compounds could attenuate lipopolysaccharide (LPS)-elicited increase of prostaglandin E2 (PGE(2)) in murine macrophages (RAW 264.7) in a concentration-dependent manner but hexahydrocurcumin of 7μM and 6-shogaol of 7μM. The strongest inhibitory effect was observed for 6-dehydroshogaol and 6-shogaol at 14μM with the inhibition of 53.3% and 48.9%, respectively. Furthermore, both 6-dehydroshogaol and 1-Dehydro-6-gingerdione significantly suppressed the expression of inducible nitric oxide synthase (iNOS) and cyclooxygenase-2 (COX-2) proteins in a concentration-dependent fashion.
CONCLUSIONS:
These results contribute to our theoretical understanding of the potential beneficial effects of consuming ginger as a food and/or dietary supplement.
Plant Cell Physiol., 2016,57(5):1000-7.
Oxidation of Cucurbitadienol Catalyzed by CYP87D18 in the Biosynthesis of Mogrosides from Siraitia grosvenorii.[Pubmed:
26903528
]
Mogrosides, the principally bioactive compounds extracted from the fruits of Siraitia grosvenorii, are a group of glycosylated cucurbitane-type tetracyclic triterpenoid saponins that exhibit a wide range of notable biological activities and are commercially available worldwide as natural sweeteners. The biosynthesis of mogrosides involves initial cyclization of 2,3-oxidosqualene to the triterpenoid skeleton of Cucurbitadienol, followed by a series of oxidation reactions catalyzed by Cyt P450s (P450s) and then glycosylation reactions catalyzed by UDP glycosyltransferases (UGTs). We previously reported the identification of a Cucurbitadienol synthase (SgCbQ) and a mogrol C-3 hydroxyl glycosyltransferase (UGT74AC1). However, molecular characterization of further transformation of Cucurbitadienol to mogrol by P450s remains unavailable.
METHODS AND RESULTS:
In this study, we report the successful identification of a multifunctional P450 (CYP87D18) as being involved in C-11 oxidation of Cucurbitadienol. In vitro enzymatic activity assays showed that CYP87D18 catalyzed the oxidation of Cucurbitadienol at C-11 to produce 11-oxo Cucurbitadienol and 11-hydroxy Cucurbitadienol. Furthermore, 11-oxo-24,25-epoxy Cucurbitadienol as well as 11-oxo Cucurbitadienol and 11-hydroxy Cucurbitadienol were produced when CYP87D18 was co-expressed with SgCbQ in genetic yeast, and their structures were confirmed by liquid chromatography-solid-phase extraction-nuclear magnetic resonance-mass spectrometry coupling (LC-SPE-NMR-MS).
CONCLUSIONS:
Taken together, these results suggest a role for CYP87D18 as a multifunctional Cucurbitadienol oxidase in the mogrosides pathway.