Phloretin 3',5'-Di-C-glucoside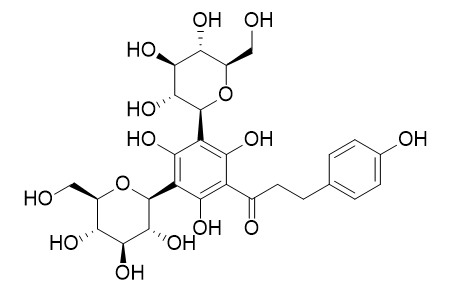 Phloretin 3',5'-Di-C-glucoside is able to inhibit growth of Gram positive bacteria.
Inquire / Order: manager@chemfaces.com
Technical Inquiries: service@chemfaces.com
Tel: +86-27-84237783
Fax: +86-27-84254680

Address:
1 Building, No. 83, CheCheng Rd., Wuhan Economic and Technological Development Zone, Wuhan, Hubei 430056, PRC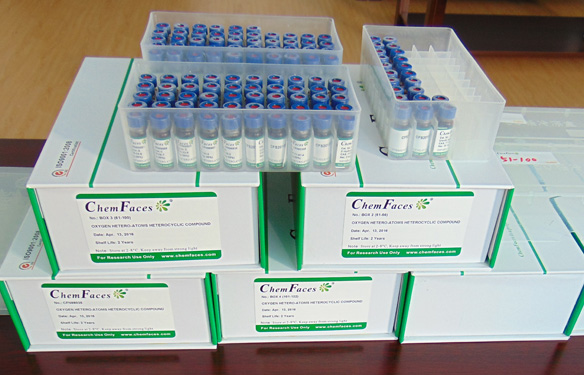 Providing storage is as stated on the product vial and the vial is kept tightly sealed, the product can be stored for up to
24 months(2-8C)
.
Wherever possible, you should prepare and use solutions on the same day. However, if you need to make up stock solutions in advance, we recommend that you store the solution as aliquots in tightly sealed vials at -20C. Generally, these will be useable for up to two weeks. Before use, and prior to opening the vial we recommend that you allow your product to equilibrate to room temperature for at least 1 hour.
Need more advice on solubility, usage and handling? Please email to: service@chemfaces.com
The packaging of the product may have turned upside down during transportation, resulting in the natural compounds adhering to the neck or cap of the vial. take the vial out of its packaging and gently shake to let the compounds fall to the bottom of the vial. for liquid products, centrifuge at 200-500 RPM to gather the liquid at the bottom of the vial. try to avoid loss or contamination during handling.
Int J Mol Sci.2017, 19(1)
Drug Des Devel Ther.2020, 14:969-976.
Front Microbiol.2023, 14:1232039.
Earth Environ. Sci. 2021, 905:012080.
J Pharm Biomed Anal.2017, 140:274-280
Phytomedicine.2019, 61:152813
Natural Product Communications2021, 16(9):1-10.
Processes2022, 10(10), 2008.
Evid Based Complement Alternat Med.2021, 8707280.
Pharmaceuticals.2022, 15(4), 402.
Food Chem . 2014 Oct 1;160:292-7.
Biochemical and antimicrobial activity of phloretin and its glycosilated derivatives present in apple and kumquat[Pubmed:
24799241
]
Phloretin and its glycosylated derivatives (phlorizin and Phloretin 3',5'-Di-C-glucoside) are dihydrochalcones that have many interesting biological properties. The results obtained showed that the dihydrochalcones are able to inhibit growth of Gram positive bacteria, in particular Staphylococcus aureus ATCC 6538, Listeria monocytogenes ATCC 13932 and methicillin-resistant S. aureus clinical strains. Moreover, phloretin is active also against the Gram negative bacteria Salmonella typhimurium ATCC 13311. The determination of the enzymatic activity of key metabolic enzymes allowed us to shed some light on the biochemical mechanism of aglycon cell growth inhibition, showing as it remarkably influences the energetic metabolism of S. aureus. In addition, structure/activity determinations highlighted that the presence of a glycosyl moiety bound to the chalcone structure dramatically decreases the antimicrobial activity of phloretin.
Molecules 2012, 17(12), 14602-14624;
Food Ingredient Extracts of Cyclopia subternata (Honeybush): Variation in Phenolic Composition and Antioxidant Capacity[Reference:
WebLink
]
Cyclopia subternata plants are traditionally used for the production of the South African herbal tea, honeybush, and recently as aqueous extracts for the food industry. A C. subternata aqueous extract and mangiferin (a major constituent) are known to have anti-diabetic properties. Variation in phenolic composition and antioxidant capacity is expected due to cultivation largely from seedlings, having implications for extract standardization and quality control. Aqueous extracts from 64 seedlings of the same age, cultivated under the same environmental conditions, were analyzed for individual compound content, total polyphenol (TP) content and total antioxidant capacity (TAC) in a number of assays. An HPLC method was developed and validated to allow quantification of xanthones (mangiferin, isomangiferin), flavanones (hesperidin, eriocitrin), a flavone (scolymoside), a benzophenone (iriflophenone-3-C-β-glucoside) and dihydrochalcones (phloretin-3',5'-di-C-β-glucoside, 3-hydroxyphloretin-3',5'-di-C-hexoside). Additional compounds were tentatively identified using mass spectrometric detection, with the presence of the 3-hydroxyphloretin-glycoside, an iriflophenone-di-O,C-hexoside, an eriodictyol-di-C-hexoside and vicenin-2 being demonstrated for the first time. Variability of the individual phenolic compound contents was generally higher than that of the TP content and TAC values. Among the phenolic compounds, scolymoside, hesperidin and iriflophenone-3-C-β-glucoside contents were the most variable. A combination of the measured parameters could be useful in product standardization by providing a basis for specifying minimum levels.