Eucomic acid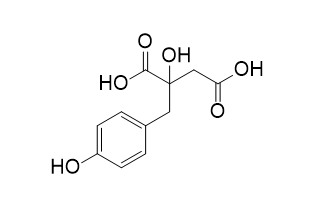 Eucomic acid showed the best inhibitory activity against the P. falciparum 3D7, a well-known chloroquine-sensitive strain. Eucommia acid has antioxidant, anti-aging, antibacterial, and AChE inhibitory activities.Eucommia acid promotes wound healing.
Inquire / Order: manager@chemfaces.com
Technical Inquiries: service@chemfaces.com
Tel: +86-27-84237783
Fax: +86-27-84254680

Address:
1 Building, No. 83, CheCheng Rd., Wuhan Economic and Technological Development Zone, Wuhan, Hubei 430056, PRC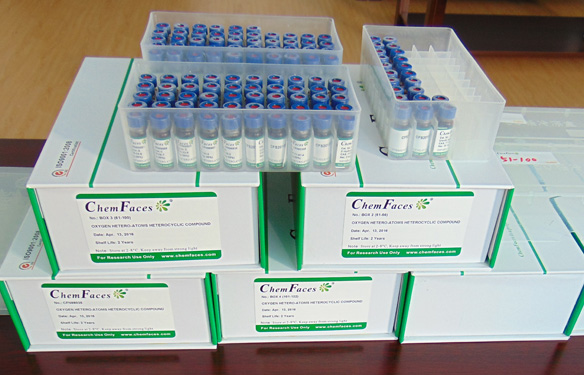 Providing storage is as stated on the product vial and the vial is kept tightly sealed, the product can be stored for up to
24 months(2-8C)
.
Wherever possible, you should prepare and use solutions on the same day. However, if you need to make up stock solutions in advance, we recommend that you store the solution as aliquots in tightly sealed vials at -20C. Generally, these will be useable for up to two weeks. Before use, and prior to opening the vial we recommend that you allow your product to equilibrate to room temperature for at least 1 hour.
Need more advice on solubility, usage and handling? Please email to: service@chemfaces.com
The packaging of the product may have turned upside down during transportation, resulting in the natural compounds adhering to the neck or cap of the vial. take the vial out of its packaging and gently shake to let the compounds fall to the bottom of the vial. for liquid products, centrifuge at 200-500 RPM to gather the liquid at the bottom of the vial. try to avoid loss or contamination during handling.
Int J Cosmet Sci.2019, 41(1):12-20
Journal of Analytical Chemistry2017, 854-861
J Ginseng Res.2020, 44(4):611-618.
Advances in Traditional Medicine 2021, 21:779-789.
J Hematol Oncol.2018, 11(1):112
J Pharm Biomed Anal2016, 118:183-194
J Chromatogr Sci.2020, 58(6):485-493.
Chemistry of Plant Materials.2019, 215-222
Sci Rep.2021, 11(1):11936.
Ann Transl Med.2019, 7(23):731
Molecules . 2021 May 10;26(9):2795.
In Vitro Antiplasmodial and Cytotoxic Activities of Compounds from the Roots of Eriosema montanum Baker f. (Fabaceae)[Pubmed:
34068519
]
Malaria remains one of the leading causes of death in sub-Saharan Africa, ranked in the top three infectious diseases in the world. Plants of the Eriosema genus have been reported to be used for the treatment of this disease, but scientific evidence is still missing for some of them. In the present study, the in vitro antiplasmodial activity of the crude extract and compounds from Eriosema montanum Baker f. roots were tested against the 3D7 strain of Plasmodium falciparum and revealed using the SYBR Green, a DNA intercalating compound. The cytotoxicity effect of the compounds on a human cancer cell line (THP-1) was assessed to determine their selectivity index. It was found that the crude extract of the plant displayed a significant antiplasmodial activity with an IC50 (μg/mL) = 17.68 ± 4.030 and a cytotoxic activity with a CC50 (μg/mL) = 101.5 ± 12.6, corresponding to a selective antiplasmodial activity of 5.7. Bioactivity-guided isolation of the major compounds of the roots' crude extract afforded seven compounds, including genistein, genistin and Eucomic acid. Under our experimental conditions, using Artemisinin as a positive control, Eucomic acid showed the best inhibitory activity against the P. falciparum 3D7, a well-known chloroquine-sensitive strain. The present results provide a referential basis to support the traditional use of Eriosema species in the treatment of malaria.
Foods . 2021 Mar 9;10(3):570.
Emergent Technologies for the Extraction of Antioxidants from Prickly Pear Peel and Their Antimicrobial Activity[Pubmed:
33803279
]
Phenolic compounds are important bioactive compounds identified in prickly pear peel that have important antioxidant and antimicrobial properties. However, conventional thermal extraction methods may reduce their bioactivity, and technologies such as high pressure (HP) and ohmic heating (OH) may help preserve them. In this study, both technologies were analyzed, individually and combined (250/500 MPa; 40/70 °C; ethanol concentration 30/70%), and compared with Soxhlet with regard to total phenolics, flavonoids, and carotenoids as well as antioxidant (ABTS, DPPH, ORAC), DNA pro-oxidant, and antimicrobial (inhibition halos, minimum inhibitory concentration (MIC), minimum bactericidal concentration (MBC), growth curves, and viable cells) activities of prickly pear peel extracts. Total phenolics extracted by each technology increased 103% (OH) and 98% (HP) with regard to Soxhlet, but the contents of total flavonoids and carotenoids were similar. Antioxidant activity increased with HP and OH (between 35% and 63%), and OH (70 °C) did not induce DNA degradation. The phenolic compound present in higher amounts was piscidic acid, followed by Eucomic acid and citrate. In general, their extraction was significantly favored by HP and OH. Antimicrobial activity against 7 types of bacteria showed effective results only against S. aureus, S. enteritidis, and B. cereus. No synergetic or additive effect was observed for HP/OH.
J Agric Food Chem . 2018 Jun 13;66(23):5832-5844.
Digestibility of (Poly)phenols and Antioxidant Activity in Raw and Cooked Cactus Cladodes ( Opuntia ficus-indica)[Pubmed:
29770691
]
This study aims to investigate whether heat treatment applied to cactus cladodes influences the bioaccessibility of their (poly)phenolic compounds after simulated gastric and intestinal digestion. A total of 45 (poly)phenols were identified and quantified in raw and cooked cactus cladodes by ultra high performance liquid chromatography photodiode array detector high resolution mass spectrometry. Both flavonoids (60-68% total), mainly isorhamnetin derivatives, and phenolic acids (32-40%) with Eucomic acids as the predominant ones significantly ( p < 0.05) increased with microwaving and griddling processes. After in vitro gastrointestinal digestion, 55-64% of the total (poly)phenols of cooked cactus cladodes remained bioaccessible versus 44% in raw samples. Furthermore, digestive conditions and enzymes degraded or retained more flavonoids (37-63% bioaccessibility) than phenolic acids (56-87% bioaccessibility). Microwaved cactus cladodes contributed the highest amount of (poy)phenols (143.54 mg/g dm) after gastrointestinal process, followed by griddled samples (133.98 mg/g dm), showing the highest antioxidant capacity. Additionally, gastrointestinal digestion induced isomerizations among the three stereoisomeric forms of piscidic and Eucomic acids.
J Nat Prod . 2011 May 27;74(5):949-955.
Glucosyloxybenzyl eucomate derivatives from Vanda teres stimulate HaCaT cytochrome c oxidase[Pubmed:
21510636
]
Eucomic acid [(2R)-2-(p-hydroxybenzyl)malic acid)] (1) and three new glucopyranosyloxybenzyl eucomate derivatives, vandaterosides I (2), II (3), and III (4), were isolated and identified from the stems of Vanda teres. Their cellular antiaging properties were evaluated in a human immortalized keratinocyte cell line (HaCaT) by monitoring their effect on cytochrome c oxidase activity, implicated in mitochondrial respiratory function and cellular energy production. Eucomic acid (1) and vandateroside II (3) increased cytochrome c oxidase activity and/or expression, without enhancing cellular mitochondrial content. These two V. teres biomarkers apparently contributed to stimulate respiratory functions in keratinocytes. Since aging and its pathologies may be ascribed to a decline in mitochondrial functions, these biomarkers have the potential to become new natural ingredients for antiaging preparations to remedy age-related disorders such as skin aging.
Phytother Res . 2017 May;31(5):713-720.
Phytochemical Characterization, Antibacterial, Acetylcholinesterase Inhibitory and Cytotoxic Properties of Cryptostephanus vansonii, an Endemic Amaryllid[Pubmed:
28217929
]
Cryptostephanus vansonii I. Verd., an endemic Amaryllidaceae species from Zimbabwe, was evaluated for its acetylcholinesterase (AChE) inhibitory and cytotoxicity properties using Ellman's colorimetric method and the tetrazolium-based colorimetric assay against Vero monkey kidney cells, respectively. The plant extracts were also evaluated for their antibacterial activity against five bacteria. Furthermore, phytochemical profiles of the extracts were determined using ultra-high performance liquid chromatography coupled with tandem mass spectrometry analysis. A plant part-dependent AChE inhibitory activity was observed, in the order, root > rhizome > basal leaf > leaf. Overall, C. vansonii extracts exhibited better antibacterial activity against Gram-negative compared with Gram-positive bacteria. Cytotoxic effects were not detected in Vero monkey kidney cell lines suggesting the possible absence of toxophores in C. vansonii extracts. Similar to the trend in biological activity, a distinct plant part-dependent variation in hydroxybenzoates, hydroxycinnamates and flavonoids was observed in the plant extracts. In addition, 5-hydroxymetylfurfural and Eucomic acid were detected in the different plant parts of C. vansonii. The results of the present study provide valuable AChE inhibition activity, toxicological and phytochemical profiles of C. vansonii. Further studies on isolation of bioactive compounds and their subsequent evaluation in other pharmacological and toxicological model systems are required.
Carbohydr Polym . 2017 Feb 10;157:128-136.
The polysaccharide and low molecular weight components of Opuntia ficus indica cladodes: Structure and skin repairing properties[Pubmed:
27987833
]
The Opuntia ficus-indica multiple properties are reflected in the increasing interest of chemists in the identification of its natural components having pharmaceutical and/or cosmetical applications. Here we report the structural elucidation of Opuntia ficus-indica mucilage that highlighted the presence of components differing for their chemical nature and the molecular weight distribution. The high molecular weight components were identified as a linear galactan polymer and a highly branched xyloarabinan. The low molecular weight components were identified as lactic acid, D-mannitol, piscidic, eucomic and 2-hydroxy-4-(4'-hydroxyphenyl)-butanoic acids. A wound healing assay was performed in order to test the cicatrizing properties of the various components, highlighting the ability of these latter to fasten dermal regeneration using a simplified in vitro cellular model based on a scratched keratinocytes monolayer. The results showed that the whole Opuntia mucilage and the low molecular weight components are active in the wound repair.
Antioxidants (Basel) . 2019 Dec 3;8(12):611.
Potential of Smoke-Water and One of Its Active Compounds (karrikinolide, KAR 1) on the Phytochemical and Antioxidant Activity of Eucomis autumnalis[Pubmed:
31816895
]
Eucomis autumnalis (Mill.) Chitt. subspecies autumnalis is a popular African plant that is susceptible to population decline because the bulbs are widely utilized for diverse medicinal purposes. As a result, approaches to ensure the sustainability of the plants are essential. In the current study, the influence of smoke-water (SW) and karrikinolide (KAR1 isolated from SW extract) on the phytochemicals and antioxidant activity of in vitro and greenhouse-acclimatized Eucomis autumnalis subspecies autumnalis were evaluated. Leaf explants were cultured on Murashige and Skoog (MS) media supplemented with SW (1:500, 1:1000 and 1:1500 v/v dilutions) or KAR1 (10-7, 10-8 and 10-9 M) and grown for ten weeks. In vitro regenerants were subsequently acclimatized in the greenhouse for four months. Bioactive phytochemicals in different treatments were analyzed using ultra-high performance liquid chromatography (UHPLC-MS/MS), while antioxidant potential was evaluated using two chemical tests namely: DPPH and the β-carotene model. Smoke-water and KAR1 generally influenced the quantity and types of phytochemicals in in vitro regenerants and acclimatized plants. In addition to Eucomic acid, 15 phenolic acids and flavonoids were quantified; however, some were specific to either the in vitro regenerants or greenhouse-acclimatized plants. The majority of the phenolic acids and flavonoids were generally higher in in vitro regenerants than in acclimatized plants. Evidence from the chemical tests indicated an increase in antioxidant activity of SW and KAR1-treated regenerants and acclimatized plants. Overall, these findings unravel the value of SW and KAR1 as potential elicitors for bioactive phytochemicals with therapeutic activity in plants facilitated via in vitro culture systems. In addition, it affords an efficient means to ensure the sustainability of the investigated plant. Nevertheless, further studies focusing on the use of other types of antioxidant test systems (including in vivo model) and the carry-over effect of the application of SW and KAR1 for a longer duration will be pertinent. In addition, the safety of the resultant plant extracts and their pharmacological efficacy in clinical relevance systems is required.
Food Funct . 2014 Dec;5(12):3269-3280.
Antioxidant and anti-inflammatory activity of a flavonoid-rich concentrate recovered from Opuntia ficus-indica juice[Pubmed:
25347222
]
In this work, Opuntia ficus indica juice was explored as a potential source of natural antioxidant and anti-inflammatory ingredients towards intestinal inflammation. An adsorption separation process was used to produce a natural flavonoid-rich concentrate (FRC) from Opuntia ficus-indica juice. The FRC effect (co- or pre-incubation) on induced-oxidative stress and induced-inflammation was evaluated in human Caco-2 cells. The main constituents identified and present in the extract are flavonoids (namely isorhamnetins and their derivatives such as isorhamnetin 3-O-rhamnose-rutinoside and isorhamnetin 3-O-rutinoside) and phenolic acids (such as ferulic, piscidic and Eucomic acids). Our results showed that co-incubation of FRC with the stress-inducer attenuates radicals production in a much more significant manner than pre-incubation. These results suggest that FRC compounds which cannot pass the cell membrane freely (isorhamnetin derivatives) have an ability to inhibit the formation of H2O2-induced radicals in the surrounding environment of intestinal epithelial cells. The capacity of FRC (co-incubation) for suppressing (at the extracellular level) free radicals chain initiation or propagation reaction was probably related with a more pronounced reduction in protein oxidation. A similar response was observed in the inflammatory state, where a marked decrease in IL-8 secretion and blocked degradation of IκBα was achieved for FRC co-incubation. Simultaneously, treatment with FRC significantly reduces NO and TNF-α expression and modulates apparent permeability in Caco-2 cells. In these cases, no significant differences were found between pre- and co-incubation treatments suggesting that bioavailable phenolics, such as ferulic, eucomic and piscidic acids and isorhamnetin, act at the intracellular environment.
Bioorg Med Chem Lett . 2017 Dec 15;27(24):5485-5489.
Protective effect of Opuntia ficus-indica L. cladodes against UVA-induced oxidative stress in normal human keratinocytes[Pubmed:
29107540
]
Opuntia ficus-indica L. is known for its beneficial effects on human health, but still little is known on cladodes as a potent source of antioxidants. Here, a direct, economic and safe method was set up to obtain water extracts from Opuntia ficus-indica cladodes rich in antioxidant compounds. When human keratinocytes were pre-treated with the extract before being exposed to UVA radiations, a clear protective effect against UVA-induced stress was evidenced, as indicated by the inhibition of stress-induced processes, such as free radicals production, lipid peroxidation and GSH depletion. Moreover, a clear protective effect against apoptosis in pre-treated irradiated cells was evidenced. We found that eucomic and piscidic acids were responsible for the anti-oxidative stress action of cladode extract. In conclusion, a bioactive, safe, low-cost and high value-added extract from Opuntia cladodes was obtained to be used for skin health/protection.
Chin J Nat Med . 2014 Feb;12(2):148-150.
Sinensioside A, a new sesquilignan glycoside from Selaginella sinensis[Pubmed:
24636067
]
Aim: To investigate the chemical constituents of Selaginella sinensis (Desv.) Spring. Methods: Chromatographic separations on Diaion HP-20, silica gel, and Sephadex LH-20 were used. The structures of the isolates were elucidated on the basis of spectroscopic analysis, as well as chemical methods. Results: Eight compounds were obtained and their structures were identified as sinensioside A (1), syringaresinol-4- O-β-D-glucopyranoside (2), (+)-medioresinol-4-O-β-D-glucopyranoside (3), pinoresinol-4, 4'-di-O-β-D-glucopyranoside (4), quercetin (5), Eucomic acid (6), shikimic acid (7), and 2, 3-dihydroamentoflavone (8). Conclusion: Compound 1 is a new dihydrobenzofuran sesquilignan glycoside from Selaginella sinensis.
Steroids . 2006 Dec;71(13-14):1073-1077.
Two novel C29-5beta-sterols from the stems of Opuntia dillenii[Pubmed:
17112557
]
Two novel C29-5beta-sterols, opuntisterol [(24R)-24-ethyl-5beta-cholest-9-ene-6beta,12alpha-diol] (1) and opuntisteroside [(24R)-24-ethyl-6beta-[(beta-d-glucopyranosyl)oxy]-5beta-cholest-9-ene-12alpha-ol] (2), together with nine known compounds, beta-sitosterol (3), taraxerol (4), friedelin (5), methyl linoleate (6), 7-oxositosterol (7), 6beta-hydroxystigmast-4-ene-3-one (8), daucosterol (9), methyl eucomate (10) and Eucomic acid (11), were isolated from the stems of Opuntia dillenii collected in Guizhou Province, China. Their structures were elucidated mainly by spectroscopic analysis. The absolute configuration of 1 were deduced from comparative 1H NMR data of the (S)- and (R)-methoxyphenyl acetate derivatives. Compounds 6-8, 10 and 11 were isolated from O. dillenii for the first time.