Menisperine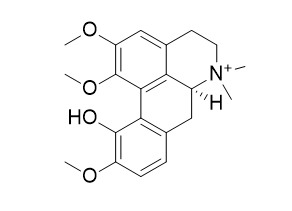 Anti-inflammatory effects (potential NF-κB inhibitors).
Inquire / Order: manager@chemfaces.com
Technical Inquiries: service@chemfaces.com
Tel: +86-27-84237783
Fax: +86-27-84254680

Address:
1 Building, No. 83, CheCheng Rd., Wuhan Economic and Technological Development Zone, Wuhan, Hubei 430056, PRC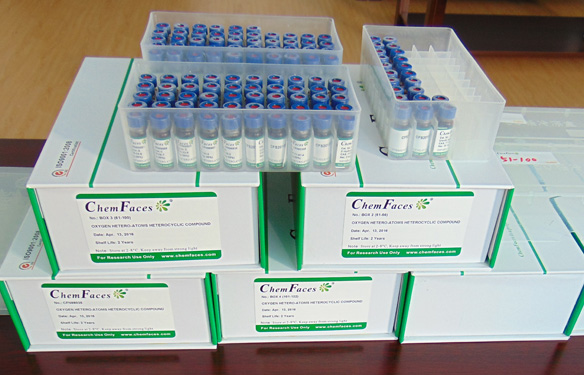 Providing storage is as stated on the product vial and the vial is kept tightly sealed, the product can be stored for up to
24 months(2-8C)
.
Wherever possible, you should prepare and use solutions on the same day. However, if you need to make up stock solutions in advance, we recommend that you store the solution as aliquots in tightly sealed vials at -20C. Generally, these will be useable for up to two weeks. Before use, and prior to opening the vial we recommend that you allow your product to equilibrate to room temperature for at least 1 hour.
Need more advice on solubility, usage and handling? Please email to: service@chemfaces.com
The packaging of the product may have turned upside down during transportation, resulting in the natural compounds adhering to the neck or cap of the vial. take the vial out of its packaging and gently shake to let the compounds fall to the bottom of the vial. for liquid products, centrifuge at 200-500 RPM to gather the liquid at the bottom of the vial. try to avoid loss or contamination during handling.
Korean J. Medicinal Crop Sci.2021, 29(6):425-433
TCI CO.2019, US20190151257A1
Journal of Physiology & Pathology in Korean Medicine.2018, 32(2): 106-112
Universidade Estadual Paulista2017, 42785
Plant Sci.2021, 313:111069.
Evid Based Complement Alternat Med.2018, 2018:4259603
Drug Invention Today2019, 12(6):1303-1306
Int J Mol Sci.2019, 20(21):E5488
Neurotox Res.2020, 38(1):163-174.
Evid Based Complement Alternat Med.2022, 2022:1307173.
Biomed Chromatogr . 2016 Nov;30(11):1843-1853
Screening and identification of Caulis Sinomenii bioactive ingredients with dual-target NF-κB inhibition and β 2- AR agonizing activities[Pubmed:
27187693
]
Caulis Sinomenii (CS) is a valuable traditional medicine in China. Its extract can act as an anti-inflammatory agent and a vascular smooth muscle relaxant. However, the underlying mechanisms remain unknown. In this study, we developed a simple dual-target method based on ultra-performance liquid chromatography/quadrupole time-of-flight mass spectrometry combined with a dual-target bioactive screening assay for anti-inflammatory and antispasmodic activities to characterize the chemical structure of various bioactive compounds of CS rapidly. Seven potential NF-κB inhibitors were identified, including laudanosoline-1-O-xylopyranose, 6-O-methyl-laudanosoline-1-O-glucopyranoside, Menisperine, sinomenine, laurifoline, magnoflorine and norsinoacutin. Furthermore, IL-6 and IL-8 assays confirmed the anti-inflammatory effects of these potential NF-κB inhibitors, in which laudanosoline-1-O-d-xylopyranose and Menisperine were revealed as novel NF-κB inhibitors. Among the seven identified alkaloids, three potential β2 -adrenergic receptor agonists, including sinomenine, magnoflorine and laurifoline, were characterized using a luciferase reporter system to measure for the activity of β2 -adrenergic receptor agonists. Finally, sinomenine, magnoflorine and laurifoline were identified not only as potential NF-κB inhibitors but also as potential β2 -adrenegic receptor agonists, which is the first time this has been reported. Molecular dynamic simulation and docking results suggest that the three dual-bioactive constituents could not only inhibit Pseudomonas aeruginosa PAK strain-induced inflammatory responses via a negative regulation of the Braf protein that participates in MAPK signaling pathway but also activate the β2 -adrenegic receptor. These results suggest that CS extract has dual signaling activities with potential clinical application as a novel drug for asthma.
Nat Prod Res . 2018 Feb;32(3):354-357
Qualitative and quantitative analysis of chemical constituents of Ptychopetalum olacoides Benth[Pubmed:
28750557
]
Ptychopetalum olacoides is a folk medicinal plant for health care in market, especially in Brazil. Fourteen known compounds were isolated from P. olacoides and their chemical structures were elucidated by extensive spectroscopic data, including 1D NMR, 2D NMR, UV, IR and HR-ESI-MS. The 14 known compounds were identified as N-trans-feruloyl-3,5-dihydroxyindolin-2-one (1), magnoflorine (2), Menisperine (3), 4-coumaroylserotonin (4), moschamine (5), luteolin (6), 4'-methoxyluteolin (7), 3-methoxyluteolin (8), 3, 7-dimethoxyluteolin (9), caffeic acid (10), ferulic acid (11), vanillic acid (12), syringic acid (13) and ginsenoside Re (14). To our knowledge, compounds (1-6, 13-14) were isolated from the plant for the first time. Additionally, quantitative analysis results indicated that calibration equations of compounds (1-3, 6, 9, 11-13) exhibited good linear regressions within the test ranges (R2 ≥ 0.9990) and magnoflorine and Menisperine were the major constituents in the barks of P. olacoides. The contents of magnoflorine and Menisperine accounted for 75.96% of all analytes. However, the content of phenolic components was smaller and the highest content was no more than 1.04 mg/g. Collectively, these results suggested that alkaloids are the dominant substances in P. olacoides, which can make a difference for the quality control and further use of P. olacoides.