Lonicerin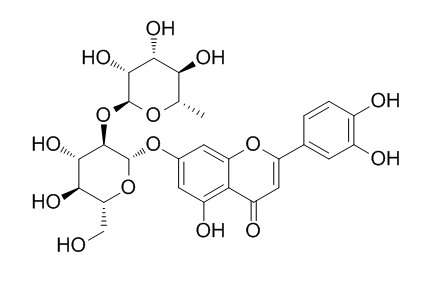 Lonicerin has antioxidant, anti-arthritic and antifungal activities, it can result in a combination therapy for the treatment of fungal arthritis due to C. albicans infection.
Inquire / Order: manager@chemfaces.com
Technical Inquiries: service@chemfaces.com
Tel: +86-27-84237783
Fax: +86-27-84254680

Address:
1 Building, No. 83, CheCheng Rd., Wuhan Economic and Technological Development Zone, Wuhan, Hubei 430056, PRC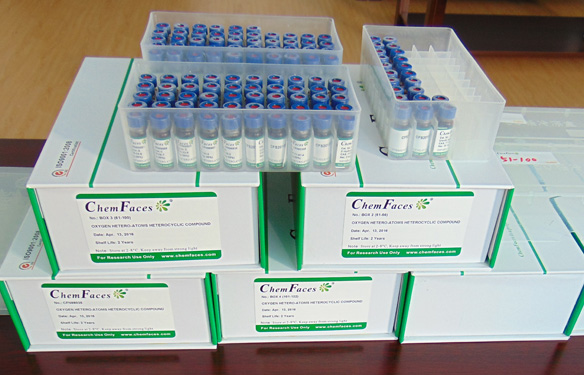 Providing storage is as stated on the product vial and the vial is kept tightly sealed, the product can be stored for up to
24 months(2-8C)
.
Wherever possible, you should prepare and use solutions on the same day. However, if you need to make up stock solutions in advance, we recommend that you store the solution as aliquots in tightly sealed vials at -20C. Generally, these will be useable for up to two weeks. Before use, and prior to opening the vial we recommend that you allow your product to equilibrate to room temperature for at least 1 hour.
Need more advice on solubility, usage and handling? Please email to: service@chemfaces.com
The packaging of the product may have turned upside down during transportation, resulting in the natural compounds adhering to the neck or cap of the vial. take the vial out of its packaging and gently shake to let the compounds fall to the bottom of the vial. for liquid products, centrifuge at 200-500 RPM to gather the liquid at the bottom of the vial. try to avoid loss or contamination during handling.
Analytical sci. & Tech2016, 186-193
Sci Rep.2019, 9(1):4342
J Agric Food Chem.2015, 63(44):9869-78
J of Health Science and Alternative Medicine2019, 1(1)
J Chromatogr A.2017, 1518:46-58
Pharmaceutical Chemistry Journal2019, 52(12):986-991
Int. Conference on Med. Sci. and Bio.2017, 17973
World J Mens Health.2019, 10.5534
Korean Journal of Pharmacognosy2014, 113-120
University of Limpopo2016, 1-237
J Sep Sci. 2008 Oct;31(20):3519-26.
Rapid and simple method for screening of natural antioxidants from Chinese herb Flos Lonicerae Japonicae by DPPH-HPLC-DAD-TOF/MS.[Pubmed:
18830958
]
A rapid and simple method has been developed for the screening and identification of natural antioxidants of Flos Lonicerae Japonicae (FLJ), derived from the flower buds of Lonicera japonica.
METHODS AND RESULTS:
The hypothesis is that upon reaction with 1,1-diphenyl-2-picrylhydrazyl (DPPH), the peak areas (PAs) of compounds with potential antioxidant effects in the HPLC chromatograms will be significantly reduced or disappeared, and the identity confirmation could be achieved by HPLC-DAD-TOF/MS hyphenated technique. Using the proposed approach, about 14 compounds in the FLJ extract were found to possess a potential antioxidant activity. They were identified as chlorogenic acid (1), 1-O-caffeoylquinic acid (1-O-CQA, 2), caffeic acid (4), 4-O-CQA (5), rutin (7), isoquercitrin (8), luteolin-7-O-glucoside (9), Lonicerin (10), 4,5-O-dicaffeoylquinic acid (4,5-O-diCQA, 11), 3,5-O-diCQA (12), 1,3-O-diCQA (13), 3,4-O-diCQA (14), 1,4-O-diCQA (16), and luteolin (17). In addition, the free radical scavenging capacities of the available identified compounds were also investigated by HPLC assay.
CONCLUSIONS:
The results indicated that the compounds with PAs significantly decreasing were natural antioxidants, whereas those with PAs not changing presented no activities, which accordingly indicated that this newly proposed method could be widely applied for rapid screening and identification of natural antioxidants from complex matrices including Chinese herbal medicines.
Arch Pharm Res. 2011 May;34(5):853-9.
Antiarthritic effect of lonicerin on Candida albicans arthritis in mice.[Pubmed:
21656372
]
Fungal arthritis is a potentially serious disease resulting in rapid destruction of the joint. Among the various Candida species, Candida albicans is the most commonly associated with fungal arthritis.
METHODS AND RESULTS:
In the present study, we examined the effect of Lonicerin, a flavonoid isolated from Lonicerae Flos, on an arthritis caused by C. albicans cell wall (CACW) in mice. To examine the effect, an emulsified mixture of CACW and complete Freund's adjuvant (CACW/CFA) was injected into BALB/c mice via hind footpad route on days -3, -2, and -1. On Day 0, mice with the swollen footpad received Lonicerin at 1 or 2 mg/dose/time intraperitoneally 3 times every other day. The footpad-swelling was measured for 20 days. Results showed that the Lonicerin treatment reduced the edema at all dose levels, and, furthermore, there was app. 54% edema reduction in animals given the 2 mg-dose at the peak (day 10) of septic arthritis (p < 0.05). Since the peak, the edema was reduced in similar rates. This antiarthritic activity appeared to be mediated by Lonicerin's ability to suppress T cell proliferation, nitric oxide production from macrophages, and shift of cellular immunity from Th1- toward Th2-type responses, all of which are beneficial to treat arthritis. In addition, the flavonoid had anticandidal activity (p < 0.01).
CONCLUSIONS:
These data suggest that Lonicerin alone, which has both anti-arthritic and antifungal activities, can result in a combination therapy for the treatment of fungal arthritis due to C. albicans infection.