4,4-di(4-hydroxy-3-methoxyphenly)-2,3-dimethylbutanol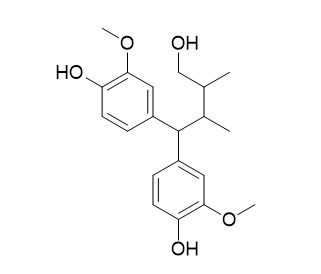 4,4-di(4-Hydroxy-3-methoxyphenly)-2,3-dimethylbutanol has antioxidant and potential cytotoxic abilities, it also shows inhibition against HIV-1 integrase.
Inquire / Order: manager@chemfaces.com
Technical Inquiries: service@chemfaces.com
Tel: +86-27-84237783
Fax: +86-27-84254680

Address:
1 Building, No. 83, CheCheng Rd., Wuhan Economic and Technological Development Zone, Wuhan, Hubei 430056, PRC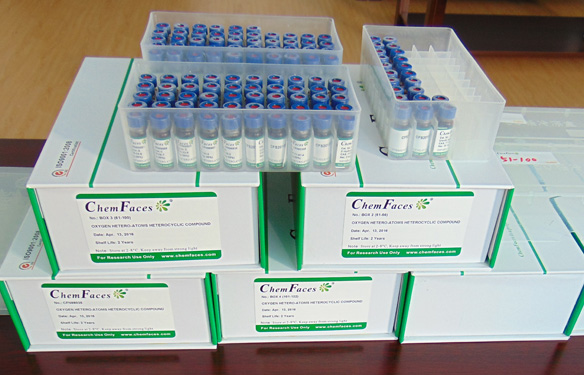 Providing storage is as stated on the product vial and the vial is kept tightly sealed, the product can be stored for up to
24 months(2-8C)
.
Wherever possible, you should prepare and use solutions on the same day. However, if you need to make up stock solutions in advance, we recommend that you store the solution as aliquots in tightly sealed vials at -20C. Generally, these will be useable for up to two weeks. Before use, and prior to opening the vial we recommend that you allow your product to equilibrate to room temperature for at least 1 hour.
Need more advice on solubility, usage and handling? Please email to: service@chemfaces.com
The packaging of the product may have turned upside down during transportation, resulting in the natural compounds adhering to the neck or cap of the vial. take the vial out of its packaging and gently shake to let the compounds fall to the bottom of the vial. for liquid products, centrifuge at 200-500 RPM to gather the liquid at the bottom of the vial. try to avoid loss or contamination during handling.
Food Chem.2019, 275:746-753
BMC Complement Altern Med.2019, 19(1):339
Nutrients.2019, 11(6):E1380
BioResources J.2020, 15(3).
SCOPUS.2020, 836-847.
Journal of Third Military Medical University2019, 41(2):110-115
Molecules.2017, 22(11)
Pharmacol Res.2020, 161:105205.
Asian J Beauty Cosmetol2019, 17(3):287-294
South African Journal of Botany2021, 142:114-123.
Biol Res. 2009;42(3):351-6.
Antioxidant isolated from Schisandra propinqua (Wall.) Baill.[Pubmed:
19915743
]
Schisandra propinqua (Wall.) Baill.(Schisandraceae) is widely used as a Chinese folk medicine.
METHODS AND RESULTS:
In this study, activity-guided fractionation of the ethanol extract from the stem of Schisandra propinqua led to the isolation of four extracts. Subsequently, a neolignan 4,4-di(4-hydroxy-3-methoxyphenly)-2,3-dimethylbutanol was isolated from the EtOAc part of the stem of Schisandra propinqua, the free radical scavenging activities of which were researched in vitro. The present work demonstrated that extracts and pure compound possessed scavenging activities to DPPH, superoxide anions and hydroxy radical, and could depress lipid peroxidation reaction induced by oxygen radical produced by the Fe2+/cysteine system in vitro.
CONCLUSIONS:
This suggests that the traditional application of Schisandra propinqua in China may be related to its antioxidant activities, and the EtOAc part of the stems of Schisandra propinqua can be utilized as an effective source of antioxidants.
Yao Xue Xue Bao. 2010 Feb;45(2):235-40.
Effective components against HIV-1 replicative enzymes isolated from plants.[Pubmed:
21351433
]
Plant active components characterized of many different structures and activities on multiple targets, have made them to be the important sources of inhibitors on HIV-1.
METHODS AND RESULTS:
For finding leading compounds with new structure against HIV-1, three key HIV-1 replicative enzymes (reverse transcriptase, protease and integrase) were used as screening models. The in vitro activities of 45 plant derived components isolated from Schisandraceae, Rutaceae and Ranunculaceae were reported. Within twelve triterpene components isolated, eight compounds were found to inhibit HIV-1 protease, in these eight active compounds, kadsuranic acid A (7) and nigranoic acid (8), inhibited both HIV-1 protease and integrase; Among fifteen lignans, meso-dihydroguaiaretic acid (15) and kadsurarin (16) were active on HIV-1 reverse transcriptase, and 4,4-di(4-hydroxy-3-methoxyphenly)-2,3-dimethylbutanol(13) active on HIV-1 integrase.
CONCLUSIONS:
All of the six alkaloids, seven flavones, and five others compounds were not active or only with low activities against HIV-1 replicative enzymes. Further studies of the triterpene components showing strong inhibitory activities on HIV-1 were warranted.
Journal of Integrative Plant Biology, 2006, 48(12):1493-1497.
A Cytotoxic Neolignan from Schisandra propinqua (Wall.) Baill.[Reference:
WebLink
]
In the course of our study of bioactive natural products from Schisandra plants, we isolated a neolignan from an EtOAc extract of the stems of Schisandra propinqua (Wall.) Baill.
METHODS AND RESULTS:
The structure of the new compound was determined to be 4,4-di(4-hydroxy-3-methoxyphenly)-2,3-dimethylbutanol(compound 1) on the basis of 1H- and 13C-NMR spectra and 2D NMR methods. Eight known compounds, compounds 2-9, were also isolated and identified, of which compounds 3, 4, 6 and 9 were isolated for the first time from this plant. In addition, compounds 1-4 were evaluated for cytotoxicity by an 3-(4,5-dimethyl-2 thiazoyl)-2,5-diphenyl-2H-tetrazolium bromide (MTT) assay.
CONCLUSIONS:
Compound 1 showed significant potential cytotoxic ability in the bioassay.