Kadsurin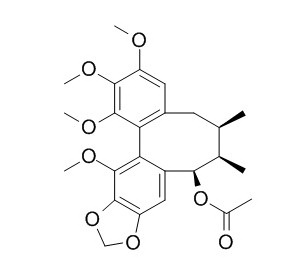 Kadsurin has anti-oxidant activity, it induces enzymes capable of scavenging oxygen radical species in the liver. Kadsurin may be valuable antitumor promoters or chemopreventors.
Inquire / Order: manager@chemfaces.com
Technical Inquiries: service@chemfaces.com
Tel: +86-27-84237783
Fax: +86-27-84254680

Address:
1 Building, No. 83, CheCheng Rd., Wuhan Economic and Technological Development Zone, Wuhan, Hubei 430056, PRC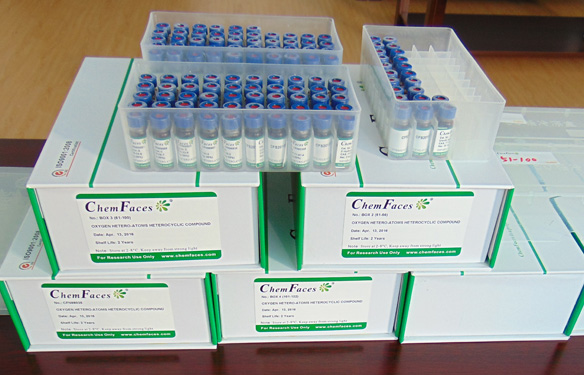 Providing storage is as stated on the product vial and the vial is kept tightly sealed, the product can be stored for up to
24 months(2-8C)
.
Wherever possible, you should prepare and use solutions on the same day. However, if you need to make up stock solutions in advance, we recommend that you store the solution as aliquots in tightly sealed vials at -20C. Generally, these will be useable for up to two weeks. Before use, and prior to opening the vial we recommend that you allow your product to equilibrate to room temperature for at least 1 hour.
Need more advice on solubility, usage and handling? Please email to: service@chemfaces.com
The packaging of the product may have turned upside down during transportation, resulting in the natural compounds adhering to the neck or cap of the vial. take the vial out of its packaging and gently shake to let the compounds fall to the bottom of the vial. for liquid products, centrifuge at 200-500 RPM to gather the liquid at the bottom of the vial. try to avoid loss or contamination during handling.
Applied Biological Chemistry2020, 63:37.
Pharmacognosy Magazine2018, 14(56):418-424
Biomed Pharmacother.2021, 144:112300.
Phytomedicine.2021, 84:153501.
J Mater Chem B.2019, 7(39):5896-5919
Journal of Apiculture2019, 34(2):131-136
Pharmacol Res.2022, 182:106346.
Nutrients.2021, 13(12):4364.
Nutr Metab (Lond).2019, 16:31
J Ethnopharmacol.2017, 206:73-77
J Nat Prod. 2002 Sep;65(9):1242-5.
Interiotherins C and D, two new lignans from Kadsura interior and antitumor-promoting effects of related neolignans on Epstein-Barr virus activation.[Pubmed:
12350139
]

METHODS AND RESULTS:
Two new lignans, interiotherins C (1) and D (2), together with the known compounds interiorin (3), heteroclitin F (4), neokadsuranin (5), heteroclitin D (6), Kadsurin (7), gomisin A (8), schisandrin C (9), interiotherin A (10), angeloylgomisin R (11), gomisin G (12), interiotherin B (13), and gomisin C (14), were isolated from the stems of Kadsura interior. The structures and stereochemistries of the new compounds were determined from mass, CD, and NMR spectral data. Fourteen neolignans were screened as potential antitumor promoters by examining their ability to inhibit Epstein-Barr virus early antigen (EBV-EA) activation (induced by 12-O-tetradecanoylphorbol-13-acetate) in Raji cells. Neokadsuranin (5) and schisandrin C (9) were the most potent compounds.
CONCLUSIONS:
These data suggest that some neolignans might be valuable antitumor promoters or chemopreventors.
Chem Pharm Bull (Tokyo). 1992 Feb;40(2):406-9.
Anti-lipid peroxidative effect of an extract of the stems of Kadsura heteroclita and its major constituent, kadsurin, in mice.[Pubmed:
1606637
]

METHODS AND RESULTS:
Three-days successive p.o. administration of an EtOH extract of the stems of Kadsura heteroclita (Schizandraceae) or its major constituent, Kadsurin, resulted in significant decreases of CCl4-induced lipid-peroxidation products, such as thiobarbituric acid reactive substances (TBA-RS), conjugated dienes and fluorescent products in the liver of mice. In contrast, a significant restoration of superoxide dismutase (SOD) activity reduced by CCl4-intoxication was observed in the administered groups, suggesting that the subchronic treatment of mice with the EtOH extract or Kadsurin induce enzymes capable of scavenging oxygen radical species in the liver, though the extract and Kadsurin themselves may have an anti-oxidant property.