Deoxy euphorbia factor L1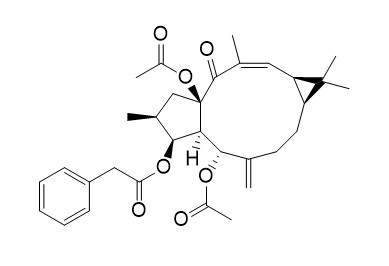 Deoxy euphorbia factor L1 inhibits the growth of lung cancer A549 cells through the mitochondrial pathway (IC50 value of 17.51 ± 0.85 μM) and induces apoptosis.
Inquire / Order: manager@chemfaces.com
Technical Inquiries: service@chemfaces.com
Tel: +86-27-84237783
Fax: +86-27-84254680

Address:
1 Building, No. 83, CheCheng Rd., Wuhan Economic and Technological Development Zone, Wuhan, Hubei 430056, PRC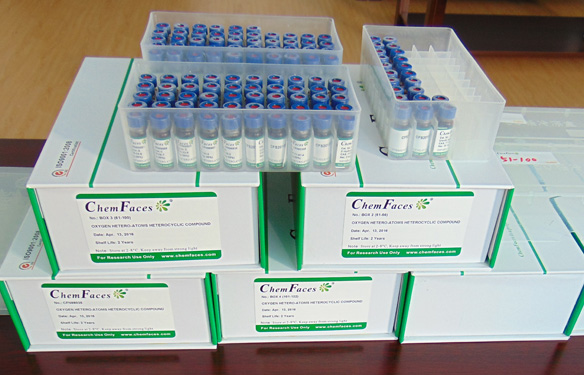 Providing storage is as stated on the product vial and the vial is kept tightly sealed, the product can be stored for up to
24 months(2-8C)
.
Wherever possible, you should prepare and use solutions on the same day. However, if you need to make up stock solutions in advance, we recommend that you store the solution as aliquots in tightly sealed vials at -20C. Generally, these will be useable for up to two weeks. Before use, and prior to opening the vial we recommend that you allow your product to equilibrate to room temperature for at least 1 hour.
Need more advice on solubility, usage and handling? Please email to: service@chemfaces.com
The packaging of the product may have turned upside down during transportation, resulting in the natural compounds adhering to the neck or cap of the vial. take the vial out of its packaging and gently shake to let the compounds fall to the bottom of the vial. for liquid products, centrifuge at 200-500 RPM to gather the liquid at the bottom of the vial. try to avoid loss or contamination during handling.
J of Applied Biological Chem.2020, 63(2):147-152
J Cell Physiol.2021, 236(3):1950-1966.
Asian Journal of Chemistry2014, 26(8):2425
Int J Mol Sci.2015, 16(8):18396-411
Phytomedicine.2021, 84:153501.
Heliyon2022, 8(2):e08866.
Synthetic and Systems Biotechnology2023, j.synbio.
Cells.2023, 12(1):168.
J Appl Pharm Sci.2022, 12(04):044-053
Food Research International2020, 108987
Molecules, 2017 Aug 25;22(9):1412.
Structure Identification and In Vitro Anticancer Activity of Lathyrol-3-phenylacetate-5,15-diacetate[Pubmed:
28841191
]
Natural products from the genus Euphorbia show attention-attracting activities, such as anticancer activity. In this article, classical isolation and structure identification were used in a study on Caper Euphorbia Seed. Subsequently, MTT and wound healing assays, flow cytometry, western blotting, Hoechst 33258 staining and fluorescence microscopy examination were applied to investigate the anticancer activity of the obtained compounds. In a result, lathyrol-3-phenyl- acetate-5,15-diacetate (Deoxy euphorbia factor L1, DEFL1) was isolated from Caper Euphorbia Seed. Moreover, the NMR signals were totally assigned. DEFL1 showed potent inhibition against lung cancer A549 cells, with an IC50 value of 17.51 ± 0.85 μM. Furthermore, DEFL1 suppressed wound healing of A549 cells in a concentration-dependent manner. Mechanically, DEFL1 induced apoptosis, with involvement of an increase of reactive oxygen species (ROS), decrease of mitochondrial membrane potential (ΔΨm), release of cytochrome c, activity raise of caspase-9 and 3. Characteristic features of apoptosis were observed by fluorescence microscopy. In summary, DEFL1 inhibited growth and induced apoptosis in lung cancer A549 cells via a mitochondrial pathway.