Schisantherin A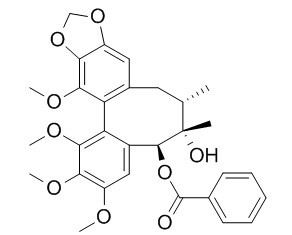 Schisantherin A exhibits anti-tussive, sedative, anti-inflammatory, antioxidant, anti-osteoporotic, neuroprotective, cognition enhancing, and cardioprotective activities. Schisantherin A can significantly attenuate Aβ1-42-induced learning and memory impairment and noticeably improve the histopathological changes in the hippocampus. Schisantherin A exhibits neuroprotection against 1-methyl-4-phenylpyridinium ion (MPP(+)) through the regulation of two distinct pathways including increasing CREB-mediated Bcl-2 expression and activating PI3K/Akt survival signaling.
Inquire / Order: manager@chemfaces.com
Technical Inquiries: service@chemfaces.com
Tel: +86-27-84237783
Fax: +86-27-84254680

Address:
1 Building, No. 83, CheCheng Rd., Wuhan Economic and Technological Development Zone, Wuhan, Hubei 430056, PRC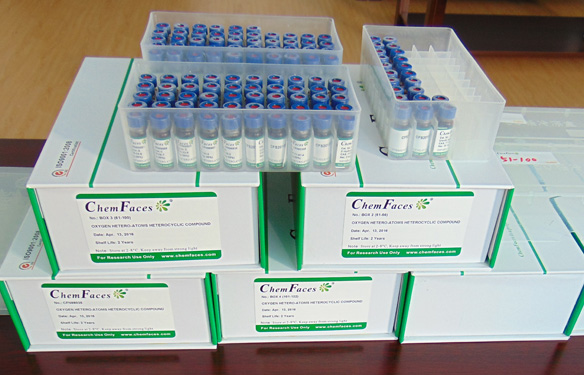 Providing storage is as stated on the product vial and the vial is kept tightly sealed, the product can be stored for up to
24 months(2-8C)
.
Wherever possible, you should prepare and use solutions on the same day. However, if you need to make up stock solutions in advance, we recommend that you store the solution as aliquots in tightly sealed vials at -20C. Generally, these will be useable for up to two weeks. Before use, and prior to opening the vial we recommend that you allow your product to equilibrate to room temperature for at least 1 hour.
Need more advice on solubility, usage and handling? Please email to: service@chemfaces.com
The packaging of the product may have turned upside down during transportation, resulting in the natural compounds adhering to the neck or cap of the vial. take the vial out of its packaging and gently shake to let the compounds fall to the bottom of the vial. for liquid products, centrifuge at 200-500 RPM to gather the liquid at the bottom of the vial. try to avoid loss or contamination during handling.
Srinagarind Medical Journal2019, 34(1)
J of Health Science and Alternative Medicine2019, 1(1)
Front Pharmacol.2021, 12:761922.
Separation Science Plus2022, sscp.202200048.
Biomedicine & Pharmacotherapy2020, 125:109950
JPC-Journal of Planar Chromatography 2017, 30(2)
Processes2021, 9(1), 153.
Front Immunol.2020, 11:598556.
J Ethnopharmacol.2018, 210:88-94
New Zealand J. Forestry Sci.2014, 44:17
PLoS One. 2013 Apr 19;8(4):e61590.
Protective role of deoxyschizandrin and schisantherin A against myocardial ischemia-reperfusion injury in rats.[Pubmed:
23620773
]

METHODS AND RESULTS:
Anesthetized male rats were treated once with deoxyschizandrin(DSD) and Schisantherin A(STA) (each 40 μmol/kg) through the tail vein after 45 min of ischemia, followed by 2-h reperfusion. Cardiac function, infarct size, biochemical markers, histopathology and apoptosis were measured and mRNA expression of gp91 (phox) in myocardial tissue assessed by RT-PCR. Neonatal rat cardiomyocytes were pretreated with DSD and STA and then damaged by H2O2. Cell apoptosis was tested by a flow cytometric assay. Compared with the I/R group: (i) DSD and STA could significantly reduce the abnormalities of LVSP, LVEDP, ±dp/dtmax and arrhythmias, thereby showing their protective roles in cardiac function; (ii) DSD and STA could significantly attenuate the infarct size and MDA release while increasing SOD activity, suggesting a role in reducing myocardial injury; (iii) tissue morphology and myocardial textual analysis revealed that DSD and STA mitigated changes in myocardial histopathology; (iv) DSD and STA decreased apoptosis (33.56±2.58% to 10.28±2.80% and 10.98±1.99%, respectively) and caspase-3 activity in the myocardium (0.62±0.02 OD/mg to 0.38±0.02 OD/mg and 0.32±0.02 OD/mg, respectively), showing their protective effects upon cardiomyocytes; and (v) DSD and STA had similar protective effects on I/R injury as those seen with the positive control metoprolol. In vitro, DSD and STA could significantly decrease the apoptosis of neonatal cardiomyocytes.
CONCLUSIONS:
These data suggest that DSD and STA can protect against myocardial I/R injury. The underlining mechanism may be related to their role in inhibiting cardiomyocyte apoptosis.
Biochem Biophys Res Commun. 2014 Jul 4;449(3):344-50.
Schisantherin A suppresses osteoclast formation and wear particle-induced osteolysis via modulating RANKL signaling pathways.[Pubmed:
2484538
]
Receptor activator of NF-κB ligand (RANKL) plays critical role in osteoclastogenesis. Targeting RANKL signaling pathways has been a promising strategy for treating osteoclast related bone diseases such as osteoporosis and aseptic prosthetic loosening. Schisantherin A (SA), a dibenzocyclooctadiene lignan isolated from the fruit of Schisandra sphenanthera, has been used as an antitussive, tonic, and sedative agent, but its effect on osteoclasts has been hitherto unknown.
METHODS AND RESULTS:
In the present study, SA was found to inhibit RANKL-induced osteoclast formation and bone resorption. The osteoclastic specific marker genes induced by RANKL including c-Src, SA inhibited OSCAR, cathepsin K and TRAP in a dose dependent manner. Further signal transduction studies revealed that SA down-regulate RANKL-induced nuclear factor-kappaB (NF-κB) signaling activation by suppressing the phosphorylation and degradation of IκBα, and subsequently preventing the NF-κB transcriptional activity. Moreover, SA also decreased the RANKL-induced MAPKs signaling pathway, including JNK and ERK1/2 posphorylation while had no obvious effects on p38 activation. Finally, SA suppressed the NF-κB and MAPKs subsequent gene expression of NFATc1 and c-Fos. In vivo studies, SA inhibited osteoclast function and exhibited bone protection effect in wear-particle-induced bone erosion model. Taken together, SA could attenuate osteoclast formation and wear particle-induced osteolysis by mediating RANKL signaling pathways.
CONCLUSIONS:
These data indicated that SA is a promising therapeutic natural compound for the treatment of osteoclast-related prosthesis loosening.
Inflammation. 2010 Apr;33(2):126-36.
Schisantherin A exhibits anti-inflammatory properties by down-regulating NF-kappaB and MAPK signaling pathways in lipopolysaccharide-treated RAW 264.7 cells.[Pubmed:
20238486
]
Schisantherin A, a dibenzocyclooctadiene lignan isolated from the fruit of Schisandra sphenanthera, has been used as an antitussive, tonic, and sedative agent under the name of Wuweizi in Chinese traditional medicine.
METHODS AND RESULTS:
In the present study, we carry out a screening program to identify the anti-inflammatory potentials of Schisantherin A. We found that Schisantherin A reduced lipopolysaccharide (LPS (1 mg/L))-induced levels of TNF-alpha, IL-6, NO, and PGE2 (p<0.01 or p<0.05), and also reduced levels of iNOS and COX-2 in RAW 264.7 macrophages in a concentration-dependent manner. We further investigated signal transduction mechanisms to determine how Schisantherin A affects. RAW264.7 cells were pretreated with 0.5, 2.5, or 25 mg/L of Schisantherin A 1 h prior to treatment with 1 mg/L of LPS. Thirty minutes later, cells were harvested and mitogen activated protein kinases (MAPKs) activation and I kappaB alpha was measured by Western blot. Alternatively, cells were fixed and nuclear factor-kappaB (NF-kappaB) activation was measured using immunocytochemical analysis. Signal transduction studies showed that Schisantherin A significantly inhibited extracellular signal-regulated kinase (ERK), p38, and c-jun NH2-terminal kinase (JNK) phosphorylation protein expression. Schisantherin A also inhibited p65-NF-kappaB translocation into the nucleus by I kappaB alpha degradation. By using specific inhibitors of ERK, JNK and p38, we found that Schisantherin A may inhibit TNF-alpha mostly through ERK pathway.
CONCLUSIONS:
Therefore, Schisantherin A may inhibit LPS-induced production of inflammatory cytokines by blocking NF-kappaB and MAPKs signaling in RAW264.7 cells.
Fitoterapia. 2012 Dec;83(8):1415-9.
Strong inhibition of deoxyschizandrin and schisantherin A toward UDP-glucuronosyltransferase (UGT) 1A3 indicating UGT inhibition-based herb–drug interaction.[Pubmed:
23339253
]
Deoxyschizandrin and Schisantherin A are major bioactive lignans isolated from Fructusschisandrae which has been widely used as a tonic in traditional Chinese medicine for manyyears. Inhibition of UDP-glucuronosyltransferases (UGTs) by herbal components might be animportant reason for clinical herb–drug interaction. The aim of the present study is toinvestigate the inhibitory effect of deoxyschizandrin and Schisantherin A on major UGTisoforms.
METHODS AND RESULTS:
Recombinant UGT isoforms were used as enzyme source, and a nonspecific substrate4-methylumbelliferone (4-MU) was utilized as substrate. The results showed that 100 μM ofdeoxyschizandrin and Schisantherin A exhibited strong inhibition on UGT1A3, and negligibleinhibition on other tested UGT isoforms. Furthermore, deoxyschizandrin and Schisantherin Awere demonstrated to inhibit UGT1A3 in a concentration-dependent manner, with IC50 valueof 10.8±0.4 μM and 12.5±0.5 μM, respectively. Dixon and Lineweaver–Burk plots showedthat inhibition of UGT1A3 by deoxyschizandrin was best fit to competitive inhibition type, andinhibition kinetic parameter (Ki) was calculated to be 0.48 μM. Inhibition of UGT1A3 bySchisantherin A gave the best fit for types of noncompetitive inhibition, and the results showedKi to be 11.3 μM.
CONCLUSIONS:
All these experimental data suggested that herb–drug interaction might occurwhen deoxyschizandrin or Schisantherin A containing herbs were co-administered with drugswhich mainly undergo UGT1A3-mediated metabolism. However, given that many in vivofactors could influence the in vitro–in vivo extrapolation (IVIVE), these in vitro inhibitoryparameters should be considered with caution.
J Ethnopharmacol. 2015 Apr 29. pii: S0378-8741(15)00306-2.
Schisantherin A protects against 6-OHDA-induced dopaminergic neuron damage in zebrafish and cytotoxicity in SH-SY5Y cells through the ROS/NO and AKT/GSK3β pathways.[Pubmed:
25934514
]
The fruit of Schisandra chinensis (Turcz.) Baill, has been traditionally used in management of liver diseases and ageing associated neurodegeneration. The bioactive compound from this medicinal plant would be valuable for its potential use in prevention and treatment of Parkinson׳s disease. The overall objective of the present study was to understand the neuroprotective effect of Schisantherin A, a dibenzocyclooctadiene lignan from the fruit of S. chinensis (Turcz.) Baill, and to elucidate its underlying mechanism of action.
METHODS AND RESULTS:
This study investigated the protective effect of Schisantherin A against selective dopaminergic neurotoxin 6-hydroxydopamine (6-OHDA)-induced neural damage in human neuroblastoma SH-SY5Y cells and zebrafish models. Oxidative stress and related signaling pathways underlying the neuroprotective effect were determined by multiple biochemical assays and Western blot. Pretreatment with Schisantherin A offered neuroprotection against 6-OHDA-induced SH-SY5Y cytotoxicity. Moreover, Schisantherin A could prevent 6-OHDA-stimulated dopaminergic neuron loss in zebrafish. Our mechanistic study showed that Schisantherin A can regulate intracellular ROS accumulation, and inhibit NO overproduction by down-regulating the over-expression of iNOS in 6-OHDA treated SH-SY5Y cells. Schisantherin A also protects against 6-OHDA-mediated activation of MAPKs, PI3K/Akt and GSK3β.
CONCLUSIONS:
These findings demonstrate that Schisantherin A may have potential therapeutic value for neurodegenerative diseases associated with abnormal oxidative stress such as Parkinson׳s disease.
Physiol Behav. 2014 Jun 10;132:10-6.
Schisantherin A recovers Aβ-induced neurodegeneration with cognitive decline in mice.[Pubmed:
24813830
]
Schisantherin A (STA) is a main bioactive lignan isolated from Schisandra chinensis (Turcz.) Baill., which has been widely used as a tonic in traditional Chinese medicine for many years. Lots of studies have reported that STA exhibited anti-inflammatory and antioxidant effects.
METHODS AND RESULTS:
This paper was designed to investigate the effects of STA on cognitive function and neurodegeneration in the mouse control of Alzheimer's disease (AD) induced by Aβ1-42. It was found that successive intracerebroventricular (ICV) administration of STA (0.01 and 0.1mg/kg) for 5days significantly attenuated Aβ1-42-induced learning and memory impairment as measured by the Y-maze test, shuttle-box test and Morris water maze test. Furthermore, STA at a dose of 0.1mg/kg restored the activities of superoxide dismutase (SOD) and glutathione peroxidase (GSH-Px) as well as the levels of Aβ1-42, malondialdehyde (MDA) and glutathione (GSH) to some extent in the hippocampus and cerebral cortex. It also noticeably improved the histopathological changes in the hippocampus.
CONCLUSIONS:
The results suggested that STA might protect against cognitive deficits, oxidative stress and neurodegeneration induced by Aβ1-42, and serve as a potential agent in treatment of AD.