Shikonine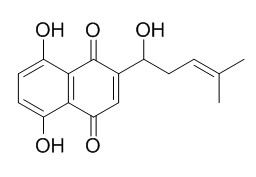 Shikonin(Shikonine), a potent and specific Pyruvate kinase M2 (PKM2) inhibitor, has antibacterial, antitumor, and anti-inflammatory effects, it provides neuroprotection by reducing the release of various proinflammatory molecules from activated microglia. Shikonin can inhibit VEGF-induced angiogenesis and suppress tumor growth in lewis lung carcinoma-bearing mice.
Inquire / Order: manager@chemfaces.com
Technical Inquiries: service@chemfaces.com
Tel: +86-27-84237783
Fax: +86-27-84254680

Address:
1 Building, No. 83, CheCheng Rd., Wuhan Economic and Technological Development Zone, Wuhan, Hubei 430056, PRC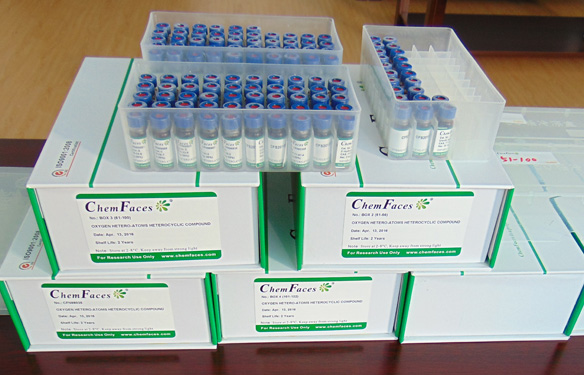 Providing storage is as stated on the product vial and the vial is kept tightly sealed, the product can be stored for up to
24 months(2-8C)
.
Wherever possible, you should prepare and use solutions on the same day. However, if you need to make up stock solutions in advance, we recommend that you store the solution as aliquots in tightly sealed vials at -20C. Generally, these will be useable for up to two weeks. Before use, and prior to opening the vial we recommend that you allow your product to equilibrate to room temperature for at least 1 hour.
Need more advice on solubility, usage and handling? Please email to: service@chemfaces.com
The packaging of the product may have turned upside down during transportation, resulting in the natural compounds adhering to the neck or cap of the vial. take the vial out of its packaging and gently shake to let the compounds fall to the bottom of the vial. for liquid products, centrifuge at 200-500 RPM to gather the liquid at the bottom of the vial. try to avoid loss or contamination during handling.
Korean Journal of Medicinal Crop Science2018, 26(5):382-390
Fitoterapia.2018, 124:92-102
Phytother Res.2015, 29(7):1088-96
J Food Sci Technol.2019, 56(5):2712-2720
Biochem Biophys Res Commun.2017, 494(3-4):587-593
Front Pharmacol.2019, 10:1226
Inflammation2015, 38(1):445-55
J Ethnopharmacol.2020, 249:112396
Food Research International2020, 108987
Asian J Beauty Cosmetol2019, 17(3):287-294
Oncogene, 2011, 30(42):4297-306.
Shikonin and its analogs inhibit cancer cell glycolysis by targeting tumor pyruvate kinase-M2.[Pubmed:
21516121
]
We recently reported that shikonin(Shikonine) and its analogs were a class of necroptotic inducers that could bypass cancer drug resistance. However, the molecular targets of shikonin are not known.
METHODS AND RESULTS:
Here, we showed that shikonin and its analogs are inhibitors of tumor-specific pyruvate kinase-M2 (PKM2), among which shikonin and its enantiomeric isomer alkannin were the most potent and showed promising selectivity, that is, shikonin and alkannin at concentrations that resulted in over 50% inhibition of PKM2 activity did not inhibit PKM1 and pyruvate kinase-L (PKL). Shikonin and alkannin significantly inhibited the glycolytic rate, as manifested by cellular lactate production and glucose consumption in drug-sensitive and resistant cancer cell lines (MCF-7, MCF-7/Adr, MCF-7/Bcl-2, MCF-7/Bcl-x(L) and A549) that primarily express PKM2. HeLa cells transfected with PKM1 showed reduced sensitivity to shikonin- or alkannin-induced cell death. To the best of our knowledge, shikonin and alkannin are the most potent and specific inhibitors to PKM2 reported so far.
CONCLUSIONS:
As PKM2 universally expresses in cancer cells and dictates the last rate-limiting step of glycolysis vital for cancer cell proliferation and survival, enantiomeric shikonin and alkannin may have potential in future clinical application.
Front Pharmacol. 2016 Aug 23;7:270.
Shikonin Inhibits Intestinal Calcium-Activated Chloride Channels and Prevents Rotaviral Diarrhea.[Pubmed:
27601995
]
Secretory diarrhea remains a global health burden and causes major mortality in children. There have been some focuses on antidiarrheal therapies that may reduce fluid losses and intestinal motility in diarrheal diseases.
METHODS AND RESULTS:
In the present study, we identified shikonin(Shikonine) as an inhibitor of TMEM16A chloride channel activity using cell-based fluorescent-quenching assay. The IC50 value of shikonin was 6.5 μM. Short-circuit current measurements demonstrated that shikonin inhibited Eact-induced Cl(-) current in a dose-dependent manner, with IC50 value of 1.5 μM. Short-circuit current measurement showed that shikonin exhibited inhibitory effect against CCh-induced Cl(-) currents in mouse colonic epithelia but did not affect cytoplasmic Ca(2+) concentration as well as the other major enterocyte chloride channel conductance regulator. Characterization study found that shikonin inhibited basolateral K(+) channel activity without affecting Na(+)/K(+)-ATPase activities. In vivo studies revealed that shikonin significantly delayed intestinal motility in mice and reduced stool water content in a neonatal mice model of rotaviral diarrhea without affecting the viral infection process in vivo.
CONCLUSIONS:
Taken together, the results suggested that shikonin inhibited enterocyte calcium-activated chloride channels, the inhibitory effect was partially through inhbition of basolateral K(+) channel activity, and shikonin could be a lead compound in the treatment of rotaviral secretory diarrhea.
PLoS One. 2015 May 11;10(5):e0126459.
Shikonin Suppresses Skin Carcinogenesis via Inhibiting Cell Proliferation.[Pubmed:
25961580
]
The M2 isoform of pyruvate kinase M2 (PKM2) has been shown to be up-regulated in human skin cancers.
METHODS AND RESULTS:
To test whether PKM2 may be a target for chemoprevention, shikonin(Shikonine), a natural product from the root of Lithospermum erythrorhizon and a specific inhibitor of PKM2, was used in a chemically-induced mouse skin carcinogenesis study. The results revealed that shikonin treatment suppressed skin tumor formation. Morphological examinations and immunohistochemical staining of the skin epidermal tissues suggested that shikonin inhibited cell proliferation without inducing apoptosis. Although shikonin alone suppressed PKM2 activity, it did not suppress tumor promoter-induced PKM2 activation in the skin epidermal tissues at the end of the skin carcinogenesis study. To reveal the potential chemopreventive mechanism of shikonin, an antibody microarray analysis was performed, and the results showed that the transcription factor ATF2 and its downstream target Cdk4 were up-regulated by chemical carcinogen treatment; whereas these up-regulations were suppressed by shikonin. In a promotable skin cell model, the nuclear levels of ATF2 were increased during tumor promotion, whereas this increase was inhibited by shikonin. Furthermore, knockdown of ATF2 decreased the expression levels of Cdk4 and Fra-1 (a key subunit of the activator protein 1.
CONCLUSIONS:
In summary, these results suggest that shikonin, rather than inhibiting PKM2 in vivo, suppresses the ATF2 pathway in skin carcinogenesis.
Antimicrob Agents Chemother. 2003 Sep;47(9):2810-6.
Shikonin, a component of chinese herbal medicine, inhibits chemokine receptor function and suppresses human immunodeficiency virus type 1.[Pubmed:
12936978
]
Shikonin(Shikonine) is a major component of zicao (purple gromwell, the dried root of Lithospermum erythrorhizon), a Chinese herbal medicine with various biological activities, including inhibition of human immunodeficiency virus (HIV) type 1 (HIV-1). G protein-coupled chemokine receptors are used by HIV-1 as coreceptors to enter the host cells.
METHODS AND RESULTS:
In this study, we assessed the effects of shikonin on chemokine receptor function and HIV-1 replication. The results showed that, at nanomolar concentrations, shikonin inhibited monocyte chemotaxis and calcium flux in response to a variety of CC chemokines (CCL2 [monocyte chemoattractant protein 1], CCL3 [macrophage inflammatory protein 1alpha], and CCL5 [regulated upon activation, normal T-cell expressed and secreted protein]), the CXC chemokine (CXCL12 [stromal cell-derived factor 1alpha]), and classic chemoattractants (formylmethionyl-leucine-phenylalanine and complement fraction C5a). Shikonin down-regulated surface expression of CCR5, a primary HIV-1 coreceptor, on macrophages to a greater degree than the other receptors (CCR1, CCR2, CXCR4, and the formyl peptide receptor) did. CCR5 mRNA expression was also down-regulated by the compound. Additionally, shikonin inhibited the replication of a multidrug-resistant strain and pediatric clinical isolates of HIV in human peripheral blood mononuclear cells, with 50% inhibitory concentrations (IC(50)s) ranging from 96 to 366 nM. Shikonin also effectively inhibited the replication of the HIV Ba-L isolate in monocytes/macrophages, with an IC(50) of 470 nM.
CONCLUSIONS:
Our results suggest that the anti-HIV and anti-inflammatory activities of shikonin may be related to its interference with chemokine receptor expression and function. Therefore, shikonin, as a naturally occurring, low-molecular-weight pan-chemokine receptor inhibitor, constitutes a basis for the development of novel anti-HIV therapeutic agents.