Isonardosinone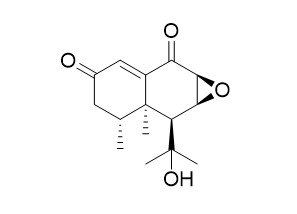 Isonardosinone shows potential role in the treatment of neuroinflammation conditions, it inhibits NF-κB- and MAPK-mediated inflammatory pathways.
Inquire / Order: manager@chemfaces.com
Technical Inquiries: service@chemfaces.com
Tel: +86-27-84237783
Fax: +86-27-84254680

Address:
1 Building, No. 83, CheCheng Rd., Wuhan Economic and Technological Development Zone, Wuhan, Hubei 430056, PRC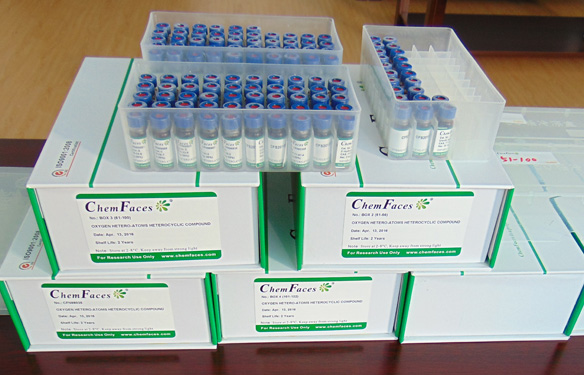 Providing storage is as stated on the product vial and the vial is kept tightly sealed, the product can be stored for up to
24 months(2-8C)
.
Wherever possible, you should prepare and use solutions on the same day. However, if you need to make up stock solutions in advance, we recommend that you store the solution as aliquots in tightly sealed vials at -20C. Generally, these will be useable for up to two weeks. Before use, and prior to opening the vial we recommend that you allow your product to equilibrate to room temperature for at least 1 hour.
Need more advice on solubility, usage and handling? Please email to: service@chemfaces.com
The packaging of the product may have turned upside down during transportation, resulting in the natural compounds adhering to the neck or cap of the vial. take the vial out of its packaging and gently shake to let the compounds fall to the bottom of the vial. for liquid products, centrifuge at 200-500 RPM to gather the liquid at the bottom of the vial. try to avoid loss or contamination during handling.
Molecules.2019, 24(19):E3417
Academic J of Second Military Medical University2019, 40(1)
Molecules.2019, 24(6):E1155
BMC Complement Altern Med.2019, 19(1):339
Molecules.2016, 21(6)
PLoS One.2015, 10(5):e0127060
Pharmacol Rep.2017, 69(6):1224-1231
Neuropharmacology2019, 151437
ACS Chem Biol.2019, 14(5):873-881
Sci Rep.2017, 7:467-479
Inflammation. 2018 Aug;41(4):1215-1228.
Nardosinone-Type Sesquiterpenes from the Hexane Fraction of Nardostachys jatamansi Attenuate NF-κB and MAPK Signaling Pathways in Lipopolysaccharide-Stimulated BV2 Microglial Cells.[Pubmed:
29616391
]

METHODS AND RESULTS:
Four nardosinone-type sesquiterpenes, nardosinone, Isonardosinone, kanshone E, and kanshone B, were isolated from the hexane fraction of Nardostachys jatamansi (Valerianaceae) methanol extract. The structures of these compounds were mainly established by analyzing the data obtained from nuclear magnetic resonance (NMR) spectroscopy and mass spectrometry (MS). In this study, we investigated their anti-neuroinflammatory effects in lipopolysaccharide (LPS)-induced BV2 microglial cells. The results showed that nardosinone-type sesquiterpenes inhibited the production of pro-inflammatory mediators, such as nitric oxide (NO) and prostaglandin E2 (PGE2) in LPS-induced BV2 microglial cells. These inhibitory effects were correlated with the downregulation of inducible nitric oxide synthase (iNOS) and cyclooxygenase-2 (COX-2). Moreover, these sesquiterpenes also attenuated the mRNA expression of pro-inflammatory cytokines including interleukin-1β (IL-1β), IL-6, and tumor necrosis factor-α (TNF-α) in LPS-induced BV2 microglial cells. During the evaluation of the signaling pathways involved in these anti-neuroinflammatory effects, western blot analysis and DNA-binding activity assay revealed that the suppression of inflammatory reaction by these sesquiterpenes was mediated by the inactivation of nuclear factor-kappa B (NF-κB) pathway. These sesquiterpenes also suppressed the phosphorylation of extracellular signal-regulated kinase (ERK), c-Jun N-terminal kinase (JNK), and p38 mitogen-activated protein kinase (MAPK) signaling pathways in LPS-stimulated BV2 microglial cells.
CONCLUSIONS:
Taken together, these four nardosinone-type sesquiterpenes inhibited NF-κB- and MAPK-mediated inflammatory pathways, demonstrating their potential role in the treatment of neuroinflammation conditions.