Hypericin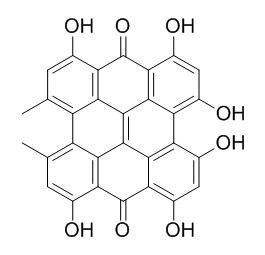 Hypericin is a photosensitive antiviral with anticancer and antidepressant agent . It can inhibit tyrosine kinases with IC50 of 7.5 μM. It can induce both apoptosis and necrosis in a concentration and light dose-dependent fashion, and inhibit RANKL-mediated osteoclastogenesis via affecting ERK signalling in vitro and suppresses wear particle-induced osteolysis in vivo.
Inquire / Order: manager@chemfaces.com
Technical Inquiries: service@chemfaces.com
Tel: +86-27-84237783
Fax: +86-27-84254680

Address:
1 Building, No. 83, CheCheng Rd., Wuhan Economic and Technological Development Zone, Wuhan, Hubei 430056, PRC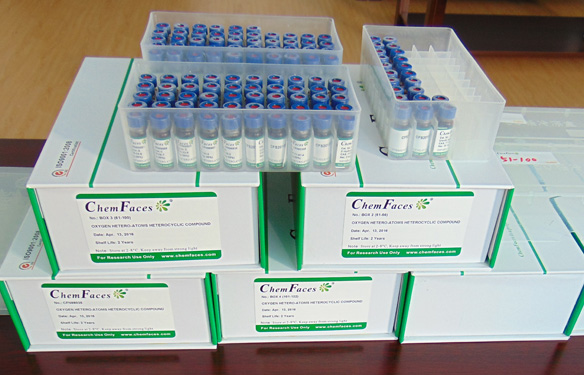 Providing storage is as stated on the product vial and the vial is kept tightly sealed, the product can be stored for up to
24 months(2-8C)
.
Wherever possible, you should prepare and use solutions on the same day. However, if you need to make up stock solutions in advance, we recommend that you store the solution as aliquots in tightly sealed vials at -20C. Generally, these will be useable for up to two weeks. Before use, and prior to opening the vial we recommend that you allow your product to equilibrate to room temperature for at least 1 hour.
Need more advice on solubility, usage and handling? Please email to: service@chemfaces.com
The packaging of the product may have turned upside down during transportation, resulting in the natural compounds adhering to the neck or cap of the vial. take the vial out of its packaging and gently shake to let the compounds fall to the bottom of the vial. for liquid products, centrifuge at 200-500 RPM to gather the liquid at the bottom of the vial. try to avoid loss or contamination during handling.
Academic J of Second Military Medical University2019, 40(1)
Molecules.2019, 24(4):E709
PLoS One.2017, 12(8):e0181191
J Chromatogr B Analyt Technol Biomed Life Sci.2019, 1113:1-13
Med Sci Monit.2019, 25:9499-9508
Pharmacogn Mag.2015, 11(43):562-6
Clin Exp Pharmacol Physiol.2015, 42(11):1189-97
Int J Mol Sci.2019, 20(21):E5488
Phytomedicine.2016, 23(4):331-9
Food Sci Biotechnol.2016, 25(5):1437-1442
Int J Biochem Cell Biol. 2002 Mar;34(3):221-41.
Hypericin in cancer treatment: more light on the way.[Pubmed:
11849990
]
Photodynamic therapy (PDT) has been described as a promising new modality for the treatment of cancer. PDT involves the combination of a photosensitizing agent (photosensitizer), which is preferentially taken up and retained by tumor cells, and visible light of a wavelength matching the absorption spectrum of the drug. Each of these factors is harmless by itself, but when combined they ultimately produce, in the presence of oxygen, cytotoxic products that cause irreversible cellular damage and tumor destruction. Hypericin, a powerful naturally occurring photosensitizer, is found in Hypericum perforatum plants, commonly known as St. John's wort. In recent years increased interest in Hypericin as a potential clinical anticancer agent has arisen since several studies established its powerful in vivo and in vitro antineoplastic activity upon irradiation. Investigations of the molecular mechanisms underlying Hypericin photocytotoxicity in cancer cells have revealed that this photosensitizer can induce both apoptosis and necrosis in a concentration and light dose-dependent fashion. Moreover, PDT with Hypericin results in the activation of multiple pathways that can either promote or counteract the cell death program. This review focuses on the more recent advances in the use of Hypericin as a photodynamic agent and discusses the current knowledge on the signaling pathways underlying its photocytotoxic action.
J BUON. 2014 Jul-Sep;19(3):627-32.
The effects of hypericin on ADAMTS and p53 gene expression in MCF-7 breast cancer cells.[Pubmed:
25261644
]
The purpose of this study was to determine the effects of Hypericin on MCF-7 (Michigan Cancer Foundation- 7) breast cancer cells, as it is known to exert an antitumor effect on the expression and regulation of ADAMTS1, 3, 10 and the p53 gene in breast cancer cells.
METHODS AND RESULTS:
MFC-7 cells were cultured and subjected separately to various doses (1, 5 and 7.5 μg /mL) Hypericin. After 24 hrs, RNA was isolated and transcribed into cDNA. Expression analysis was performed by real time (RT)-PCR and cell survival was determined by the XTT assay. While the expression of ADAMTS1 in MFC-7 cells decreased to 0.04-fold after exposure to 1 μg /mL Hypericin, the expression increased by 5.6- and 36-fold with 5 and 7.5 μg/mL, respectively. Furthermore, ADAMTS3 expression in MCF7 cells increased 3.9-fold with the use of 5 μg /mL of Hypericin. These concentrations of Hypericin did not lead to significant changes in the expression of ADAMTS10 and the p53 gene. Viability of cancer cells as evaluated by the XTT assay showed that Hypericin concentration of 7.5 μg /mL led to increased apoptosis of cancer cells.
CONCLUSIONS:
The increase in ADAMTS1 expression may prevent metastasis or facilitate the development of an adjuvant factor with tumor-suppressive effects. Hypericin may therefore exert its antitumor and apoptotic effects in MFC-7 cells via ADAMTS1 and ADAMTS3.
Biochem. Biophys. Res. Commun., 1989 ,165(3):1207-12.
Hypericin and pseudohypericin specifically inhibit protein kinase C: Possible relation to their antiretroviral activity[Pubmed:
2558652
]
Hypericin and pseudoHypericin which have been isolated from plants of the Hypericum family are aromatic polycyclic diones. Daniel Meruelo et. al. have reported that Hypericin and pseudoHypericin showed potent antiretroviral activity including anti-human immunodeficiency virus (1,2). However, the mechanism of these antiretroviral activities has not been clarified.
METHODS AND RESULTS:
In the course of screening specific inhibitors of protein kinase C we have found that both compounds specifically inhibit protein kinase C with IC50 values 1.7 micrograms/ml and 15 micrograms/ml, respectively, and show antiproliferative activity against mammalian cells.
CONCLUSIONS:
These data suggest that antiretroviral activity of Hypericin and pseudoHypericin could be attributable to the inhibition of some phosphorylation involved by protein kinase C during viral infection of cells.
Planta Med. 1998 May;64(4):291-4.
Solubilized hypericin and pseudohypericin from Hypericum perforatum exert antidepressant activity in the forced swimming test.[Pubmed:
9619107
]

METHODS AND RESULTS:
It has been shown recently that the fraction IIIc of a crude extract of Hypericum perforatum, (St. John's wort) that contained both Hypericin (1) and pseudoHypericin (2), was remarkably active in the rats forced swimming test (FST) after Porsolt. However, neither of the naphthodianthrones isolated from this fraction were sufficiently effective when administered suspended in water. The solubility of 1 and 2 is remarkably increased in the presence of a fraction containing procyanidins, especially procyanidin B2, which is present also in the active Hypericum fraction IIIc. The cooperative effect of procyanidins significantly increased the in vivo effects of 1 and 2, which exhibited inverted U-shaped dose response curves, in the FST. The anti-immobility effect of solubilized 1 and 2 was antagonized by the dopamine antagonist sulpiride.
CONCLUSIONS:
These data indicate that naphthodianthrones are antidepressant constituents of H. perforatum and suggest that the dopaminergic system is involved in their action.
Apoptosis. 2014 Dec;19(12):1779-92.
Effect of PKCα expression on Bcl-2 phosphorylation and cell death by hypericin.[Pubmed:
25300800
]
In order to explain the contribution of the protein kinase Cα (PKCα) in apoptosis induced by photo-activation of Hypericin (Hyp), a small interfering RNA was used for post-transcriptional silencing of pkcα gene expression.
METHODS AND RESULTS:
We have evaluated the influence of Hyp photo-activation on cell death in non-transfected and transfected (PKCα(-)) human glioma cells (U-87 MG). No significant differences were detected in cell survival between non-transfected and transfected PKCα(-) cells. However, the type of cell death was notably affected by silencing the pkcα gene. Photo-activation of Hyp strongly induced apoptosis in non-transfected cells, but the level of necrotic cells in transfected PKCα(-) cells increased significantly. The differences in cell death after Hyp photo-activation are demonstrated by changes in: (i) reactive oxygen species production, (ii) Bcl-2 phosphorylation on Ser70 (pBcl-2(Ser70)), (iii) cellular distributions of pBcl-2(Ser70) and (iv) cellular distribution of endogenous anti-oxidant glutathione and its co-localization with mitochondria.
METHODS AND RESULTS:
In summary, we suggest that post-transcriptional silencing of the pkcα gene and the related decrease of PKCα level considerably affects the anti-apoptotic function and the anti-oxidant function of Bcl-2. This implies that PKCα, as Bcl-2 kinase, indirectly protects U-87 MG cells against oxidative stress and subsequent cell death.
Biochem Pharmacol. 2014 Aug 1;90(3):276-87
Hypericin suppresses osteoclast formation and wear particle-induced osteolysis via modulating ERK signalling pathway.[Pubmed:
24950468
]
Osteoclast-induced bone resorption and wear-particle-induced osteolysis leads to prosthetic loosening, one of the most common causes of joint implant failure, resulting in revision surgery. Thus, inhibition of osteoclastic bone resorption, which further prevents wear particle-induced osteolysis, is a potential treatment strategy for prosthetic loosening. Here, we examined the therapeutic effect of Hypericin (HP), which was photosensitive, on osteoclastogenesis and wear particle-induced osteolysis in the absence of visible light.
METHODS AND RESULTS:
HP inhibited RANKL-induced osteoclast differentiation in bone marrow macrophages (BMMs) and RAW264.7 cell line without any evidence of cytotoxicity. The bone-resorbing activity of mature osteoclasts was significantly inhibited by HP. As HP has been previously reported to inhibit signalling pathway such as ERK and NF-κB in other cells, which is also important in osteoclast differentiation. We thus examined the molecular mechanism and showed that HP significantly inhibited the ERK/mitogen-activated protein kinase (MAPK) signalling pathway without affecting nuclear factor kappaB (NF-κB), c-Jun N-terminal kinase (JNK) and p38 signalling in RANKL-stimulated BMMs. Further in vivo studies revealed HP attenuated osteoclast formation and subsequently prevented wear particle-induced bone erosion. Taken together, the results suggest that HP inhibits RANKL-mediated osteoclastogenesis via affecting ERK signalling in vitro and suppresses wear particle-induced osteolysis in vivo.
CONCLUSIONS:
We therefore conclude that HP may be an innovative and safe alternative treatment for osteoclast-related prosthetic loosening.