Ganoderic acid L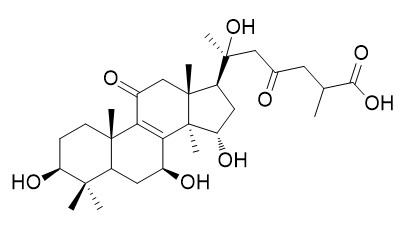 Ganoderic acid L is a natural product from the fruiting body of the fungus Ganoderma lucidum (Reishi).
Inquire / Order: manager@chemfaces.com
Technical Inquiries: service@chemfaces.com
Tel: +86-27-84237783
Fax: +86-27-84254680

Address:
1 Building, No. 83, CheCheng Rd., Wuhan Economic and Technological Development Zone, Wuhan, Hubei 430056, PRC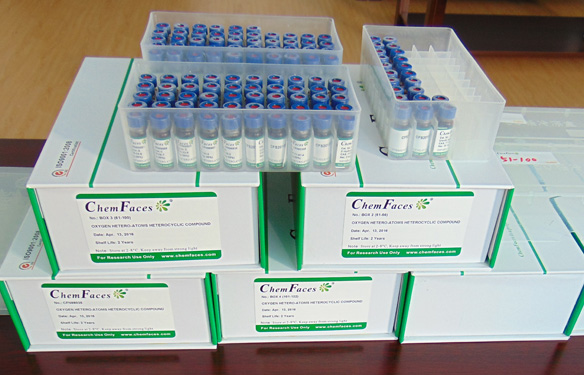 Providing storage is as stated on the product vial and the vial is kept tightly sealed, the product can be stored for up to
24 months(2-8C)
.
Wherever possible, you should prepare and use solutions on the same day. However, if you need to make up stock solutions in advance, we recommend that you store the solution as aliquots in tightly sealed vials at -20C. Generally, these will be useable for up to two weeks. Before use, and prior to opening the vial we recommend that you allow your product to equilibrate to room temperature for at least 1 hour.
Need more advice on solubility, usage and handling? Please email to: service@chemfaces.com
The packaging of the product may have turned upside down during transportation, resulting in the natural compounds adhering to the neck or cap of the vial. take the vial out of its packaging and gently shake to let the compounds fall to the bottom of the vial. for liquid products, centrifuge at 200-500 RPM to gather the liquid at the bottom of the vial. try to avoid loss or contamination during handling.
Mol Pharm.2017, 14(9):3164-3177
Nat Prod Sci.2018, 24(2):109-114
Br J Pharmacol.2020, 10.1111
Front Plant Sci.2018, 9:1424
FEMS Microbiol Lett.2017, 364(11)
Mol Pharm.2018, 15(8):3285-3296
Molecules.2016, 21(6)
Nat Prod Communications2018, 10.1177
J Chromatogr B Analyt Technol Biomed Life Sci. 2017, 1064:115-123
Sci Rep.2015, 5:13194
Journal of the Agricultural Chemical Society of Japan, 1986, 50(3):809-811.
New Terpenoids, Ganolucidic Acid D, Ganoderic Acid L, Lucidone C and Lucidenic Acid G, from the Fungus Ganoderma lucidum.[Reference:
WebLink
]
The fruiting body of the fungus Ganoderma lucidum (Reishi) has attracted much attention as a folk medicine, and some of its components have been elucidated.
METHODS AND RESULTS:
We have also reported several bitter terpenoids and related compounds from the fungus.1~9) The naming of lucidenic acids is a little confused, so we now designate our lucidenic acids D and E2) as Dx and El5 and Kikuchi's7) as D2 and E2, respectively. Recently, we have isolated four new terpenoids, ganolucidic acid D (1), methyl ganoderate L (2a), lucidone C (3) and methyl lucidenate G (4a). Ganolucidic acid D (1) has a allylic alcohol group in the side chain and can the mycelial components10) and terpenoids of the fruiting body. On the other hand, Ganoderic acid L (2), which has a hydroxyl group at C-20, can be a possible precursor of lucidone C (3).
CONCLUSIONS:
Among the lucidenic acids, lucidenic acid G (4) is unique in having a hydroxyl group at C-26.