Protohypericin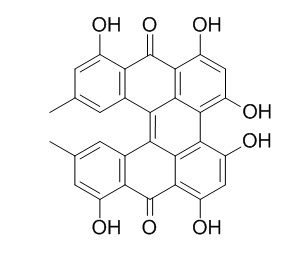 Protohypericin exhibits photocytotoxicity.
Inquire / Order: manager@chemfaces.com
Technical Inquiries: service@chemfaces.com
Tel: +86-27-84237783
Fax: +86-27-84254680

Address:
1 Building, No. 83, CheCheng Rd., Wuhan Economic and Technological Development Zone, Wuhan, Hubei 430056, PRC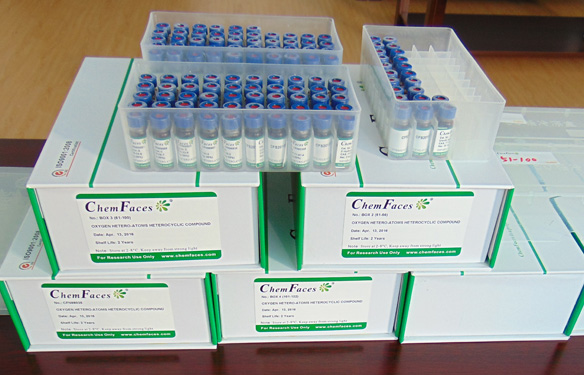 Providing storage is as stated on the product vial and the vial is kept tightly sealed, the product can be stored for up to
24 months(2-8C)
.
Wherever possible, you should prepare and use solutions on the same day. However, if you need to make up stock solutions in advance, we recommend that you store the solution as aliquots in tightly sealed vials at -20C. Generally, these will be useable for up to two weeks. Before use, and prior to opening the vial we recommend that you allow your product to equilibrate to room temperature for at least 1 hour.
Need more advice on solubility, usage and handling? Please email to: service@chemfaces.com
The packaging of the product may have turned upside down during transportation, resulting in the natural compounds adhering to the neck or cap of the vial. take the vial out of its packaging and gently shake to let the compounds fall to the bottom of the vial. for liquid products, centrifuge at 200-500 RPM to gather the liquid at the bottom of the vial. try to avoid loss or contamination during handling.
African J. Agricultural Research 2017, 12(13):1164-1168
Asian Journal of Chemistry2014, 26(8):2425
Nutrients.2019, 11(4):E936
Food Res Int.2019, 123:125-134
Analytical Methods2018, 10(27)
Chemistry of Plant Materials.2016, 33-46
Front Microbiol.2019, 10:2806
Cell Death Dis.2019, 10(12):882
Aquaculture2019, 510:392-399
Food Res Int.2020, 128:108778
Planta Med. 1999 Dec;65(8):719-22.
Photocytotoxicity of protohypericin after photoconversion to hypericin.[Pubmed:
10630113
]
In the present study, Protohypericin was synthesised in order to compare its intrinsic photocytotoxicity with that of hypericin.
METHODS AND RESULTS:
The experimental work was performed in specific filtered light conditions that prevented both an unintended photoconversion of Protohypericin and photosensitization of the cells. Assessing the photocytotoxicity as a function of irradiation time, it was found that the photocytotoxicity of both compounds converged after a long irradiation time (i.e., 15 min), while the difference between the photocytotoxicities was maximal after a short irradiation time (i.e., 1 min).
CONCLUSIONS:
Since this could not be accounted for by a redistribution of Protohypericin during irradiation, and the different irradiation times corresponded to different degrees of photoconversion of Protohypericin into hypericin, the results clearly suggest that Protohypericin exhibits intrinsically a dramatically lower photoactivity as compared to hypericin.
J AOAC Int. 2005 Nov-Dec;88(6):1607-12.
Simultaneous determination of protopseudohypericin, pseudohypericin, protohypericin, and hypericin without light exposure.[Pubmed:
16526439
]
St. John's wort products are commonly standardized to total naphthodianthrones and hyperforin. Determination of these marker compounds is complicated because of the photochemistry of the naphthodianthrones pseudohypericin and hypericin and the instability of hyperforin in solution.
METHODS AND RESULTS:
Protopseudohypericin and Protohypericin have been identified as naturally occurring naphthodianthrones and, when exposed to light, they are converted into pseudohypericin and hypericin, respectively. However, exposure to light and the resulting naphthodianthrone free-radical reactions oxidize hyperforin. A mathematical relationship between the response of the proto compound and the resulting naphthodianthrone can be established by comparing the analytical response of the proto compound in a solution protected from light with the increase in the analytical response of naphthodianthrone in the same solution after exposure to light. By mathematically converting the proto compounds to their respective products, exposure to light can be avoided while still including proto compounds in a single assay.
CONCLUSIONS:
The method presented here details the reporting of all significant naphthodianthrones, including protopseudohypericin and Protohypericin, without exposure to light. This approach includes the benefits of improved naphthodianthrone precision and protection of hyperforin from oxidation.
J Drug Target. 2015 Jun;23(5):417-26.
Radiopharmaceutical evaluation of (131)I-protohypericin as a necrosis avid compound.[Pubmed:
25655506
]
Hypericin is a necrosis avid agent useful for nuclear imaging and tumor therapy. Protohypericin, with a similar structure to hypericin except poorer planarity, is the precursor of hypericin.
METHODS AND RESULTS:
In this study, we aimed to investigate the impact of this structural difference on self-assembly, and evaluate the necrosis affinity and metabolism in the rat model of reperfused hepatic infarction. Protohypericin appeared less aggregative in solution compared with hypericin by fluorescence analysis. Biodistribution data of (131)I-Protohypericin showed the percentage of injected dose per gram of tissues (%ID/g) increased with time and reached to the maximum of 7.03 at 24 h in necrotic liver by gamma counting. The maximum ratio of target/non-target tissues was 11.7-fold in necrotic liver at 72 h. Pharmacokinetic parameters revealed that the half-life of (131)I-Protohypericin was 14.9 h, enabling a long blood circulation and constant retention in necrotic regions. SPECT-CT, autoradiography, and histological staining showed high uptake of (131)I-Protohypericin in necrotic tissues.
CONCLUSIONS:
These results suggest that (131)I-Protohypericin is a promising necrosis avid compound with a weaker aggregation tendency compared with hypericin and it may have a broad application in imaging and oncotherapy.
Int J Pharm. 1999 Oct 15;188(1):81-6.
In vitro transport and uptake of protohypericin and hypericin in the Caco-2 model.[Pubmed:
10528085
]
The intestinal absorption characteristics of Protohypericin, a protonaphthodianthrone present in Hypericum extract, were studied and compared with those of hypericin. The Caco-2 model was used as a model of the intestinal mucosa to assess transepithelial transport and cell uptake.
METHODS AND RESULTS:
The experimental work was performed in specific light conditions that prevented both the photoconversion of Protohypericin into hypericin and the photosensitization of the cells. Following application of the individual compounds (80-200 microM) to the apical side of the monolayers, the appearance in the basolateral compartment was found to be very low (<0.5%/5 h), but was comparable for both compounds. A lag-time of 2-3 h was observed, suggesting gradual saturation of binding sites on the membrane or inside the cells. Uptake experiments of Protohypericin and hypericin by Caco-2 cells revealed a very significant cellular accumulation (4-8%); uptake was characterised by saturation after 3 h.
CONCLUSIONS:
The findings of this study suggest that Protohypericin has comparable absorption characteristics as hypericin and may contribute to the beneficial effect of Hypericum extract after oral dosing.