Pd-C-II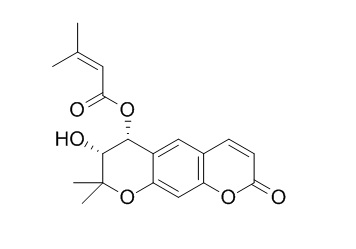 Pd-C-II has anti-inflammation activity, it can inhibit TNF-α production and iNOS protein expression and inhibit COX-2 protein expression in LPS-stimulated RAW 264.7 cells. Pd-C-II inhibits anaphylactic mediator release from purified mast cells induced by concanavalin A with phosphatidylserine, the IC50 value of 79 microM.
Inquire / Order: manager@chemfaces.com
Technical Inquiries: service@chemfaces.com
Tel: +86-27-84237783
Fax: +86-27-84254680

Address:
1 Building, No. 83, CheCheng Rd., Wuhan Economic and Technological Development Zone, Wuhan, Hubei 430056, PRC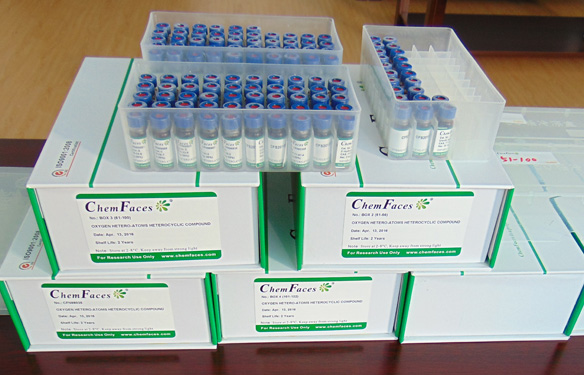 Providing storage is as stated on the product vial and the vial is kept tightly sealed, the product can be stored for up to
24 months(2-8C)
.
Wherever possible, you should prepare and use solutions on the same day. However, if you need to make up stock solutions in advance, we recommend that you store the solution as aliquots in tightly sealed vials at -20C. Generally, these will be useable for up to two weeks. Before use, and prior to opening the vial we recommend that you allow your product to equilibrate to room temperature for at least 1 hour.
Need more advice on solubility, usage and handling? Please email to: service@chemfaces.com
The packaging of the product may have turned upside down during transportation, resulting in the natural compounds adhering to the neck or cap of the vial. take the vial out of its packaging and gently shake to let the compounds fall to the bottom of the vial. for liquid products, centrifuge at 200-500 RPM to gather the liquid at the bottom of the vial. try to avoid loss or contamination during handling.
Evid Based Complement Alternat Med.2017, 2017:1583185
United States Patent Application2020, 20200038363
Molecules.2020, 25(23):5609.
J Control Release.2021, 336:159-168.
Int J Mol Sci.2021, 22(21):11447.
J Neuroinflammation.2020, 17(1):75.
J Chromatogr B Analyt Technol Biomed Life Sci.2019, 1113:1-13
Nutr Res Pract.2020, 14(3):203-217.
Br J Pharmacol.2018, 175(6):902-923
J Pharm Biomed Anal.2022, 207:114398.
J Pharmacobiodyn. 1985 Apr;8(4):257-63.
Calcium antagonist-like actions of coumarins isolated from [Pubmed:
2411906
]
The effects of coumarins on anaphylactic mediator release from rat mast cells were investigated. Since Pd-Ia (3'-angeloyloxy-4'-acetoxy-3',4'-dihydroseselin) causes relaxation of smooth muscle by inhibiting calcium influx, and since mediator release is a calcium-dependent process, studies were made on whether coumarins block calcium influx into rat mast cells stimulated by concanavalin A.
METHODS AND RESULTS:
Pd-Ia isolated from Peucedanum praeruptorum Dunn and related compounds, named Pd-C-II, Pd-C-III and Pd-C-IV, from Peucedanum decursivum Maxim., (Angelica decursiva Fr. et Sav.) inhibited anaphylactic mediator release from purified mast cells induced by concanavalin A with phosphatidylserine; their IC50 values were 79, 100, 102 and 73 microM, respectively. Pd-III, decursidin and water-soluble analogues of Pd-Ia (Pd-Ia-OH, Pd-Ia-OCH2CH3) did not inhibit the release.
Arch Pharm Res. 2016 Jan;39(1):115-26.
Coumarins from Angelica decursiva inhibit lipopolysaccharide-induced nitrite oxide production in RAW 264.7 cells.[Pubmed:
26474585
]
Angelica decursiva has long been used in Korean traditional medicine as an antitussive, analgesic, antipyretic, and cough remedy.
METHODS AND RESULTS:
In this study, the anti-inflammatory activity of 9 coumarin derivatives isolated from a 90 % methanol fraction was evaluated via inhibition of production of nitric oxide (NO) and tumor necrosis factor-α (TNF-α), as well as the expression of inducible nitric oxide synthase (iNOS) and cyclooxygenase-2 (COX-2) in lipopolysaccharide (LPS)-stimulated RAW 264.7 cells. Among the tested compounds, edulisin II (1) exhibited the most potent NO production inhibitory activity, followed by decursidin (2), Pd-C-III (3), 4-hydroxy Pd-C-III (4), Pd-C-I (5), and Pd-C-II (6). In contrast, (+)-trans-decursidinol (7) did not exhibit NO suppressive effects on LPS-stimulated RAW 264.7 cells. Structure-activity relationships revealed that esterification of the hydroxyl at C-3' or C-4' of 7 with an angeloyl/senecioyl/acetyl group is essential for its inhibitory activity against NO production, while the number of angeloyl or senecioyl groups, and their positions greatly affect the potency of these coumarins. Coumarins 1-6 also inhibited TNF-α production and iNOS protein expression, while compounds 1-4 inhibited COX-2 protein expression in LPS-stimulated RAW 264.7 cells.
CONCLUSIONS:
These results suggest that coumarins isolated from A. decursiva might be used as potential leads for the development of therapeutic agents for inflammation-associated disorders.