1,3,6-Tri-O-galloylglucose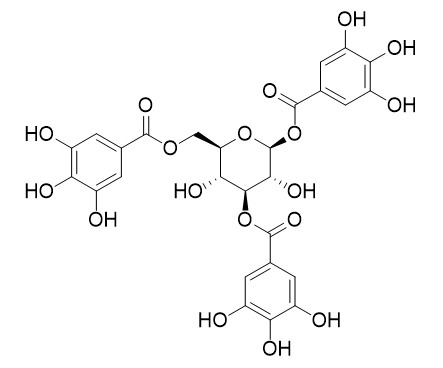 1,3,6-Tri-O-galloylglucose shows anti-inflammatory activity.
Inquire / Order: manager@chemfaces.com
Technical Inquiries: service@chemfaces.com
Tel: +86-27-84237783
Fax: +86-27-84254680

Address:
1 Building, No. 83, CheCheng Rd., Wuhan Economic and Technological Development Zone, Wuhan, Hubei 430056, PRC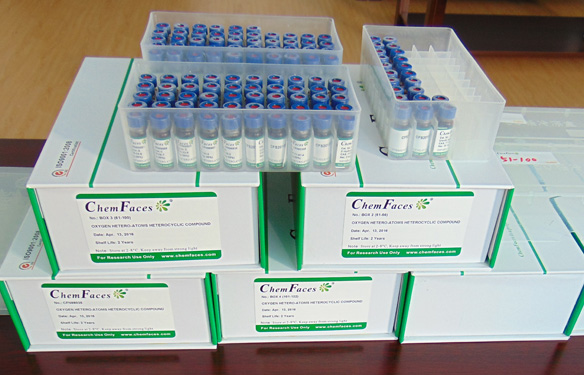 Providing storage is as stated on the product vial and the vial is kept tightly sealed, the product can be stored for up to
24 months(2-8C)
.
Wherever possible, you should prepare and use solutions on the same day. However, if you need to make up stock solutions in advance, we recommend that you store the solution as aliquots in tightly sealed vials at -20C. Generally, these will be useable for up to two weeks. Before use, and prior to opening the vial we recommend that you allow your product to equilibrate to room temperature for at least 1 hour.
Need more advice on solubility, usage and handling? Please email to: service@chemfaces.com
The packaging of the product may have turned upside down during transportation, resulting in the natural compounds adhering to the neck or cap of the vial. take the vial out of its packaging and gently shake to let the compounds fall to the bottom of the vial. for liquid products, centrifuge at 200-500 RPM to gather the liquid at the bottom of the vial. try to avoid loss or contamination during handling.
Pharmacognosy Journal2019, 11(2): 369-373
Molecules.2020, 25(7):1625.
Molecules.2021, 26(23):7390.
The Japan Society for Analy. Chem.2017, 66(8):613-617
Front Pharmacol.2018, 9:756
Appl. Sci.2020, 10(20), 7323.
Phytomedicine.2018, 40:37-47
Front Immunol.2017, 8:1542
J. Traditional Thai Medical Res. 2022,8(1):1-14.
Metabolites2023, 13(1), 3.
Chinese Pharmaceutical Journal, 2015,50(19):1673-7.
Study on the anti-inflammatory active constituents of Mangifera indica L. seed kernel.[Reference:
WebLink
]
To study the anti-inflammatory active constituents of Mangifera indica L. seed kernel.
METHODS AND RESULTS:
The compounds were isolated by silica gel column chromatography, Sephadex LH-20 column chromatography and ODS column chromatography.Their structures were elucidated by spectral analyses and physicochemical properties. The anti-inflammatory activities of selected isolated compounds were evaluated as inhibitory activities against lipopolysaccharide (LPS)-induced nitric oxide (NO) production in RAW264.7 cell lines by Griess reaction. Eight compounds were obtained from n-butanol fraction oi Mangifera indica L. seed kernel, whose structures were elucidated as 4-O-ethylgallic acid (1), gallic acid (2), citric acid(3), 1,2,3,4,6-penta-O-galloylglucose(4),1,3,6-Tri-O-galloylglucose(5), hyperoside(6), quercetin-3-O-rhamnopyranoside(7), and mangiferin(8). Compounds 1, 2 and 4-8 exhibited potent inhibitory effect on NO production in LPS-induced macrophages, especially compounds 6 and 8 showed the best inhibitory activity with IC50 values of 16.5 and 19.5 μmol·L-1, respectively.
CONCLUSIONS:
Compounds 1 and 3-8 were obtained from Mangifera indica L.seed kernel for the first time.Compounds 1, 2 and 4-8 are the anti-inflammatory active constituents oi Mangifera indica L.seed kernel.Compounds 6 and 8 are the most potent anti-inflammatory active constituents.
J Agric Food Chem . 2018 May 2;66(17):4503-4511.
Identification and Characterization of Phenolic Compounds in Black Walnut Kernels[Pubmed:
29663801
]
Abstract Black walnuts ( Juglans nigra L.) are highly valued for producing phenolic-enriched nuts. The objectives of this study were to identify and characterize the phenolic contents of 11 different black walnut cultivars and compare the levels of these phenolics between black walnuts and English walnut ( Juglans regia L.). Totally, 16 phenolics including phenolic acids, flavonoids, and catechins were identified in the black walnut kernels, with ellagic acid predominating over the other phenolics. Significant differences were noted for the levels of quinic acid, gallic acid, 1,3,6-trigalloylglucose, catechin, and penta- O-galloyl-β-d-glucose between the studied black walnuts and English walnut. Through principal component analysis, 51.54% of the variance in the phenolic data was explained. The hierarchical cluster analysis results showed three groups to which each walnut sample belongs. Most of the phenolics identified in this study have been reported to exert potential health-promoting activities. The findings of this study will provide critical information for consumers, nutritional therapy practitioners, researchers, and producers. Keywords: English walnut; black walnut; ellagic acid; health-promoting; phenolic compounds.