Pseudohypericin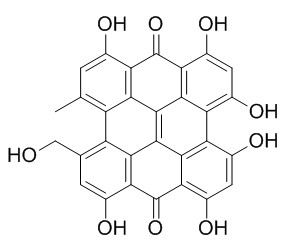 Pseudohypericin has photocytotoxic, and antiretroviral activities, it has potential therapeutic value in diseases such as AIDS. Pseudohypericin can inhibit LPS-stimulated PGE2 and NO in mouse macrophages by potentiating suppressor of cytokine signaling 3 (SOCS3) expression, it has anti-tumor potential.
Inquire / Order: manager@chemfaces.com
Technical Inquiries: service@chemfaces.com
Tel: +86-27-84237783
Fax: +86-27-84254680

Address:
1 Building, No. 83, CheCheng Rd., Wuhan Economic and Technological Development Zone, Wuhan, Hubei 430056, PRC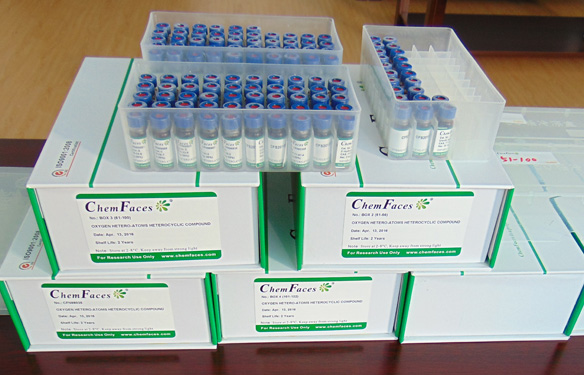 Providing storage is as stated on the product vial and the vial is kept tightly sealed, the product can be stored for up to
24 months(2-8C)
.
Wherever possible, you should prepare and use solutions on the same day. However, if you need to make up stock solutions in advance, we recommend that you store the solution as aliquots in tightly sealed vials at -20C. Generally, these will be useable for up to two weeks. Before use, and prior to opening the vial we recommend that you allow your product to equilibrate to room temperature for at least 1 hour.
Need more advice on solubility, usage and handling? Please email to: service@chemfaces.com
The packaging of the product may have turned upside down during transportation, resulting in the natural compounds adhering to the neck or cap of the vial. take the vial out of its packaging and gently shake to let the compounds fall to the bottom of the vial. for liquid products, centrifuge at 200-500 RPM to gather the liquid at the bottom of the vial. try to avoid loss or contamination during handling.
FEBS Lett.2015, 589(1):182-7
Molecules.2019, 25(1):E103
J Agric Food Chem.2017, 65(13):2670-2676
J of Essential Oil Research2019, 1677272
European Journal of Integrative Medicine2018, 20:165-172
Korean Journal of Pharmacognosy.2019, 50(1):65-71
J Med Food.2016, 19(12):1155-1165
Int J Mol Sci.2015, 16(8):18396-411
J Ethnopharmacol.2019, 236:31-41
J Sci Food Agric.2017, 97(5):1656-1662
J.Photoch.Photobiol. B , 1998, 45(2-3):87-94.
Photocytotoxic effect of pseudohypericin versus hypericin.[Reference:
WebLink
]
Pseudohypericin and hypericin, the major photosensitizing constituents of Hypericum perforatum, are believed to cause hypericism.
METHODS AND RESULTS:
Since hypericin has been proposed as a photosensitizer for photodynamic cancer therapy, the photocytotoxicity of its congener Pseudohypericin has been investigated. The presence of foetal calf serum (FCS) or albumin extensively inhibits the photocytotoxic effect of Pseudohypericin against A431 tumour cells, and is associated with a large decrease in cellular uptake of the compound. These results suggest that Pseudohypericin, in contrast to hypericin, interacts strongly with constituents of FCS, lowering its interaction with cells.
CONCLUSIONS:
Since Pseudohypericin is two to three times more abundant in Hypericum than hypericin and the bioavailabilities of Pseudohypericin and hypericin after oral administration are similar, these results suggest that hypericin, and not Pseudohypericin, is likely to be the constituent responsible for hypericism. Moreover, the dramatic decrease of photosensitizing activity of Pseudohypericin in the presence of serum may restrict its applicability in clinical situations.
P. Natl. Acad. Sci., 1989, 86(15):5963-7.
Studies of the mechanisms of action of the antiretroviral agents hypericin and pseudohypericin.[Reference:
WebLink
]

METHODS AND RESULTS:
Administration of the aromatic polycyclic dione compounds hypericin or Pseudohypericin to experimental animals provides protection from disease induced by retroviruses that give rise to acute, as well as slowly progressive, diseases. For example, survival from Friend virus-induced leukemia is significantly prolonged by both compounds, with hypericin showing the greater potency. Viremia induced by LP-BM5 murine immunodeficiency virus is markedly suppressed after infrequent dosage of either substance. These compounds affect the retroviral infection and replication cycle at least at two different points: (i) Assembly or processing of intact virions from infected cells was shown to be affected by hypericin. Electron microscopy of hypericin-treated, virus-producing cells revealed the production of particles containing immature or abnormally assembled cores, suggesting the compounds may interfere with processing of gag-encoded precursor polyproteins. The released virions contain no detectable activity of reverse transcriptase. (ii) Hypericin and Pseudohypericin also directly inactivate mature and properly assembled retroviruses as determined by assays for reverse transcriptase and infectivity.
CONCLUSIONS:
Accumulating data from our laboratories suggest that these compounds inhibit retroviruses by unconventional mechanisms and that the potential therapeutic value of hypericin and Pseudohypericin should be explored in diseases such as AIDS.
Cancer Prev. Res., 2010, 3(12 Supplement).
Download citationShare Request full-text Pseudohypericin in Hypericum perforatum inhibited LPS-stimulated PGE2 and NO in mouse macrophages by potentiating SOCS3 expression[Reference:
WebLink
]
Hypericum perforatum, also known as 'St John's wort', is one of the most studied medicinal plants. Despite its primary use as an anti-depression agent, certain compounds such as hypericin and hyperforin in H. perforatum extract have been shown to inhibit tumor growth by inducing apoptosis/necrosis and inhibiting angiogenesis. Using hypericin in photodynamic cancer therapy is also being studied. Our previous studies have demonstrated that H. perforatum extract and a group of 4 compounds in it, namely Pseudohypericin, amentoflavone, quercetin, and chlorogenic acid, decreased lipopolysaccharide (LPS)-stimulated macrophage inflammatory response, and identified the activation of suppressor of cytokine signaling 3 (SOCS3) as a candidate mechanism for this activity. Given that both inflammation and SOCS3 suppression are associated with tumor progression, we studied the role of SOCS3 activation in the anti-inflammatory activity of H. perforatum extract and its components.
METHODS AND RESULTS:
Specific siRNA was used to knockdown the expression of SOCS3 in RAW 264.7 mouse macrophages. Activation of SOCS3 in macrophages was measured at mRNA and protein levels using qRT-PCR and Western blot. H. perforatum extract at 30 μg/mL, the 4 compounds at the same concentrations as in the extract, and the combinations of individual compounds were applied to macrophages with and without SOCS3 knockdown to reveal whether their inhibition of LPS-stimulated prostaglandin E2 (PGE2) and nitric oxide (NO) was dependent on SOCS3. SOCS3 expression in the mouse macrophages was activated upon LPS stimulation and further potentiated by H. perforatum extract and the 4 compounds studied. SOCS3 siRNA transfection significantly compromised the activation of SOCS3. H. perforatum extract and the 4 compounds reduced LPS-stimulated PGE2 and NO production, but only the inhibitory effect of the 4 compounds was negated by SOCS3 knockdown. Combinations of two or three of the 4 compounds that include Pseudohypericin, the most essential component among the four that act synergistically in reducing macrophage inflammatory response, lost their inhibitory effect on PGE2 and NO production in SOCS3 knockdown cells.
CONCLUSIONS:
SOCS3 activation was critical for Pseudohypericin's independent and interactive anti-inflammatory activity with amentoflavone, quercetin, and chlorogenic acid. H. perforatum extract utilized alternative mechanisms that are SOCS3 independent to inhibit macrophage inflammation. In addition to light-activated cytotoxicity and inhibition of angiogenesis, magnification of SOCS3 activation by H. perforatum extract might contribute to its anti-tumor potential.
J Sep Sci. 2015 May 12. doi: 10.1002/jssc.201500260.
Combination of integrated expanded bed adsorption chromatography and countercurrent chromatography for the direct extraction and purification of pseudohypericin and hypericin from St. John's wort (Hypericum perforatum L.).[Pubmed:
25964189
]
St. John's wort has attracted particular attention because of its beneficial effects such as antidepressant, antiviral, and anticancer agent.
METHODS AND RESULTS:
A method for the combination of integrated expanded bed adsorption chromatography and countercurrent chromatography for the simultaneous extraction and purification of Pseudohypericin and hypericin from the herb is presented in this paper. Firstly, the constituents were extracted and directly adsorbed by an expanded bed adsorption chromatography under optimal conditions. The stepwise elution was then employed on expanded bed adsorption chromatography which enriched the targets with higher purities and recoveries compared to other methods. Secondly, the eluent fractions from expanded bed adsorption chromatography were further separated by two-step high-speed countercurrent chromatography. A two-step high-speed countercurrent chromatography method with a biphasic solvent system composed of n-hexane/ethyl acetate/methanol/water with a volume ratio of 1:2:1:2 was performed by stepwise changing the flow rate of the mobile phase.
CONCLUSIONS:
Consequently, 5.6 mg of Pseudohypericin and 2.2 mg of hypericin with purities of 95.5 and 95.0%, respectively, were successfully obtained from 40 mg of crude sample. This article is protected by copyright. All rights reserved.