Glicoricone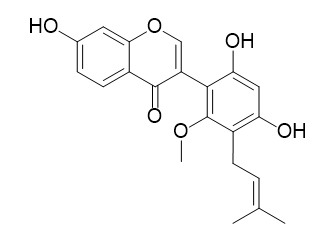 Glicoricone acts as a partial estrogen antagonist. Glicoricone inhibited the monoamine oxidase with the IC50 values of 6.0 x 10(-5)-1.4 x 10(-4) M.
Inquire / Order: manager@chemfaces.com
Technical Inquiries: service@chemfaces.com
Tel: +86-27-84237783
Fax: +86-27-84254680

Address:
1 Building, No. 83, CheCheng Rd., Wuhan Economic and Technological Development Zone, Wuhan, Hubei 430056, PRC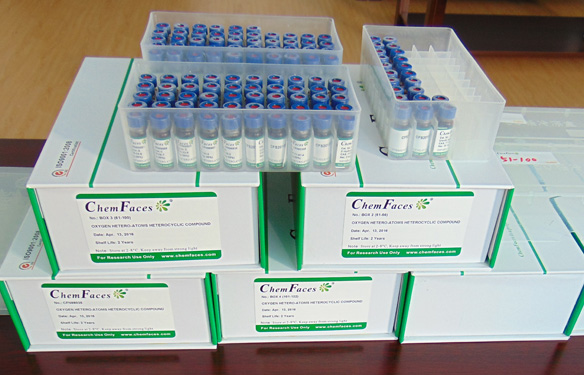 Providing storage is as stated on the product vial and the vial is kept tightly sealed, the product can be stored for up to
24 months(2-8C)
.
Wherever possible, you should prepare and use solutions on the same day. However, if you need to make up stock solutions in advance, we recommend that you store the solution as aliquots in tightly sealed vials at -20C. Generally, these will be useable for up to two weeks. Before use, and prior to opening the vial we recommend that you allow your product to equilibrate to room temperature for at least 1 hour.
Need more advice on solubility, usage and handling? Please email to: service@chemfaces.com
The packaging of the product may have turned upside down during transportation, resulting in the natural compounds adhering to the neck or cap of the vial. take the vial out of its packaging and gently shake to let the compounds fall to the bottom of the vial. for liquid products, centrifuge at 200-500 RPM to gather the liquid at the bottom of the vial. try to avoid loss or contamination during handling.
Drug Des Devel Ther.2020, 14:61-71
Food Research2022, 6(6): 30-38.
Antioxidants (Basel).2021, 10(10):1620.
Int. J. Mol. Sci.2022, 23(14),7699;
Hum Exp Toxicol.2017, 36(11):1169-1176
Acta horticulturae2017, 1158:257-268
Korean Journal of Pharmacognosy2014, 113-120
Russian J Bioorganic Chemistry 2021, 47:1411-1417.
BMC Microbiol.2019, 19(1):78
Molecules.2020, 25(11):2599.
Steroids. 2016 Jan;105:42-9.
Licorice root components in dietary supplements are selective estrogen receptor modulators with a spectrum of estrogenic and anti-estrogenic activities.[Pubmed:
26631549
]
Licorice root extracts are often consumed as botanical dietary supplements by menopausal women as a natural alternative to pharmaceutical hormone replacement therapy. In addition to their components liquiritigenin (Liq) and isoliquiritigenin (Iso-Liq), known to have estrogenic activity, licorice root extracts also contain a number of other flavonoids, isoflavonoids, and chalcones.
METHODS AND RESULTS:
We have investigated the estrogenic activity of 7 of these components, obtained from an extract of Glycyrrhiza glabra powder, namely Glabridin (L1), Calycosin (L2), Methoxychalcone (L3), Vestitol (L4), Glyasperin C (L5), Glycycoumarin (L6), and Glicoricone (L7), and compared them with Liq, Iso-Liq, and estradiol (E2). All components, including Liq and Iso-Liq, have low binding affinity for estrogen receptors (ERs). Their potency and efficacy in stimulating the expression of estrogen-regulated genes reveal that Liq and Iso-Liq and L2, L3, L4, and L6 are estrogen agonists. Interestingly, L3 and L4 have an efficacy nearly equivalent to E2 but with a potency ca. 10,000-fold less. The other components, L1, L5 and L7, acted as partial estrogen antagonists. All agonist activities were reversed by the antiestrogen, ICI 182,780, or by knockdown of ERα with siRNA, indicating that they are ER dependent. In HepG2 hepatoma cells stably expressing ERα, only Liq, Iso-Liq, and L3 stimulated estrogen-regulated gene expression, and in all cases gene stimulation did not occur in HepG2 cells lacking ERα.
CONCLUSIONS:
Collectively, these findings classify the components of licorice root extracts as low potency, mixed ER agonists and antagonists, having a character akin to that of selective estrogen receptor modulators or SERMs.
Chem Pharm Bull (Tokyo). 1991 May;39(5):1238-43.
Phenolic constituents of licorice. III. Structures of glicoricone and licofuranone, and inhibitory effects of licorice constituents on monoamine oxidase.[Pubmed:
1913999
]
Two new phenolic compounds, Glicoricone (3) and licofuranone (4), were isolated from a species of licorice brought from the northwestern region of China, and their structures were assigned.
METHODS AND RESULTS:
Among the twelve licorice constituents examined for the inhibition of monoamine oxidase (MAO), six compounds, 3, 4, genistein (6), licopyranocoumarin (7), licocoumarone (14) and glycyrrhisoflavone (15), inhibited the enzyme with the IC50 (concentration required for 50% inhibition of the enzyme activity) values of 6.0 x 10(-5)-1.4 x 10(-4) M. Glycyrrhizin (1) also inhibited MAO with the IC50 value of 1.6 x 10(-4) M.