3,3',4',5,6,7,8-heptamethoxyflavone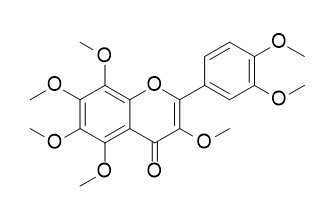 3,3',4',5,6,7,8-Heptamethoxyflavone(HMF) has neuroprotective, chemopreventive, anti-allergic, anti-inflammatory, immunomodulatory, anti-aging and photoprotective effects; it inhibits collagenase activity and induces type I procollagen synthesis in HDFn cells, and against nitric oxide (NO) carcinogenesis.
Inquire / Order: manager@chemfaces.com
Technical Inquiries: service@chemfaces.com
Tel: +86-27-84237783
Fax: +86-27-84254680

Address:
1 Building, No. 83, CheCheng Rd., Wuhan Economic and Technological Development Zone, Wuhan, Hubei 430056, PRC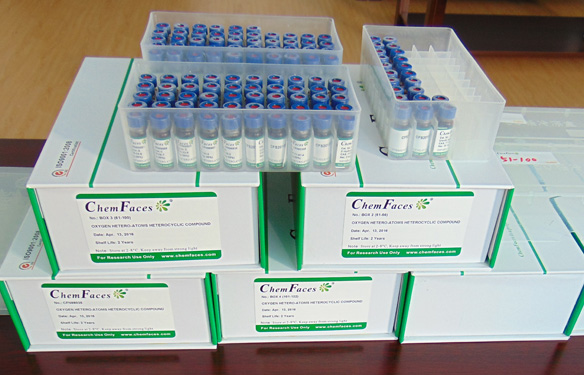 Providing storage is as stated on the product vial and the vial is kept tightly sealed, the product can be stored for up to
24 months(2-8C)
.
Wherever possible, you should prepare and use solutions on the same day. However, if you need to make up stock solutions in advance, we recommend that you store the solution as aliquots in tightly sealed vials at -20C. Generally, these will be useable for up to two weeks. Before use, and prior to opening the vial we recommend that you allow your product to equilibrate to room temperature for at least 1 hour.
Need more advice on solubility, usage and handling? Please email to: service@chemfaces.com
The packaging of the product may have turned upside down during transportation, resulting in the natural compounds adhering to the neck or cap of the vial. take the vial out of its packaging and gently shake to let the compounds fall to the bottom of the vial. for liquid products, centrifuge at 200-500 RPM to gather the liquid at the bottom of the vial. try to avoid loss or contamination during handling.
Sci Rep.2018, 8:9267
Nutrients.2017, 10(1)
Int J Biol Macromol.2020, 161:1230-1239.
Int J Mol Sci.2017, 18(5)
Malaysian J of Fundamental and Applied Sciences 2018, 14(3):368-373
Chem Biol Interact.2016, 260:168-175
Journal of Functional Foods2022, 91:105019.
Applied Biological Chem. 2020, 26(63).
Plant Sci.2020, 301:110656.
J Pharm Anal.2016, 6(6):363-373
Int J Mol Sci. 2018 Feb 22;19(2). pii: E620.
3,5,6,7,8,3',4'-Heptamethoxyflavone, a Citrus Flavonoid, Inhibits Collagenase Activity and Induces Type I Procollagen Synthesis in HDFn Cells.[Pubmed:
29470423
]
Citrus fruits contain various types of flavonoids with powerful anti-aging and photoprotective effects on the skin, and have thus been attracting attention as potential, efficacious skincare agents.
METHODS AND RESULTS:
Here, we aimed to investigate the chemical composition of Citrus unshiu and its protective effects on photoaging. We isolated and identified a bioactive compound, 3,5,6,7,8,3',4'-heptamethoxyflavone (3,3',4',5,6,7,8-heptamethoxyflavone ,HMF), from C. unshiu peels using ethanol extraction and hexane fractionation. HMF inhibited collagenase activity and increased type I procollagen content in UV-induced human dermal fibroblast neonatal (HDFn) cells. HMF also suppressed the expression of matrix metalloproteinases 1 (MMP-1) and induced the expression of type I procollagen protein in UV-induced HDFn cells. Additionally, HMF inhibited ultraviolet B (UVB)-induced phosphorylation of the mitogen-activated protein kinases (MAPK) cascade signaling components-ERK, JNK, and c-Jun-which are involved in the induction of MMP-1 expression. Furthermore, HMF affected the TGF-β/Smad signaling pathway, which is involved in the regulation of type I procollagen expression. In particular, HMF induced Smad3 protein expression and suppressed Smad7 protein expression in UV-induced HDFn cells in a dose-dependent manner.
CONCLUSIONS:
These findings suggest a role for Citrusunshiu in the preparation of skincare products in future.
J Agric Food Chem. 2008 Oct 22;56(20):9399-403.
Anti-inflammatory activity of an orange peel polymethoxylated flavone, 3',4',3,5,6,7,8-heptamethoxyflavone, in the rat carrageenan/paw edema and mouse lipopolysaccharide-challenge assays.[Pubmed:
18816060
]
The anti-inflammatory properties of 3',4',3,5,6,7,8-heptamethoxyflavone (3,3',4',5,6,7,8-heptamethoxyflavone ,HMF), a citrus polymethoxylated flavone, were studied in the bacterial lipopolysaccharide (LPS)-challenge/tumor necrosis factor-alpha (TNFalpha) response in mice and in the carrageenan/paw edema assay in rats.
METHODS AND RESULTS:
In each of these trials, HMF administered by intraperitoneal (ip) injection exhibited anti-inflammatory activity, whereas HMF administered orally (po) produced no effects. The inhibition observed in the LPS-challenge/TNFalpha assay correlated with the HMF levels in the blood sera of mice dosed (ip) with either 33 or 100 mg/kg body weight. Low levels of HMF (0.035 +/- 0.024 ppm) were detected in the blood sera of mice dosed orally [100 mg of HMF (suspended in vegetable oil)/kg], whereas ip injection led to higher levels (0.517 +/- 0.051 ppm). This may account for the different levels of anti-inflammatory effects observed in mice following ip vs oral HMF administration. HMF metabolites, including a number of mono- and di-demethylated HMF metabolites and their glucuronic acid conjugates, were also detected, but results of these studies suggest that the glucuronidated metabolites of HMF are inactive in these inflammation models.
Cancer Lett. 2001 Feb 10;163(1):7-9.
Cancer chemopreventive activity of 3,5,6,7,8,3',4'-heptamethoxyflavone from the peel of citrus plants.[Pubmed:
11163102
]

METHODS AND RESULTS:
Nobiletin and 3,5,6,7,8,3',4'-heptamethoxyflavone (3,3',4',5,6,7,8-heptamethoxyflavone ,HPT), isolated from the peel of Citrus plants, were examined for the anti-tumor-initiating activity on two-stage carcinogenesis of mouse skin tumors induced by a nitric oxide donor, (+/-)-(E)-methyl-2-[(E)-hydroxyimino]-5-nitro-6-methoxy-3-hexenamide, as an initiator and 12-O-tetradecanoylphorbol-13-acetate as a promoter.
CONCLUSIONS:
HPT exhibited the remarkable anti-tumor-initiating effect on mouse skin and it suggested the possibility of HPT being a chemopreventive agent against nitric oxide (NO) carcinogenesis.
J Food Biochem . 2019 Jun;43(6):e12813.
Anti-neuroinflammatory activities of extract and polymethoxyflavonoids from immature fruit peels of Citrus 'Hebesu'[Pubmed:
31353615
]
Abstract Chronic neuroinflammation is reported to be associated in the progression of many neurodegenerative diseases and there is an increasing interest for the natural products as neuroprotective and anti-neuroinflammatory agents. In present research, we evaluated the potential inhibitory effects of extract, fractions, and isolated compounds from Citrus 'Hebesu' on lipopolysaccharide (LPS)-induced inflammatory responses using BV-2 murine microglial cells. The dried methanol extract (CH) was suspended in water and partitioned with hexane and ethyl acetate to give hexane soluble (CHH), ethyl acetate soluble (CHE), and water soluble (CHW) fractions. The extract (CH) and fractions CHH and CHE inhibited the expression of mRNA encoding pro-inflammatory cytokine interleukin (IL)-1β. CHE and CHH were further purified by various column chromatographic methods to obtain hesperidin (1), tangeretin (2), 5-hydroxy-6,7,8,3',4'-pentamethoxyflavone (3), 3,5,6,7,8,3',4'-heptamethoxyflavone (4), nobiletin (5), 3,4,5-trimethoxy-trans-cinnamic alcohol (6), and meranzin hydrate (7). Among them, three polymethoxyflavonoids, 3, 4, and 5 significantly inhibited the expression of IL-1β mRNA. PRACTICAL APPLICATIONS: Citrus 'Hebesu' is a local cultivar in Hyuga City, Miyazaki prefecture, Japan and its immature fruits are consumed with different food recipes. Till now, there is no detailed study on the chemical constituents and anti-neuroinflammatory activity of this cultivar. In this study, seven compounds were isolated from the peels of immature fruits. Methanol extract, hexane, and ethyl acetate fractions and three polymethoxyflavonoids showed a significant inhibitory activity against expression of IL-1β mRNA. Consumption of peels of Citrus 'Hebesu' might play important role in the prevention and treatment of neurodegenerative diseases, however, detailed mechanism based in vivo studies are necessary in future for providing more scientific evidences. Keywords: BV-2 cells; Citrus 'Hebesu'; neuroinflammation; nobiletin; polymethoxyflavonoids.
Neurochem Int. 2014 May;70:30-8.
3,5,6,7,8,3',4'-Heptamethoxyflavone, a citrus flavonoid, on protection against memory impairment and neuronal cell death in a global cerebral ischemia mouse model.[Pubmed:
24657445
]

METHODS AND RESULTS:
The present study evaluated the effects of treatment with the citrus flavonoid, 3,5,6,7,8,3',4'-heptamethoxyflavone (3,3',4',5,6,7,8-heptamethoxyflavone ,HMF) on protection against memory impairment and neuronal death in a global cerebral ischemia mouse model. The results showed that HMF, administrated for three days immediately after ischemic surgery, protected against ischemia-induced memory dysfunction, rescued neuronal cell death in the CA1 cell layer, increased the production of BDNF, stimulated the autophosphorylation of CaMK II and suppressed microglial activation in the hippocampus.
CONCLUSIONS:
These results suggest that HMF has a neuroprotective effect after brain ischemia by inducing BDNF production and anti-inflammatory effects.
Biomed Res. 2016;37(2):95-9.
3,5,6,7,8,3',4'-Heptamethoxyflavone reduces interleukin-4 production in the spleen cells of mice.[Pubmed:
27108879
]
In our previous studies, we reported anti-inflammatory functions of 3,5,6,7,8,3',4'-heptamethoxyflavone (3,3',4',5,6,7,8-heptamethoxyflavone ,HMF), which is a polymethoxyflavone rich in various citrus fruits.
METHODS AND RESULTS:
Here, we investigated the immunomodulatory function of HMF in mice. HMF administration (50 mg/kg, i.p., 2 times/week) tended to reduce the production of antigen-specific IgE induced by ovalbumin in combination with aluminum hydroxide gel. Fluorescence-activated cell sorting analysis revealed the reduction of interleukin-4(+)CD4(+) spleen cells and sustained presence of interferon-γ(+)CD4(+) spleen cells in mice administered HMF, whereas the ratio of CD4(+)CD8(-) versus CD4(-)CD8(+) spleen cells was not affected. Interleukin-4 release from CD3/CD28-stimulated spleen cells of mice administered HMF was reduced, whereas interferon-γ release was not affected.
CONCLUSIONS:
These results suggest that HMF has an immunomodulatory function via reduced interleukin-4 expression.