5-Demethylsinensetin
5-desmethylsinensetin, possesses antiprotozoal activity. 5-desmethylsinensetin shows IC50 values of 0.4 μg/mL on T. cruzi epimastigotes and 75.1 μg/mL on trypomastigotes, respectively
Inquire / Order: manager@chemfaces.com
Technical Inquiries: service@chemfaces.com
Tel: +86-27-84237783
Fax: +86-27-84254680

Address:
1 Building, No. 83, CheCheng Rd., Wuhan Economic and Technological Development Zone, Wuhan, Hubei 430056, PRC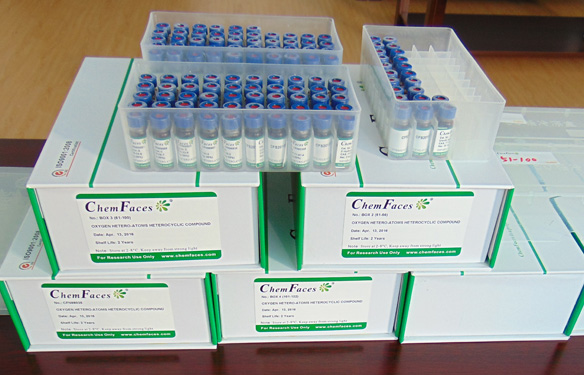 Providing storage is as stated on the product vial and the vial is kept tightly sealed, the product can be stored for up to
24 months(2-8C)
.
Wherever possible, you should prepare and use solutions on the same day. However, if you need to make up stock solutions in advance, we recommend that you store the solution as aliquots in tightly sealed vials at -20C. Generally, these will be useable for up to two weeks. Before use, and prior to opening the vial we recommend that you allow your product to equilibrate to room temperature for at least 1 hour.
Need more advice on solubility, usage and handling? Please email to: service@chemfaces.com
The packaging of the product may have turned upside down during transportation, resulting in the natural compounds adhering to the neck or cap of the vial. take the vial out of its packaging and gently shake to let the compounds fall to the bottom of the vial. for liquid products, centrifuge at 200-500 RPM to gather the liquid at the bottom of the vial. try to avoid loss or contamination during handling.
Cancers (Basel).2021, 13(17):4327.
J Pharm Biomed Anal.2017, 140:274-280
Phytochemistry Letters2017, 449-455
Korean Herb. Med. Inf. 2016, 4(1):35-42
Biomed Sci Letters.2020, 26:319-326
Research Square2021, 10.21203.
J of App. Res. on Med&Aromatic Plants2020, 100291.
South African J of Plant&Soil2018, 29-32
Antibiotics.2022, 11(4), 510.
Food Chem.2019, 279:80-87
Acta Crystallogr C Struct Chem . 2021 Sep 1;77(Pt 9):505-512.
Anthelmintic flavonoids and other compounds from Combretum glutinosum Perr. ex DC (Combretaceae) leaves[Pubmed:
34482293
]
A chemical study of the hydro-ethanol extract of the leaves of Combretum glutinosum resulted in the isolation of nine compounds, including 5-Demethylsinensetin (1), umuhengerin (2), (20S,24R)-ocotillone (3), lupeol (4), β-sitosterol (5), oleanolic acid (6), betulinic acid (7), corymbosin (8) and β-sitosterol glucoside (9). Four compounds have been isolated for the first time from the genus Combretum [viz. (1), (2), (3) and (8)]. The crystal structures of flavonoid (2), C20H20O8, Z' = 2, and triterpene (3), C30H50O3, Z' = 1, have been determined for the first time; the latter confirmed the absolute configuration of native (20S,24R)-ocotillone previously derived from the crystal structures of related derivatives. The molecules of (3) are linked into supramolecular chains by intermolecular O-H...O hydrogen bonds. The crude extracts obtained by aqueous decoction and hydro-ethanolic maceration, as well as the nine isolated compounds, were tested for their anthelmintic activity on the larvae and adult worms of Haemonchus contortus, a hematophage that causes parasitic disorders in small ruminants. The evaluated anthelmintic activity showed that the extracts at different doses, as well as all the compounds tested at 150 μg ml-1, inhibited the migration of the larvae and the motility of the adult worms of the parasite compared with the phosphate buffer solution negative reference control. The best activity was obtained with flavonoids (1), (2) and (8) on both stages of the parasite. The flavones that showed good activity can be used for the further development of other derivatives, which could increase the anthelmintic efficacy.
South African Journal of Botany Volume 146, May 2022, Pages 254-261
Simultaneous characterization of nine isolated flavonoids in Iranian Dracocephalum species and in silico study of their inhibitory properties against MTH1 enzyme[Reference:
WebLink
]
Dracocephalum L. is a well-known aromatic and medicinal plant genus in the Mint family. Some species of the genus such as D. kotschyi (DK) are widely used in Iranian folk medicine as tonic and carminative, as well as for relieves of headache, stomachache, and liver ailments. The present study was aimed to: isolate and determine some bioactive flavonoids from DK, evaluate their content in some Iranian Dracocephalum species, and assess their inhibitory activity and molecular dynamics against Human mutT homolog 1 (MTH1) enzyme. Aerial flowering parts of eight Iranian native Dracocephalum species were collected from different regions of Iran. The flavonoids of DK were comprehensively isolated by column chromatography, and then characterized by NMR and MS techniques. For simultaneous determination of flavonoids in methanol extract of the Dracocephalum studied species, a reversed-phase HPLC-DAD method was developed. Luteolin, apigenin, xanthomicrol, calycopterin, ermanin and three newly isolated flavonoids including circilineol, 5-demethylsinenstin, cirsimaritin and 5,7,4′-trihydroxy 3,3′-dimethoxyflavone were characterized in DK. Simultaneous determination of nine flavonoids in eight Iranian Dracocephalum species exerted the highest amount of xanthomicrol (4430±1.8 μg/g DW) and 5-Demethylsinensetin (766.2±0.4 μg/g DW) in D. polychaetum and D. aucheri, respectively. Our study showed, different species with similar morphology have different flavonoid profile. To have a molecular insight into their effectiveness in cancer inhibition, Gaussian 03, GROMACS 5.2, and Pymol software were exploited to optimize, simulate, and dock them against MTH1 enzyme, respectively. Molecular docking study revealed that xanthomicrol and 5-demethylsinenstin could tightly bind to MTH1 enzyme via different hydrogen bonds in the active site of the protein. Xanthomicrol and 5-demethylsinenstin, the two flavonoids with stronger bonds with MTH1 enzyme, could be considered as reliable pharmacologically active ingredients against the cancers involving MTH1 activity.
Bioorganic & Medicinal Chemistry May15 (2007) 3381–3389
Isolation and syntheses of polymethoxyflavones and hydroxylated polymethoxyflavones as inhibitors of HL-60 cell lines[Pubmed:
17391969
]
Fifteen polymethoxyflavones (PMFs) and hydroxylated PMFs were isolated from sweet orange (Citrus sinensis) peel extract and synthesized to investigate their biological activity. All obtained compounds were tested in HL-60 cancer cell proliferation and apoptosis induction assays. While some PMFs and hydroxylated PMFs had moderate anti-carcinogenic activities, 5-hydroxy-6,7,8,3',4'-pentamethoxyflavone and 5-hydroxy-3,6,7,8,3',4'-hexamethoxyflavone showed strong inhibitory activities against the proliferation and induced apoptosis of HL-60 cell lines.
Pharm Biol . 2016 Oct;54(10):2188-2195.
Trypanocidal and leishmanicidal activities of flavonoids isolated from Stevia satureiifolia var. satureiifolia[Pubmed:
26983579
]
Context: Chagas' disease and leishmaniasis produce significant disability and mortality with great social and economic impact. The genus Stevia (Asteraceae) is a potential source of antiprotozoal compounds. Objective: Aerial parts of four Stevia species were screened on Trypanosoma cruzi. Stevia satureiifolia (Lam.) Sch. Bip. var. satureiifolia (Asteraceae) dichloromethane extract was selected for a bioassay-guided fractionation in order to isolate its active compounds. Additionally, the antileishmanial activity and the cytotoxicity of these compounds on mammalian cells were assessed. Materials and methods: The dichloromethane extract was fractionated by column chromatography. The isolated compounds were evaluated using concentrations of 0–100 μg/mL on T. cruzi epimastigotes and on Leishmania braziliensis promastigotes for 72 h, on trypomastigotes and amastigotes of T. cruzi for 24 h and 120 h, respectively. The compounds' cytotoxicity (12.5–500 μg/mL) was assessed on Vero cells by the MTT assay. The structure elucidation of each compound was performed by spectroscopic methods and HPLC analysis. Results: The dichloromethane extracts of Stevia species showed significant activity on T. cruzi epimastigotes. The flavonoids eupatorin (1.3%), cirsimaritin (1.9%) and 5-desmethylsinensetin (1.5%) were isolated from S. satureiifolia var. satureiifolia extract. Eupatorin and 5-desmethylsinensetin showed IC50 values of 0.2 and 0.4 μg/mL on T. cruzi epimastigotes and 61.8 and 75.1 μg/mL on trypomastigotes, respectively. The flavonoid 5-desmethylsinensetin showed moderate activity against T. cruzi amastigotes (IC50  value = 78.7 μg/mL) and was the most active compound on L. braziliensis promastigotes (IC50  value = 37.0 μg/mL). Neither of the flavonoids showed cytotoxicity on Vero cells, up to a concentration of 500 μg/mL.