Parishin G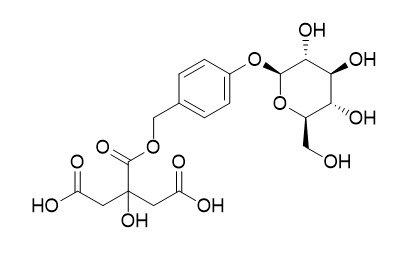 Inquire / Order: manager@chemfaces.com
Technical Inquiries: service@chemfaces.com
Tel: +86-27-84237783
Fax: +86-27-84254680

Address:
1 Building, No. 83, CheCheng Rd., Wuhan Economic and Technological Development Zone, Wuhan, Hubei 430056, PRC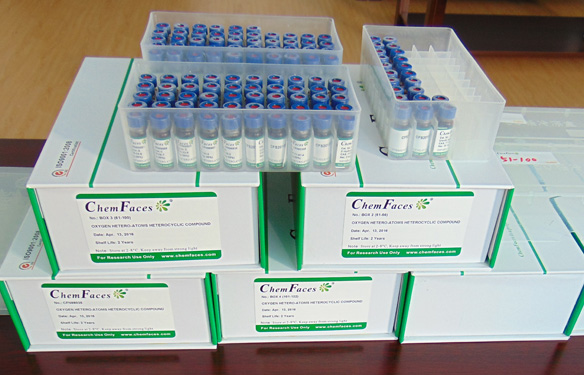 Providing storage is as stated on the product vial and the vial is kept tightly sealed, the product can be stored for up to
24 months(2-8C)
.
Wherever possible, you should prepare and use solutions on the same day. However, if you need to make up stock solutions in advance, we recommend that you store the solution as aliquots in tightly sealed vials at -20C. Generally, these will be useable for up to two weeks. Before use, and prior to opening the vial we recommend that you allow your product to equilibrate to room temperature for at least 1 hour.
Need more advice on solubility, usage and handling? Please email to: service@chemfaces.com
The packaging of the product may have turned upside down during transportation, resulting in the natural compounds adhering to the neck or cap of the vial. take the vial out of its packaging and gently shake to let the compounds fall to the bottom of the vial. for liquid products, centrifuge at 200-500 RPM to gather the liquid at the bottom of the vial. try to avoid loss or contamination during handling.
ACS Pharmacol. Transl. Sci.2022, 5,7,479-490
J Pharm Biomed Anal.2019, 172:268-277
Korean J. Medicinal Crop Sci.2018, 26(2):148-156
Nutrients.2020, 12(3):595.
Int J Mol Sci.2017, 18(12)
Cell Death Differ.2021, 1-8.
Phytochemistry Letters2015, 243-247
Toxicological Research2020, doi: 10.1007.
Inflammation.2021, doi: 10.1007
J Sci Food Agric.2017, 97(5):1656-1662
Oxidative Medicine and Cellular Longevity, 2016
Parishin from Gastrodia elata Extends the Lifespan of Yeast via Regulation of Sir2/Uth1/TOR Signaling Pathway[Pubmed:
4074690
]
Parishin is a phenolic glucoside isolated from Gastrodia elata, which is an important traditional Chinese medicine; this glucoside significantly extended the replicative lifespan of K6001 yeast at 3, 10, and 30 μM. To clarify its mechanism of action, assessment of oxidative stress resistance, superoxide dismutase (SOD) activity, malondialdehyde (MDA), and reactive oxygen species (ROS) assays, replicative lifespans of sod1, sod2, uth1, and skn7 yeast mutants, and real-time quantitative PCR (RT-PCR) analysis were conducted. The significant increase of cell survival rate in oxidative stress condition was observed in parishin-treated groups. Silent information regulator 2 (Sir2) gene expression and SOD activity were significantly increased after treating parishin in normal condition. Meanwhile, the levels of ROS and MDA in yeast were significantly decreased. The replicative lifespans of sod1, sod2, uth1, and skn7 mutants of K6001 yeast were not affected by parishin. We also found that parishin could decrease the gene expression of TORC1, ribosomal protein S26A (RPS26A), and ribosomal protein L9A (RPL9A) in the target of rapamycin (TOR) signaling pathway. Gene expression levels of RPS26A and RPL9A in uth1, as well as in uth1, sir2 double mutants, were significantly lower than those of the control group. Besides, TORC1 gene expression in uth1 mutant of K6001 yeast was inhibited significantly. These results suggested that parishin exhibited antiaging effects via regulation of Sir2/Uth1/TOR signaling pathway.
Molecules 2019, 24(17), 3159
Transformation Mechanisms of Chemical Ingredients in Steaming Process of Gastrodia elata Blume[Reference:
WebLink
]
To explore the transformation mechanisms of free gastrodin and combined gastrodin before and after steaming of Gastrodia elata (G. elata), a fresh G. elata sample was processed by the traditional steaming method prescribed by Chinese Pharmacopoeia (2015 version), and HPLC-ESI-TOF/MS method was used to identify the chemical composition in steamed and fresh G. elata. Finally, 25 components were identified in G. elata based on the characteristic fragments of the compounds and the changes of the 25 components of fresh and steamed G. elata were compared by the relative content. Hydrolysis experiments and enzymatic hydrolysis experiments of 10 monomer compounds simulating the G. elata steaming process were carried out for the first time. As a result, hydrolysis experiments proved that free gastrodin or p-hydroxybenzyl alcohol could be obtained by breaking ester bond or ether bond during the steaming process of G. elata. Enzymatic experiments showed that steaming played an important role in the protection of gastrodin, confirming the hypothesis that steaming can promote the conversion of chemical constituents of G. elata—inhibiting enzymatic degradation. This experiment clarified the scientific mechanism of the traditional steaming method of G. elata and provided reference for how to apply G. elata decoction to some extent.