Glycyrrhisoflavone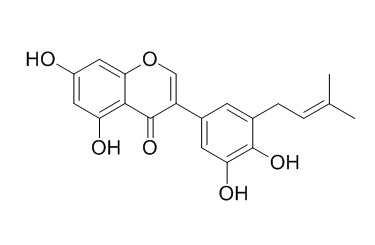 Glycyrrhisoflavone is a tyrosinase inhibitor, it also shows inhibitory effects on monoamine oxidase. Glycybenzofuran shows significant protein tyrosine phosphatase-1B (PTP1B) inhibitory activity in vitro with the IC50 value of 25.5 microM. Glycyrrhisoflavone has anti-inflammatory effects, it has significant inhibitory effects against NO production on LPS-induced RAW 264.7 cell model.
Inquire / Order: manager@chemfaces.com
Technical Inquiries: service@chemfaces.com
Tel: +86-27-84237783
Fax: +86-27-84254680

Address:
1 Building, No. 83, CheCheng Rd., Wuhan Economic and Technological Development Zone, Wuhan, Hubei 430056, PRC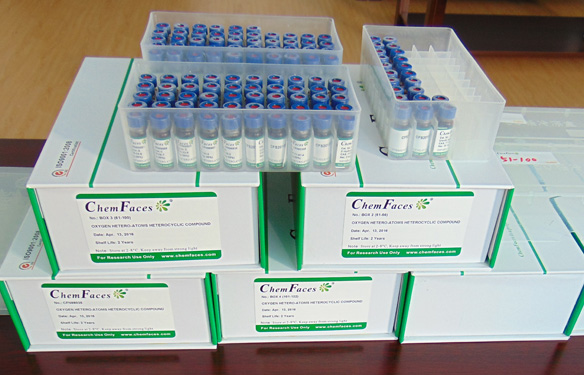 Providing storage is as stated on the product vial and the vial is kept tightly sealed, the product can be stored for up to
24 months(2-8C)
.
Wherever possible, you should prepare and use solutions on the same day. However, if you need to make up stock solutions in advance, we recommend that you store the solution as aliquots in tightly sealed vials at -20C. Generally, these will be useable for up to two weeks. Before use, and prior to opening the vial we recommend that you allow your product to equilibrate to room temperature for at least 1 hour.
Need more advice on solubility, usage and handling? Please email to: service@chemfaces.com
The packaging of the product may have turned upside down during transportation, resulting in the natural compounds adhering to the neck or cap of the vial. take the vial out of its packaging and gently shake to let the compounds fall to the bottom of the vial. for liquid products, centrifuge at 200-500 RPM to gather the liquid at the bottom of the vial. try to avoid loss or contamination during handling.
Inflammation.2015, 38(4):1502-16
BMC Complement Altern Med.2019, 19(1):11
Molecules.2019, 24(16):E2985
Food Res Int.2017, 96:40-45
International Food Research Journal2018, 25(6):2560-2571
Pharmacol Rep.2019, 71(2):289-298
J Ethnopharmacol.2018, 210:88-94
BMC Complement Altern Med.2014, 14:242
Oncotarget.2016, 8(51):88386-88400
Front Microbiol.2019, 10:2806
Sci Rep. 2016 Aug 8;6:31000.
Rapid discovery and identification of anti-inflammatory constituents from traditional Chinese medicine formula by activity index, LC-MS, and NMR.[Pubmed:
27499135
]
The traditional activity-guided approach has the shortcoming of low accuracy and efficiency in discovering active compounds from TCM.
METHODS AND RESULTS:
In this work, an approach was developed by integrating activity index (AI), liquid chromatography - mass spectrometry (LC-MS), and nuclear magnetic resonance (NMR) to rapidly predict and identify the potential active constituents from TCM. This approach was used to discover and identify the anti-inflammatory constituents from a TCM formula, Gui-Zhi-Jia-Shao-Yao-Tang (GZJSYT). The AI results indicated that, among the 903 constituents detected in GZJSYT by LC-MS, 61 constituents with higher AI values were very likely to have anti-inflammatory activities. And eight potential active constituents of them were isolated and validated to have significant inhibitory effects against NO production on LPS-induced RAW 264.7 cell model. Among them, Glycyrrhisoflavone (836), glisoflavanone (893) and isoangustone A (902) were reported to have anti-inflammatory effects for the first time.
CONCLUSIONS:
The proposed approach could be generally applicable for rapid and high efficient discovery of anti-inflammatory constituents from other TCM formulae or natural products.
Bioorg Med Chem Lett. 2010 Sep 15;20(18):5398-401
Prenylflavonoids from Glycyrrhiza uralensis and their protein tyrosine phosphatase-1B inhibitory activities.[Pubmed:
20724155
]

METHODS AND RESULTS:
Two new 2-arylbenzofurans, glycybenzofuran (1) and cyclolicocoumarone (2), together with 10 known flavonoids including licocoumarone (3), Glycyrrhisoflavone (4), glisoflavone (5), cycloGlycyrrhisoflavone (6), isoliquiritigenin (7), licoflavone A (8), apigenin (9), isokaempferide (10), glycycoumarin (11), and isoglycycoumarin (12), were isolated from the roots of Glycyrrhiza uralensis and their structures were determined by extensive spectroscopic analyses. Compounds 1 and 5 showed significant protein tyrosine phosphatase-1B (PTP1B) inhibitory activity in vitro with the IC50 values of 25.5 and 27.9 microM, respectively. The structure-activity relationship indicated that the presence of prenyl group and ortho-hydroxy group is important for exhibiting the activity.
CONCLUSIONS:
Kinetic analysis indicated that compound 1 inhibits PTP1B by a competitive mode, whereas compound 5 by a mixed mode.
Planta Med. 2005 Aug;71(8):785-7.
Identification of tyrosinase inhibitors from Glycyrrhiza uralensis.[Pubmed:
16142649
]
Tyrosinase is a key enzyme in the production of melanins.
METHODS AND RESULTS:
Phytochemical studies of a Glycyrrhiza uralensis extract were performed by measuring the tyrosinase and melanin synthesis inhibitory activity. Glycyrrhisoflavone and glyasperin C were identified as tyrosinase inhibitors for the first time. Glyasperin C showed a stronger tyrosinase inhibitory activity (IC (50) = 0.13 +/- 0.01 microg/mL) than glabridin (IC (50) = 0.25 +/- 0.01 microg/mL) and a moderate inhibition of melanin production (17.65 +/- 8.8 % at 5 microg/mL). Glycyrrhisoflavone showed a strong melanin synthesis inhibitory activity (63.73 +/- 6.8 % inhibition at 5 microg/mL).
CONCLUSIONS:
These results suggest that glyasperin C and Glycyrrhisoflavone could be promising candidates in the design of skin-whitening agents.
Chem Pharm Bull (Tokyo). 1991 May;39(5):1238-43.
Phenolic constituents of licorice. III. Structures of glicoricone and licofuranone, and inhibitory effects of licorice constituents on monoamine oxidase.[Pubmed:
1913999
]
Two new phenolic compounds, glicoricone (3) and licofuranone (4), were isolated from a species of licorice brought from the northwestern region of China, and their structures were assigned.
METHODS AND RESULTS:
Among the twelve licorice constituents examined for the inhibition of monoamine oxidase (MAO), six compounds, 3, 4, genistein (6), licopyranocoumarin (7), licocoumarone (14) and Glycyrrhisoflavone (15), inhibited the enzyme with the IC50 (concentration required for 50% inhibition of the enzyme activity) values of 6.0 x 10(-5)-1.4 x 10(-4) M. Glycyrrhizin (1) also inhibited MAO with the IC50 value of 1.6 x 10(-4) M.