Licoisoflavone A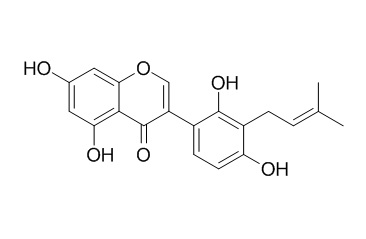 Licoisoflavone A is a potential MRP inhibitor, it shows inhibitory effects on copper-induced protein oxidative modification of mice brain homogenate in vitro.
Inquire / Order: manager@chemfaces.com
Technical Inquiries: service@chemfaces.com
Tel: +86-27-84237783
Fax: +86-27-84254680

Address:
1 Building, No. 83, CheCheng Rd., Wuhan Economic and Technological Development Zone, Wuhan, Hubei 430056, PRC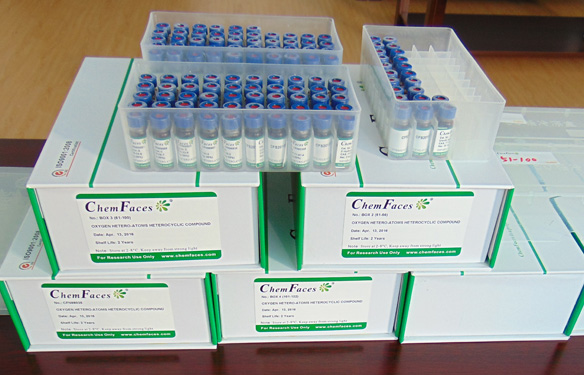 Providing storage is as stated on the product vial and the vial is kept tightly sealed, the product can be stored for up to
24 months(2-8C)
.
Wherever possible, you should prepare and use solutions on the same day. However, if you need to make up stock solutions in advance, we recommend that you store the solution as aliquots in tightly sealed vials at -20C. Generally, these will be useable for up to two weeks. Before use, and prior to opening the vial we recommend that you allow your product to equilibrate to room temperature for at least 1 hour.
Need more advice on solubility, usage and handling? Please email to: service@chemfaces.com
The packaging of the product may have turned upside down during transportation, resulting in the natural compounds adhering to the neck or cap of the vial. take the vial out of its packaging and gently shake to let the compounds fall to the bottom of the vial. for liquid products, centrifuge at 200-500 RPM to gather the liquid at the bottom of the vial. try to avoid loss or contamination during handling.
Planta Med.2019, 85(3):217-224
Saudi Pharm J.2019, 27(1):145-153
Process Biochemistry2019, 87:213-220
Int J Mol Sci.2019, 20(23):E6071
Molecules.2020, 25(9):2081.
Nutrients.2018, 11(1):E17
Drug Des Devel Ther.2020, 14:5189-5204.
Am J Chin Med.2016, 44(6):1255-1271
J Funct Foods2019, 54:449-456
Mol Med Rep.2014, 9(5):1653-9
Biol Trace Elem Res. 2001 Aug;81(2):169-75.
Inhibitory effects of licoisoflavones A and B and sophoraisoflavone A of Sophra mooracroftiana Beth ex Baker on copper-ion-induced protein oxidative modification of mice brain homogenate, in vitro.[Pubmed:
11554397
]

METHODS AND RESULTS:
We present the results of an in vitro investigation of the inhibitory effects of licoisoflavones A and B and sophoraisoflavone A isolated from Sophra mooracroftiana BETH ex BAKER on copper-induced protein oxidative modification of mice brain homogenate in vitro. Although inhibitory effect of sophoraisoflavone A was stronger than those of licoisoflavones A and B, genistein as a related isoflavone, and mannitol as a hydroxy radical scavenger, inhibitory effects of licoisoflavones A and B were weaker than those of genistein and mannitol.
CONCLUSIONS:
These results demonstrated that the difference of inhibitory effects are dependent on the relation between chemical structures of these isoflavones, such as hydroxy group or benzopyran, and oxidative stress.
Blood Cells Mol Dis. 2001 Sep-Oct;27(5):894-900.
Monitoring of MRP-like activity in human erythrocytes: inhibitory effect of isoflavones.[Pubmed:
11783953
]
A method to fluorometrically monitor efflux of 2',7'-bis-(carboxypropyl)-5(6)-carboxyfluorescein (BCPCF) from human erythrocytes was developed. Genistein, daidzein, sophoraisoflavone A, and Licoisoflavone A induced 50% inhibition (IC(50)) of BCPCF efflux at 15-70 microM. The IC(50) value of the most efficient isoflavone, Licoisoflavone A (15-25 microM), was comparable to that of indomethacin (approximately 10 microM) and markedly lower than for probenecid (100-200 microM), both known MRP1 inhibitors.
CONCLUSIONS:
Our results indicate that the human erythrocyte is a useful cell model in screening potential MRP inhibitors, that BCPCF is a good substrate for MRP, and that some isoflavones at low concentrations inhibit MRP-mediated efflux.